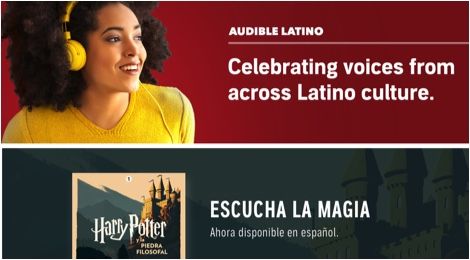 Audiobooks
Audible Launches Audible Latino For Spanish-Language Audiobooks
This content contains affiliate links. When you buy through these links, we may earn an affiliate commission.
Audible has announced the creation of a dedicated space for Spanish-language audiobooks and entertainment. In addition to the announcement that Harry Potter and the Sorcerer's Stone would be available as a Spanish-language digital audiobook for the first time, as Harry Potter y la Piedra Filosofal performed by Puerto Rican actor Carlos Ponce, Audible has announced five additional titles that will form the first offering of Audible Latino.
Audible Latino will be "an integrated, multicultural destination offering U.S. Hispanic customers a robust catalog of Spanish-language and culturally relevant English-language spoken-word content on audible.com." While Audible already offers audio content in Spanish, as well as several other languages including Italian, Chinese, German, French, and Portuguese, Audible Latino will be a dedicated destination, with exclusive content created for the platform. Initial offerings include:
From Negative to Positive, written and performed by Armando Christian Perez (Pitbull)
Talking While Female and Other Dangerous Acts, a collection of original short stories from Latinas across the U.S., co-produced by Christina Igaraividez and Alexandra Meda and curated by Teatro Luna
El Principito, the Spanish translation of The Little Prince, performed by Raiza Revelles – the most followed Spanish-language booktuber in the world.

Desde México, Con Amor, an Audible Original produced by Maquina501 (El Pulso de la República, Deportología)
The X-Files: Cold Cases, in which the original Latin American voiceover talent for the longtime hit series bring new life to this Audible Original featuring the original characters from the hit franchise, available in Spanish for the first time.
"Audible Latino titles serve to inspire, educate, and entertain ALL audiences interested in exploring Latinx voices and culture, as well as those interested in learning English or Spanish via our language learning collection."