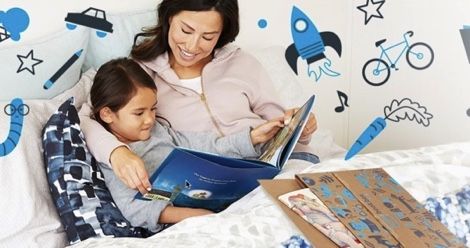 Children's
Amazon's Prime Book Box Gets New Lower Price Just In Time For Black Friday
This content contains affiliate links. When you buy through these links, we may earn an affiliate commission.
Amazon's monthly book subscription service, the aptly named Prime Book Box for Kids, just announced a price reduction to entice you to sign up for the service.
The Prime Book Box for Kids is now $19.99, down from the $22.99 it launched at. For those of you that like percentages instead, that means you're saving 40% off the cover prices instead of just 35%.
The Prime What For What Now?
Previously available to Prime members by invitation only, now any Prime member can sign up to receive a shipment of age-appropriate books every one, two, or three months. Amazon staff members curate the titles, taking into account the popularity as well as your purchase history (so that they don't send you duplicates).
I was disappointed when I received the first Book Box invite, and all the titles suggested for my daughter (who's in the 9–12 reader range) were by white guys. Thankfully, when Amazon sent a trial subscription box to my house a few months later, that had changed.
What's In The Box?
Lucky Broken Girl by Ruth Behar is based on the author's own experiences of growing up a Cuban-Jewish immigrant and trying to adjust to her new home in New York City in the '60s. The main character, Ruthie, is involved in a car crash that she barely survives and has to be in a body cast for nearly a year. It's a poignant story that examines relationships and friendships in unexpected ways. My daughter loved it. I don't think she put it down more than a few moments from the second she cracked the cover. More importantly, she never would have picked it up on her own.
The second title, Pax, is written by Sara Pennypacker (author of the Clementine series) and illustrated by Jon Klassen (who would like you to know that I Want My Hat Back). It's a tale of a boy and his fox. It's much more than that, though, as it dives deep into the reality of war, the nature of sacrifice, and a contemplation on what, or who, home is. I'll be honest; we haven't tackled this one yet. My daughter is wary that "something is going to happen" to the fox. Judging by a cursory glance at the description, I doubt she's wrong. We'll get to it eventually, but it may require a co-read to tackle. It's almost universally loved based on the Amazon reviews and received National Book Award recognition, so it's a quality title. But maybe we'll read something a little lighter first to prepare ourselves.
Is It Worth It?
I was pleased to see that the titles included in the Prime Book Box for Kids are picked, not just because they sold a lot of copies, but because they challenge expectations. Literature can broaden our horizons and provide us with perspectives we would never have considered on our own. The Prime Book Box for Kids gives readers more than just entertainment, but stories that they can talk about and explore more with their parents. It reinforces the best things about reading. I'm signing my daughter up for a subscription this holiday season, and am looking forward to seeing what else she'll discover.