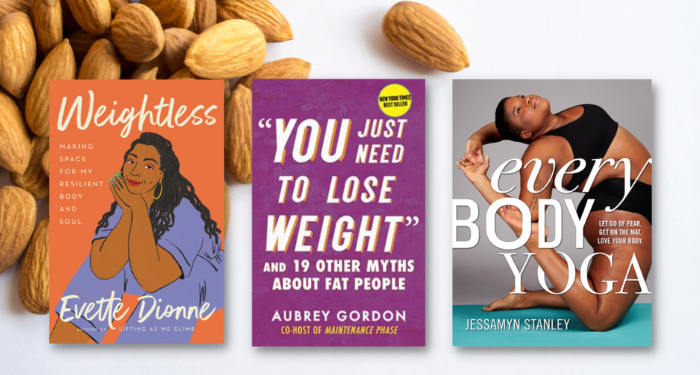 Lists
What Is an Almond Mom? 8 Books To Help Heal Your Relationship With Your Body
This content contains affiliate links. When you buy through these links, we may earn an affiliate commission.
The Almond Mom hashtag and discussion is blowing up on social media, and we need to talk about it. If you've never heard the term Almond Mom, it's a person who maybe, instead of helping you find a snack when you're hungry instead says, "Are you sure? Maybe you should just drink water." They're the person who gives you a handful of almonds for lunch and nothing else, no matter how hungry you are. They ask how you're going to work off the calories for the carbs you're eating. They might suggest a cleanse, or a "quick fix" fad diet to "drop the belly fat."
This is incredibly harmful behavior, both physically and emotionally for the person on the receiving end of Almond Mom's comments. If you're struggling to recover from a current situation with an Almond Mom or one you grew up with many years ago, dismantling those internal dialogues you've heard over and over can take months, if not years. While some resources are becoming more mainstream, like the podcast Maintenance Phase, which breaks down diet culture myths and history behind them, and Nutrition Tea, a nutritionist who uses her platform to encourage others to stop dieting and restricting and offers realistic and healthy lifestyle advice, other resources may be more difficult to find.
Getting started can be tricky, but if you're looking for resources on how to learn about and tear down internalized or externalized fatphobia, are looking for body-positive resources, or wanting to hand materials to the Almond Mom in your life, here are eight books to start with.
If you're ready to dive into even more, check out these romance novels with fat representation on the cover or this amazing personal essay from a Rioter who discusses lies diet books tell. You might also find these books about mindful eating and health at every size useful.
If you need help dealing with an eating disorder, please contact the National Eating Disorder Association by calling 1-800-931-2237.