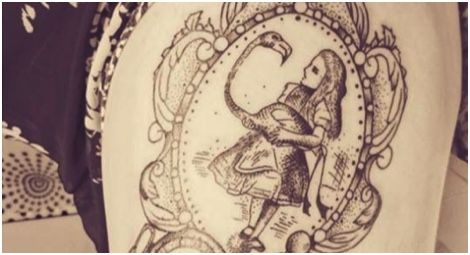 Lists
25 Beautifully Whimsical Alice in Wonderland Tattoos
Every Spring I get all twitterpated with ideas for covering my body in tattoos. I never end up doing it, but I do end up gazing at tattoos on Pinterest for longer amounts of time than is healthy. In my "research" of bookish tattoos I came across so many beautiful Alice in Wonderland tattoos and artwork, so here's just a selection of what I found.
For those who want Alice in Wonderland tattoos representing many parts of this beloved tale:
This intricate version of one of the Tenniel illustrations is striking in monochrome:
I love this mash-up of Tenniel + Van Gogh:
The Cheshire Cat in watercolor is really popular:
Like, really popular:
Like, really very popular:
Still a watercolor Cheshire Cat, but this time the classic Disney version:
While we're talking about Disney's classic Cheshire Cat:
This version of the classic Disney Alice is lovely:
I found this version of Alice to be quite clever:
Let's check out more watercolor tattoos:
Surprise! A couple more Burton-version watercolors:
Maybe the White Rabbit speaks to you:
Thirsty? Hungry?
No Alice in Wonderland list would be complete without the Queen of Hearts:
Are you a superfan of the Tim Burton Alice? Check out this whole sleeve:
Too many options? Too much Wonderland to love? How about all of it:
Not ready to make a commitment with Alice In Wonderland tattoos? Check out these bookish temporary tattoos