Literary Activism
Action Item: Books For Young Readers in Texas, Florida, and Connecticut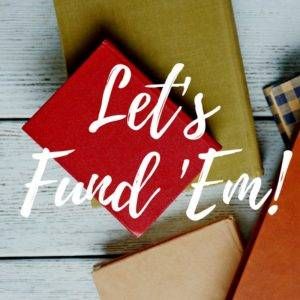 Late last year, librarian Angie Manfredi took to Twitter with a challenge: How many classrooms in need could the book community fund over the course of one day? Other librarians and bloggers and authors and industry folk joined in, and it quickly became apparent that there were a whole lot of people out there just itching to do some good, whether by spreading the word or opening their wallets or both.
On Inauguration Day, we (we being Kelly Jensen and Leila Roy) put together a list of classrooms in need, with a focus on classrooms that served immigrant, refugee, and ESL communities. With the help of Book Twitter, every single one of those classrooms was fully funded by the end of the day. Since then, every Friday, we've continued to highlight and advocate for similar classrooms, and again and again Book Twitter has come through.
Now, we're bringing our Fund 'Em Fridays to you, the Book Riot Community. Please boost, donate if you can, or even pick out a classroom to personally champion!
And now, our classrooms of the week! We're going to aim for three classrooms this week, two of which have very low goal numbers that we should be able to fund in no time, while the third is asking for a little bit more — and for good reason.
Love of Books, Brownsville, TX
My students are very energetic, ambitious, and hard working 7-10 year olds. Our school is in a highly economically disadvantaged area and we are limited with the resources that we have to work with. This, however, does not discourage them from doing their best in class and with their school work.
Our motto is to keep trying and to always try your best.
Higher order thinking is the future and it is my job to get my students motivated and ready.
Students will be reading these books throughout the day. As they are done with their regular school work, they are able to read these books to pass the time. They will not be playing but instead reading. Making memories and connections of what they read and how it might relate to them in real life.
Look! A Book! I Can Read And Learn Today!, Wimauma, Florida
We are categorized as a Title 1 and Renaissance school because 96.5% of our students qualify for free and reduced lunch and over 90% of students are considered to be living in poverty. Half of our population is ELL. This year, because our reading scores on the state assessment (FSA) were one of the lowest 300 schools and our SAT scores in first and second grade dropped, we were also designated as an ERT (Extended Reading Time) school by the state. We have had an extra 30 minutes of reading added onto our daily schedule.
My students need books that will keep their interest while teaching them about informational topics.
This series of nonfiction books explores a wide range of subjects. They are written in rhyme and they feature the characters from The Cat in the Hat and introduce students to basic science concepts. Each book includes an index, glossary, and suggestions for further reading.
Turning Non-Readers Into Readers, One Graphic Novel At A Time, Bridgeport, Connecticut
My students are all English Learners that possess a strong desire to learn and great enthusiasm, too. They often face challenges in acclimating to a new country while maintaining a healthy and secure sense of self. Many times they have literacy skills in their native languages but struggle to find texts of interest to them in English that are also comprehensible.
As a teacher of English, one of my goals is to help them acquire the language so that they are able to read with comprehension and enjoy it, too!
I have recently had individual conferences with my students that highlighted a common theme when I asked them, "Do you like to read?" Some of them were unsure of how to respond, "eh not really," and/or struggled to identify a genre of interest "I like funny books." Those that did however, cited Diary of a Wimpy Kid and Dork Diaries – two series books by two different authors but both sharing in common that they are graphic novels.
I believe that every student should have access to an abundance of high interest books to check out, take home, read, love and return. A challenge in our school is that it's situated in a high poverty area, where funding and supplies are very limited. Our school is so large that our students cycle through "library time" and these high interest books are not always available to them. Fortunately, our school is also a place where innovation and creativity abound. The resourcefulness of teachers in my school helps our students see the positive and relish in any opportunities afforded them.