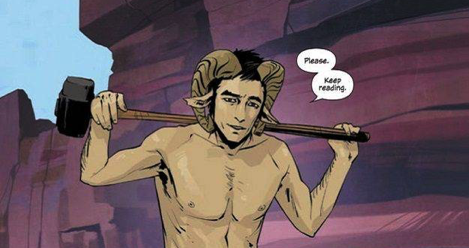 This content contains affiliate links. When you buy through these links, we may earn an affiliate commission.
I was late to the Saga party, and mostly on purpose. That is because I am a terrible comic book fan; I don't want to start something that's not finished. I want the pleasure of starting something late, getting everyone's takes on why it's so good, and being able to read it from start to satisfying finish. So when I finally started Saga a year ago, I thought I had picked the perfect time to become hooked. Nine trade paperbacks later, I was left at the same heart-gripping cliffhanger as everyone else. And horror of horrors, we all have to wait an entire year until the next issue comes out! It's crazy. Now that I'm hooked to the jaw-dropping imagery of Saga (cue my swoon at any page with Gwendolyn on it), the beautiful story arc that balances perfectly on the edges of hope, humor, and cynicism, and the delivery of a believable and poignant love story in the midst of some fantastical events…now, after all of that, I have to wait a year. Well friends, if you are like me and struggling to find something to fill the void left behind by Saga, here are nine layered and rich comics to fall in love with this year:
Bitch Planet by Kelly Sue DeConnick and Valentine De Landro
If the The Handmaid's Tale and The Hunger Games had a comic baby, it would be Bitch Planet. In a near-future world, The Fathers rule the planet and women are expected to be beautiful, sickly thin, quiet, and compliant. The non-compliant women (or NCs) are sent away to Bitch Planet to live out their days in torture. Things get interesting when Kamau Kogo, a former professional athlete, lands on the planet and is recruited into the biggest sporting event of the year, the Duemila. Now, her and her team of fellow misfit inmates are playing to stay alive and, hopefully, escape. Bitch Planet doesn't have the same arresting, beautiful imagery as Saga, but it's got a gripping, fast-paced storyline that will have you flying through it.
Jook Joint by Tee Franklin and Alitha Martinez
As dark as it is beautiful, Jook Joint is the story of Auntie Mahalia, voodoo priestess, healer, protector of women, and proprietor of a late night jazz club. Set in what must be the Louisiana bayou (alligators, French, and voodoo being the clues), this macabre comic imagines a world of comeuppance for women, especially Black and brown women, beleaguered by abusive and libertine men. And it does so in a spectacular fashion. There is magic, there is violence, there is tenderness, and there are the ageless women of the jook joint, who saunter on long after the caprices of vicious men are done. I can't rave enough about the dreamy artistry in this series.
Bitter Root by David F. Walker, Sanford Greene, and Chuck Brown
Monster slayers of the 1920s Harlem Renaissance? I'm in. The Sangerye Family has a long history of monster slaying, and a new threat is stalking the streets of Harlem. But the family is at a crossroads: will they choose healing or more violence? The series toggles back and forth between New York and Mississippi, creating a realistic historical backdrop against which this fantastical story plays out. Bitter Root is gory (if you're a Saga fan you're used to that), but glorious. So good!
Self/Made by Mat Groom and Eduardo Ferigato
The Self/Made series is just getting started, but its intriguing concept pulls you in from the first issue. Amala Citlali is a warrior destined to serve and protect the kingdom of Arcadia. The story starts with Amala losing everything, and we watch as she defies her fate and struggles against the very forces that made her. For lovers of Saga's Marco and Alana's impossible love story, in Self/Made we are met with an underdog heroine, fighting equally insurmountable odds. The storytellers deliver twist after twist, told with a beautiful, sweeping aesthetic. Excited to see where Self/Made goes next.
The Beauty by Jeremy Haun and Jason Hurley
What if beauty were an STD? Stay with me. Beauty is the newest STD in America, but it's actually one people want; when you get it, you become prettier and more desirable. Half of the population has it and it's spreading rapidly. But there's a catch (there's always a catch), and the disease has consequences no one expected. Creepily and beautifully drawn, The Beauty is an eerie thrill ride. It may not be an exact match for some Saga fans, but it has such an interesting storyline and aesthetic that it's definitely worth a try.
Chew by John Layman and Rob Guillory
Meet Tony Chu, a former police officer turned FDA agent who can get psychic impressions from the food (and people) he eats. Tony's trying to get to the bottom of the mysterious Bird Flu that killed millions of people and the entire dark economy that's cropped up in its aftermath. Needless to say, Chew gets gory and weird and fast, but it's amazingly well drawn and provides enough twists and turns to make the light cannibalism worth it. One of many wonderful things about Chew is that it is done, so no cliffhangers, no wondering, just a fun read until the end.
Blackbird by Sam Humphries and Jen Bartel
Blackbird is glittery, angsty, and beautiful. Gorgeous, and I do mean gorgeous, artwork lays the backdrop for a story about a magical Los Angeles. Nina Rodriguez is wrestling with grief, loss, and the conviction that magic is real and it exists just below the surface in her city. We follow her journey through the supernatural world of L.A., her brushes with mysterious, smoldering lovers, and her realization that she may have gotten in way over her head with both.
Oblivion Song by Robert Kirkman & Lorenzo De Felici
Oblivion is a place; in fact, it is a patch of land that was transported from another dimension into Philadelphia a decade ago. Hundreds of thousands of people were pulled into the post-apocalyptic Oblivion and can never return. Oblivion Song follows Nathan Cole as he tries to uncover what happened to them and bring them out of what has become the quarantine zone. For me, there's an echo of The Leftovers here, in that the world is reckoning with a completely inexplicable event and different groups are choosing to cope in different ways: there are those choosing to start fresh, those whose lives center around uncovering what exactly happened, and those who want to forget it ever did. A dark, layered series worth jumping into.
Unnatural follows Leslie, a pig girl who is having some seriously sexy dreams, but…those dreams are kind of illegal. She lives in a world where the government wants you married and reproducing—with someone of your own species and the opposite sex—by age 25. Leslie and her friends are taken on mysterious and sensual journey when the man of her dreams steps into the real world and the government decides to enroll her in the Reproduction Program. The illustration in this series is stunning. Andolfo actually published Unnatural in Italy a few years ago and it was picked up and translated for American audiences in 2018.