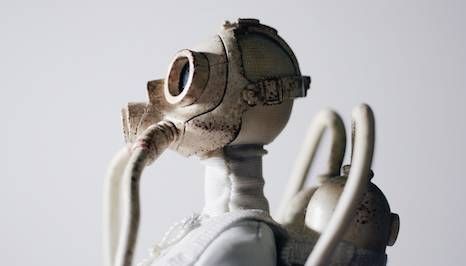 Lists
8 Fantasy and Sci-Fi Series that Need to be Adapted for TV
This content contains affiliate links. When you buy through these links, we may earn an affiliate commission.
This post was originally going to be a screed about how I sometimes can't watch adaptations of some of my favorite books. If the adaptation is very good (*cough* American Gods *cough*) it often supplants my own vision of the characters, settings, and plots. If the adaptation is… not good (Anne with an E, I am looking at you) I spend several episodes in a nerd rage, and guys, life is too short. And sometimes, reading the book was hard enough, and I'm just not ready for the adaptation. (*ahem* The Handmaid's Tale)
But then, while I was thinking about the adaptations I can't watch, I started thinking of all the adaptations I would watch. There are so many books and series out there that are crying out to be made for the small screen.
Here are eight fantasy and science fiction books and series that are just begging for adaptations. And I fully admit to being greedy with some of these. I just want to see what these stories and their settings would look like in an adaptation. I want to know what the languages would sound like. I want to see how Prince Robot from Saga would look if he were played by a live actor, I want to see those jellyfish aliens from Binti, and I want to see a floating obelisk.
Acacia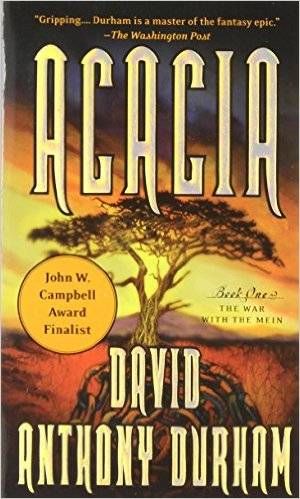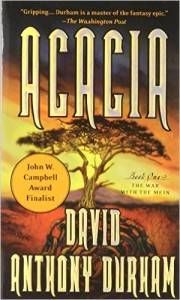 by David Anthony Durham — This one is for Game of Thrones fans. Acacia is a high fantasy epic, set in a sweeping, complex world. Like GOT, Acacia explores a succession problem in a kingdom (kind of), but does it through the lens of oppression. The royal family we meet at the start of the book is a lovely family full of perfectly nice people, who also happen to be the latest in a line of kings who have subjugated several other peoples for centuries. One of those peoples has been exiled to the frozen North where they regularly speak with their ghostly ancestors. There are deserts, and pirates, and battles, and magic and glass-bottomed houses built on the edges of cliffs. The huge cast of characters, the political intrigue, the gigantic world, the battles and just the visuals that Durham has created in this series belong on the screen. It's also a story about oppression and privilege that should be delivered to TV audiences who love fantasy.

The Fifth Season
by N.K. Jemisin – Speaking of explorations of oppression in fantasy, I think the masterwork in the field is probably N.K. Jemisin's The Broken Earth trilogy. Honestly, I would watch any of Jemisin's series on the small screen — she creates worlds unlike any I've ever read — but The Fifth Season is incredible. The story is set on a volcanically unstable continent where a society has been built on the oppression of orogenes, people with the power to control the land itself. The story begins as the land is ripped apart, and the apocalypse begins, and follows one orogene, Essun, as she takes to the road to rescue her daughter. Fans of The Walking Dead will appreciate the survival story told in the present, but fans of magic, or anyone who has ever thought about the power structure in our own civilization, will appreciate the flashbacks. This series isn't finished yet, and there is a danger in asking for an adaptation of an ongoing series, but The Fifth Season and its sequel, The Obelisk Gate, contain enough material for an incredible show.
The First Law
by Joe Abercrombie – Love The Lord of the Rings and its ilk? Abercrombie's The Blade Itself will mess with you, and that is exactly why it should be made. Every single character in The First Law series is flawed — actually, they are all kind of terrible people, but they are written in way that makes you understand them, and eventually, root for them. Abercrombie flips fantasy clichés over in this series, so you often don't know what's coming next. This epic has a twisty plot made for TV, plenty of intriguing moral ambiguity, an interesting system magic, a very cool cast of characters, and an expanded universe that could make for very interesting multiple seasons of television.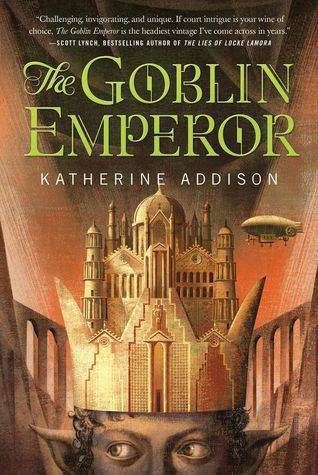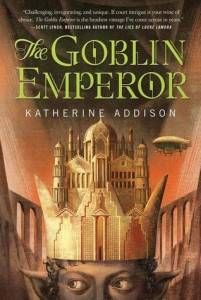 The Goblin Emperor by Katherine Addison – Look, I don't know if this book about an out-of-favor youngest son becoming an emperor should be a film or a television series, but I want it adapted in some form, because I want to actually see everything Addison described in this book: the airships, the elves, the goblins, the complicated ceremonial costumes, the coronation ceremony. Just everything.
Here's the plot: the half-goblin son of an elf emperor is suddenly crowned when his father and three older brothers are killed in an accident. His father's least favorite child, he's been living in exile his whole life, and is complete unprepared. It's a coming of age story set in a steampunk world, and Netflix or Amazon should totally adapt it.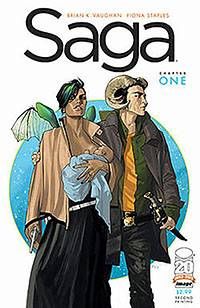 Saga by Brian K. Vaughn and Fiona Staples – Saga, like so many graphic novels, was made to be adapted. There's a lot of material to work with, it's already using a visual medium, and the central story — about a forbidden love blossoming into a forbidden family, and what that means for society — is just crying to be acted out. The story, set against the backdrop of a war is focused on a family's struggle to survive, but also explores addiction, domestic abuse, veterans' issues, and oppression. There is an excellent, and visually interesting, supporting cast of characters, an insane amount of political intrigue, space travel, and also talking cats. If Vaughn and Staples ever allow Saga to be optioned, it will be fantastic.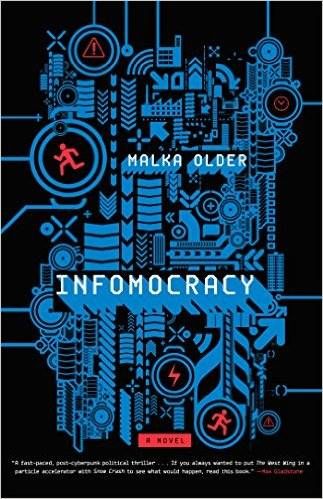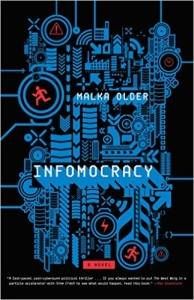 Infomocracy by Malka Older- Considering the political state of our world, if Infomocracy isn't optioned for something soon, I will be shocked. Infomocracy is about a global election in a micro-democratic world — people are divided into 100,000-person governments. Every 10 years, there's a general election in which every government vies for the role of Supermajority. The elections are controlled by Information, a global infrastructure that is part search engine, part news organization, part election commission. If all of this sounds dry to you, it's not, the plot is twisty, complicated and made for television, and the world is so incredibly detailed, you'll think about voting in a 100,000-person government. This book and its sequel Null States contain at least two seasons worth of material.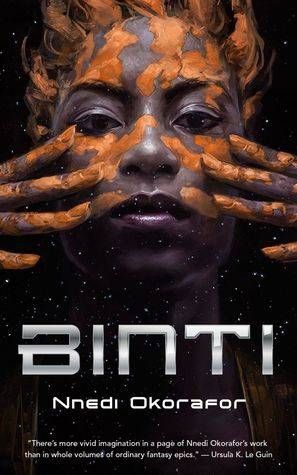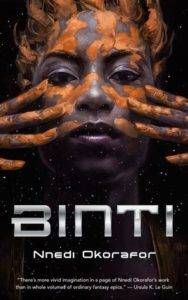 Binti by Nnedi Okorafor – While it might seem like a tall order to base a television series on two novellas, Binti is pretty intense source material for an adaptation. Okorafor packs a novel's worth of story into her novella about a brilliant young woman from an insular tribe who — against the wishes of her family — leaves home and travels across the galaxy to Oomza University. That would be drama enough, but mid-way through her trip to school, her ship is attacked by aliens. The alien jellyfish aren't humanoid at all and seem to lack compassion, until Binti figures out how to speak to them. With the right screenwriters and input from Okorafor herself, this would be an amazing television series.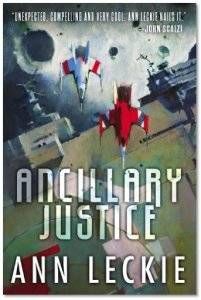 Ancillary Justice by Ann Leckie – Sci-fi fans, if you love Star Trek, what about watching a series that features the ship as the main character? Ancillary Justice and its sequels tell the story of Breq, an ancient battleship that has been destroyed, but whose AI lives on in the body of one ancillary soldier. What's an ancillary? It's the body of a captured enemy that's been rewired to act as a proxy for a ship's artificial intelligence. Ancillary Justice is a complicated statement about imperialism and a stunning space opera. It's got so much potential as a series. I do have one concern about Ancillary Justice being made as a television show, however. Part of the world building is that the language recognized by the protagonist uses only feminine pronouns for everyone, which obscures and often makes gender irrelevant. That would be hard to do in a visual medium.
But you know what? We might get a chance to see how that works. It's been optioned.
Save
Save
Save
Save