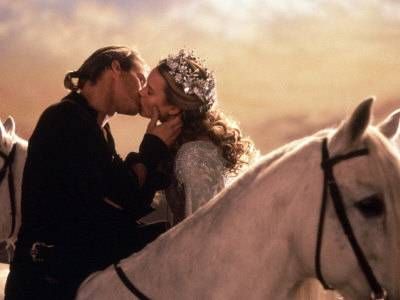 Fiction
5 Songs for the PRINCESS BRIDE Musical
While we at the Riot take some time off to rest and catch up on our reading, we're re-running some of our favorite posts from the last several months. Enjoy our highlight reel, and we'll be back with new stuff on Monday, January 6th.
This post originally ran November 13, 2013.
_________________________
The Princess Bride is my favorite book in the whole wide world. And I love the movie equally as much. So when it was announced this week that Disney Theatrical Productions was teaming up with author and screenwriter William Goldman to revive plans to bring the classic tale of true love and high adventure to Broadway, there were Muppet-levels of arm flailing going on at my desk.
I have been talking for years about how there should be a Princess Bride musical. YEARS. I think the fairy tale-style story lends itself very well to musical theater and the staging wouldn't be terribly complex. And with Broadway's recent love of established properties, I'm really surprised it's taken this long to get a deal rolling on this.
When The Princess Bride finally comes to Broadway, here are a few songs that need to be in the show.
"As You Wish"
Every musical needs an epic ballad between the lovers. Obviously, for The Princess Bride, that number is "As You Wish." I imagine this sounding a bit Andrew Lloyd Webber-y, similar to "All I Ask of You" from Phantom of the Opera. It's in the beginning of the show on the farm when Westley first tells Buttercup he loves her. The number is interrupted before the end with the kid (Fred Savage from the movie version) yelling, "Wait, wait wait. Is this a kissing story?." There's a reprise when Buttercup and Westley are reunited, after he saves her from Vizzini and she pushes him down the cliff, and again at the finale.
"INCONCEIVABLE!"
You cannot–CANNOT–have a Princess Bride musical without this being a song. I'm not sure exactly how it fits in because it's more of a recurring joke than a scene. But it has to be in the show. For reasons I can't explain it sounds a little like "Blame Canada" from the South Park movie when I hear it in my head.
"You Seem a Decent Fellow"
Westley and Inigo have a fantastic exchange on top of the Cliffs of Insanity, before and during their epic sword fight. We learn about Inigo's father's murder and that Wesley is also not left-handed. It's such a great back and forth that lends itself to some brilliant choreography and clever staccato number, similar in sound to "Cell Block Tango" from Chicago. There could also be a short reprise when Wesley has to wrestle Fezzik.
"It'll Take a Miracle"
One of the most memorable scenes in The Princess Bride is the argument in Miracle Max's hut. While I'm not sure anyone can match the pitch-perfect performances by Billy Crystal and Carol Kane in the movie, I think the scene has wonderful potential to be everyone's favorite musical number.
"Hello (Prepare to Die)"
When Inigo finally comes face to face with Count Rougen, the Six-Fingered Man, I always get chills; it's probably my favorite revenge scenes. And "Hello. My name is Inigo Montoya. You killed my father. Prepare to die." is the most identifiable line from the movie and book. The lyrics would be pretty simple, and the tempo would build and build until the moment Inigo stabs the Count through the heart.
_________________________
Sign up for our newsletter to have the best of Book Riot delivered straight to your inbox every two weeks. No spam. We promise.
To keep up with Book Riot on a daily basis, follow us on Twitter, like us on Facebook, , and subscribe to the Book Riot podcast in iTunes or via RSS. So much bookish goodness–all day, every day.
Save