This content contains affiliate links. When you buy through these links, we may earn an affiliate commission.
Are you watching The Young Pope? If not, you should be. It's about a pope, who's young, and wants to resurrect the Catholic Church to the point where it used to be feared rather than tolerant. It has Jude Law, Diane Keaton, a sexy Italian Prime Minister, religious scandals, a kangaroo! Honestly, what more do you need? The cinematography is great as are the shots of the Vatican. And don't get me started on the opening sequence. I get so pumped.
But if you still need a reason to watch, look no further:
If you're swept up in Jude Law snarking on everyone, the anti-hero elements of his role, and all the backstabbing, gossiping, and scheming of the Vatican check out these recommendations to get you between episodes. Or at least to keep the feeling going once the limited series ends.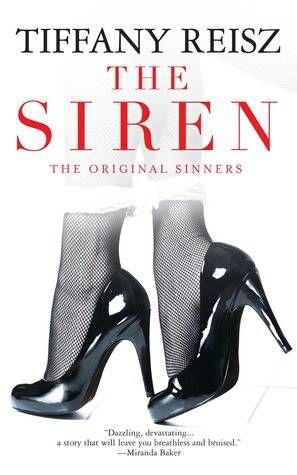 The Siren by Tiffany Reisz
If Jude Law's Pope Pius XIII is giving you pants feelings, you're going to want to read all of Reisz's Original Sinners series, including the prequel White Years books. Nora Sutherlin is a writer with a taste for BDSM. The man responsible for her sexual awakening: a Catholic priest known as Soren. Soren plays more of a role in the prequel books, but it's imperative to start with the Original Sinners storyline first to get a sense of how much Nora and Soren's relationship has changed and how complicated it can be.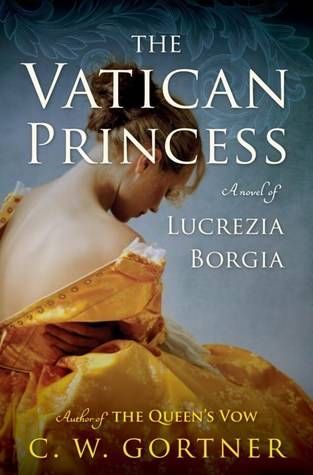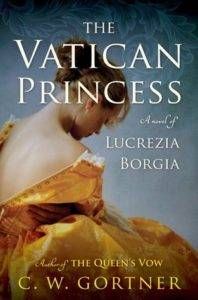 The Vatican Princess by C.W. Gortner
For those who are caught up in the Vatican's gorgeous location and the elaborate costuming, combined with all sorts of power scheming, The Vatican Princess is right up that alley. Focusing on the scandalous Borgia family of 15th century Italy, The Vatican Princess is all about Lucrezia, a boss bitch caught up in her family's grab for power. If you need more of a push, Lucrezia is rumored to have carried on an incestuous relationship and made frequent use of her personal arsenal of poison.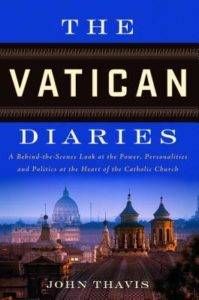 The Vatican Diaries by John Thalvis
Covering the Vatican for over two decades, it's clear that Thalvis knows his stuff. As a religious watcher of The Young Pope, I'm curious how much is accurate in the ways things operate in the papal city. If accuracy is important to you as a viewer, The Vatican Diaries is a good resource in cross-referencing in how Pope Pius XIII navigates the ins and outs of the Vatican and Italian society, especially given the fact that the young pope hails from New York and has quite a different view on how the Catholic Church should operate.
God's Spy by Juan Gomez-Jurado, translated by James Graham
God's Spy is a thriller set in the Vatican where a serial killer is on the loose. So far, there hasn't been any murder per se in The Young Pope (as of writing this I've finished episode five), but there's been a mysterious disappearance to a character. I'm erring on the side of caution and not naming names in the case of spoilers. There's also a building feeling of dread as Law's character seems to almost become maniacal with power. Maybe in another life, he would have a great serial killer rather than an out of control pope.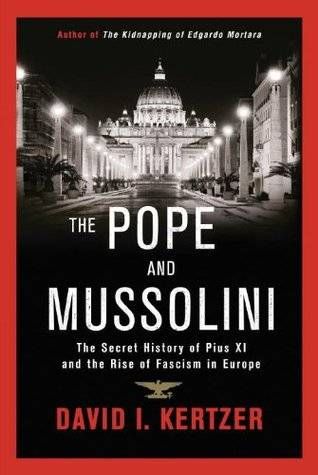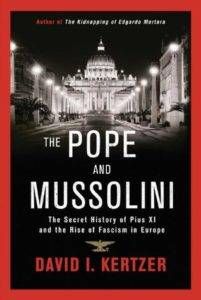 The Pope and Mussolini by David I. Kertzer
A Pulitzer Prize winner, The Pope and Mussolini is about Pope Pius XI's relationship with Italian dictator Benito Mussolini. This past relationship between a previous Pope Pius and Mussolini has been referenced in The Young Pope series, and it's a great read for those looking to delve deep into how history may be motivating Pope Pius XIII as he tries to "rebrand" the Catholic Church. Before becoming pope, Law's character was Lenny Belardo, an Archbishop in New York. As of right now, his conservative views and the reasoning behind his actions are still a bit of a mystery. The Pope and Mussolini might help in exposing what the hell Lenny's deal is and the potential ramifications of his actions.