Giveaways
30+ of Your Favorite Female Crime-Stoppers in Books
This giveaway is sponsored by Fear the Darkness by Becky Masterman.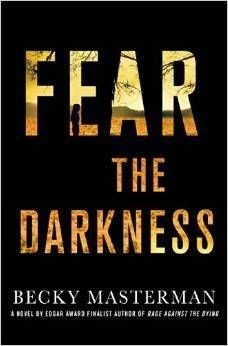 "Ms. Masterman once again shows herself to be an expert manipulator of readers' expectations."
–JANET MASLIN, The New York Times
Ex-FBI Agent Brigid Quinn thinks she has a second chance at life. After too many years spent in the company of evil, she's quit the Feds and is working out what normal is meant to feel like. She's swapped serial killers, stakeouts and interrogation for a husband, friends and free time. But when you've walked in darkness for so long, can you stand the light? When a local teenager dies in a tragic drowning accident, the community thinks Brigid might be able to help comfort the family. But when she does so, something doesn't add up. And it's no easier at home: after a bereavement in the family, Brigid has reluctantly taken in her niece to give her a break before she starts college. Brigid's ever-patient husband Carlo tells her they must go easy on Gemma-Kate, the grieving youngster. Which is fine, until she starts taking an unhealthy interest in dissecting the local wildlife. For Brigid, death still seems to be wherever she turns. But as she herself starts to feel unwell, it's her own mortality that is the most troubling. And as she tries to get to the bottom of a series of allegedly accidental deaths and increasingly gruesome occurrences at home, she slowly realises that maybe this time, she's let the darkness inside the only place she ever felt safe. Sometimes, death is closer than you think.
____________________
We asked who your favorite female crime-stoppers in books were, and you answered. Let's dig into this list of 30+ of the best books featuring female crime stoppers:
Irene Adler from Sherlock Holmes by Sir Arthur Conan Doyle
China Bayles from the China Bayless Herbal Mysteries by Susan Wittig Albert
Lindsay Boxer from The Women's Murder Club series by James Patterson and Maxine Paetro
Joanna Brady from the Joanna Brady series by JA Jance
Eve Dallas from the Eve Dallas series by JD Robb
October Daye from the October Daye series by Seanan McGuire
Flavia de Luce from the Flavia de Luce series by Alan Bradley
Maisie Dobbs from the Maisie Dobbs series by Jacqueline Winspear
Nancy Drew from the Nancy Drew series by Carolyn Keene
Eve Duncan from the Eve Duncan series by Iris Johansen
Phryne Fisher from the Phryne Fisher series by Kerry Greenwood
Angela Gennaro from the Kenzie & Gennaro series by Dennis Lehane
Fina Ludlow from the Fina Ludlow series by Ingrid Throft
Miss Marple from the Miss Marple series by Agatha Christie
Veronica Mars from the Veronica Mars mystery series by Rob thomas
Dorothy Martin from the Dorothy Martin series by Jeanne M. Dams
Kate Martinelli from the Kate Martinelli series by Laurie R. king
Rebecka Martinsson from the Rebecka Martinsson series by Asa Larsson
Kinsey Millhone from the Kinsey Millhone series by Sue Grafton
Rachel Morgan from the Hallows series by Kim Harrison
Amelia Peabody from the Amelia Peabody series by Elizabeth Peters
Anna Pigeon from the Anna Pigeon series by Nevada Barr
Stephanie Plum from the Stephanie Plum mysteries by Janet Evanovich
Precious Ramotswe from The No. 1 Ladies' Detective Agency series by Alexander McCall Smith
Jane Rizzoli from the Rizzoli and Isles series by Tess Gerritsen
Amelia Sachs from the Lincoln Rhyme series by Jeffrey Deaver
Lisbeth Salander from the Millennium trilogy by Stieg Larsson
Kay Scarpetta from the Scarpetta series by Patricia Cornwell
Alexia Tarabotti from the Parasol Protectorate series by Gail Carriger
Aurora Teagarden from the Aurora Teagarden series by Charlaine Harris
V.I. Warshawski from the V.I. Warshawski series by Sara Paretsky