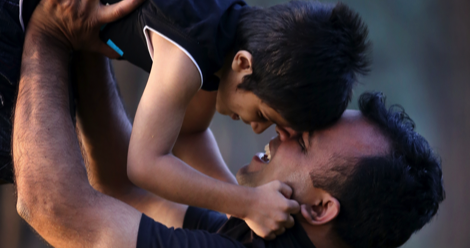 This giveaway is sponsored by Tank and The Vietnam War: The Definitive Illustrated History from DK Books.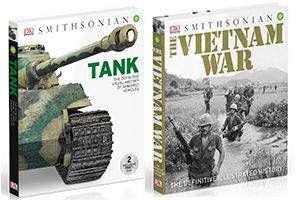 DK has Father's Day covered.
A visual history of armored vehicles, Tank takes you inside the early vehicles of World War I to present-day models.
A chronicle of America's fight against Communism in southeast Asia during the 1960s and 1970s, The Vietnam War: The Definitive Illustrated History explores the people, politics, events, and lasting effects of America's longest conflict of the 20th century.
Both books are created in association with the Smithsonian Institution.
---
Let's hear it for bookish dads! 'Tis the season, and I don't know about you, but I'm in a panic trying to figure out what to get good ol' Dad. A new edition of a beloved Shakespearean classic? A book about all things Grand Marnier?
We asked you to tell us what you've been giving your dad and you responded. Here are 30 of your favorites!
Ninth City Burning by J. Patrick Black
The Last Lecture by Jeffrey Zaslow
The Road by Cormac McCarthy
The Da Vinci Code by Dan Brown
The Hitchhiker's Guide to the Galaxy by Douglas Adams
Lock In by John Scalzi
The King of Vodka: The Story of Pyotr Smirnov and the Upheaval of an Empire by Linda Himelstein
Nature Girl by Carl Hiaasen
In the Heart of the Sea: The Tragedy of the Whaleship Essex by Nathaniel Philbrick
Plainsong (Plainsong #1) by Kent Haruf
The River of Doubt: Theodore Roosevelt's Darkest Journey by Candice Millard
Red River by Lalita Tademy
City of Thieves by David Benioff
Half the Sky: Turning Oppression into Opportunity for Women Worldwide by Nicholas D. Kristof and Sheryl WuDunn
The Immortal Life of Henrietta Lacks by Rebecca Skloot
The Big Burn: Teddy Roosevelt and the Fire that Saved America by Timothy Egan
A Song of Ice and Fire series by George R.R. Martin
The Lord of the Rings trilogy by J.R.R. Tolkien
Star Wars Universe books by Various
Animal, Vegetable, Miracle: A Year of Food Life by Barbara Kingsolver, Steven L. Hopp, and Camille Kingsolver
Born To Run by Bruce Springsteen
The Kite Runner by Khaled Hosseini
Thinking, Fast and Slow by Daniel Kahneman
Last of the Breed by Louis L'Amour
The Girl in a Swing by Richard Adams
A Natural History of Dragons (The Memoirs of Lady Trent #1) by Marie Brennan
Papi: My Story by David Ortiz and Michael Holley
Leaves of Grass by Walt Whitman
Hillbilly Elegy: A Memoir of a Family and Culture in Crisis by J.D. Vance
Fight Club by Chuck Palahniuk
Golden Prey by John Sandford
Save
Save
Save