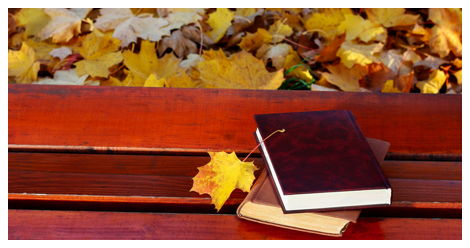 This content contains affiliate links. When you buy through these links, we may earn an affiliate commission.
Keep up with the most exciting new books coming out each week with our All the Books! Podcast. YA, sci-fi, non-fiction, you name it, we cover it all. Go here to check it out, or just click the image below:

____________________
It is peak leafing season in my neck of the woods. It's absolutely gorgeous outside, and even on the gray and cooler days, the leaves pop against the cloudy sky and set it on fire.
All of the color outside makes me want to dig into color inside, too. I'm always fascinated by YA book covers and design decisions, and it's interesting to me when we see some colors in abundance on covers and some colors are rarer to see.
One color we don't see too much on book covers?
Orange.
Inspired by the beautiful leaves outside, I thought it would be fun to round-up three (more than three) YA books featuring bright and burnt orange covers. I'm sticking to stand alone titles, as well as books that are first in a series, but as always, feel free to drop additional titles into the comments. Note that links may lead to editions which have different covers.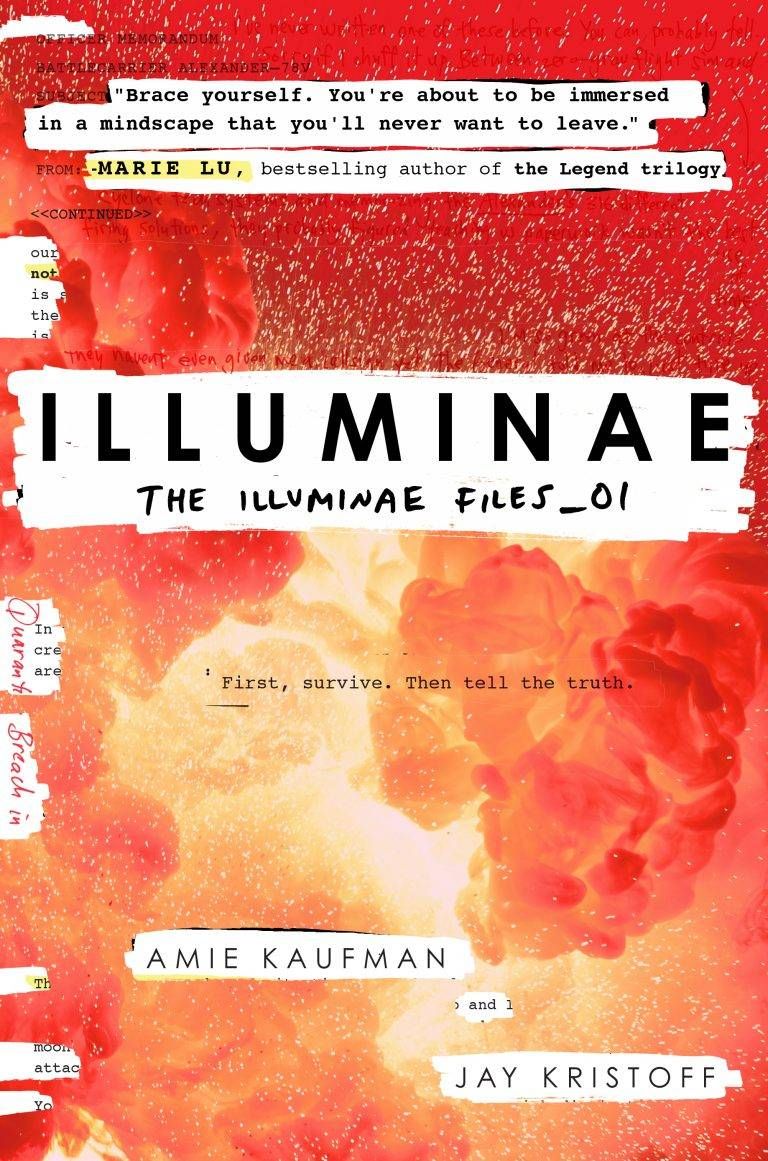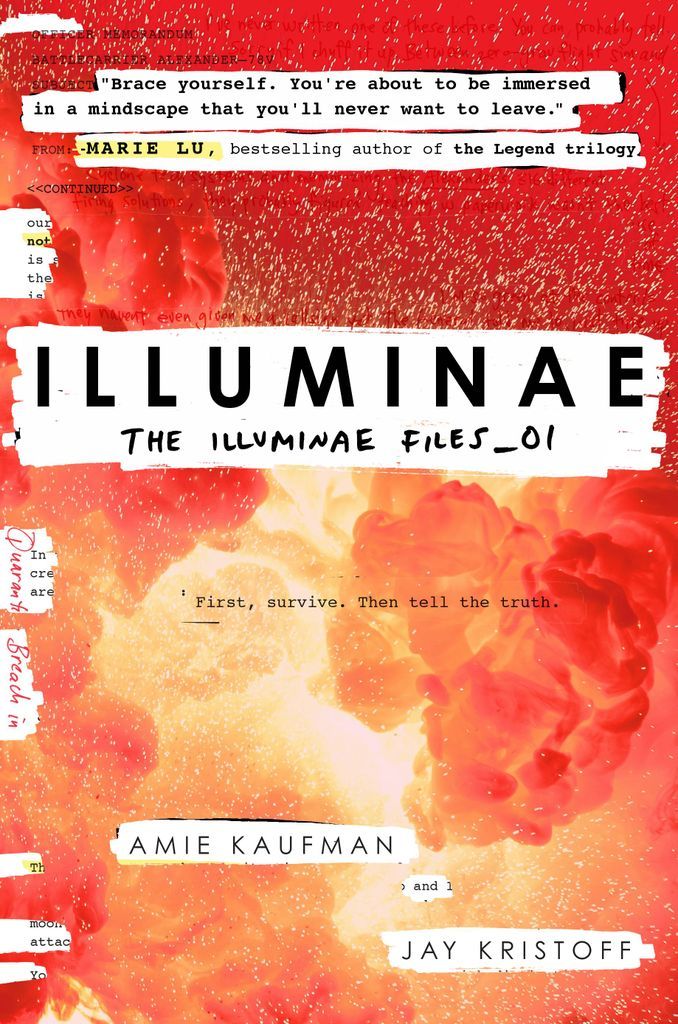 Illuminae by Aime Kaufman and Jay Kristoff
This morning, Kady thought breaking up with Ezra was the hardest thing she'd have to do.
This afternoon, her planet was invaded.
The year is 2575, and two rival megacorporations are at war over a planet that's little more than an ice-covered speck at the edge of the universe. Too bad nobody thought to warn the people living on it. With enemy fire raining down on them, Kady and Ezra—who are barely even talking to each other—are forced to fight their way onto an evacuating fleet, with an enemy warship in hot pursuit.
But their problems are just getting started. A deadly plague has broken out and is mutating, with terrifying results; the fleet's AI, which should be protecting them, may actually be their enemy; and nobody in charge will say what's really going on. As Kady hacks into a tangled web of data to find the truth, it's clear only one person can help her bring it all to light: the ex-boyfriend she swore she'd never speak to again.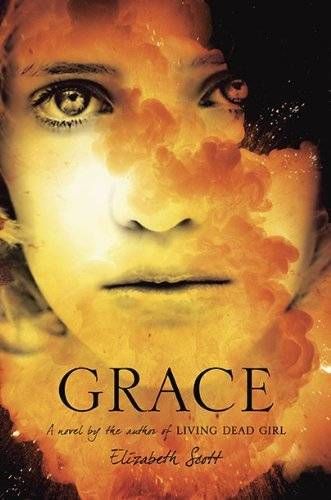 Grace by Elizabeth Scott
Grace was raised to be an Angel, a herald of death by suicide bomb. But she refuses to die for the cause, and now Grace is on the run, daring to dream of freedom. In search of a border she may never reach, she travels among malevolent soldiers on a decrepit train crawling through the desert. Accompanied by the mysterious Kerr, Grace struggles to be invisible, but the fear of discovery looms large as she recalls the history and events that delivered her uncertain fate.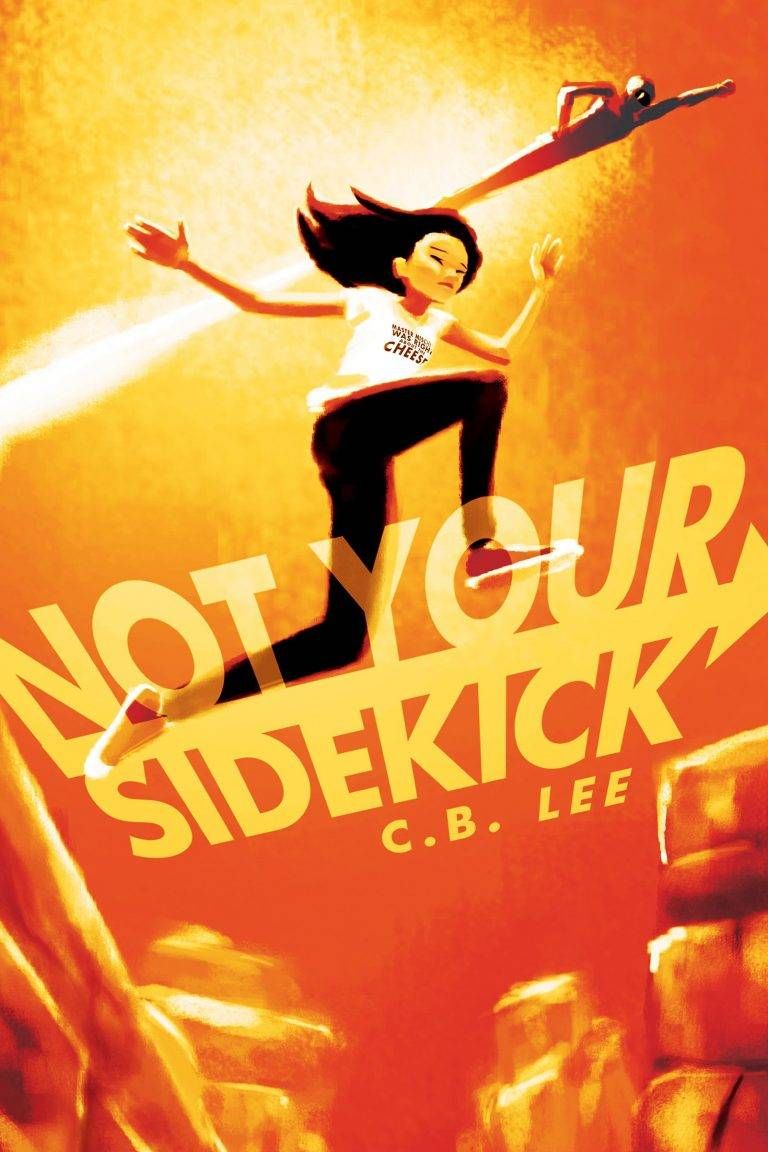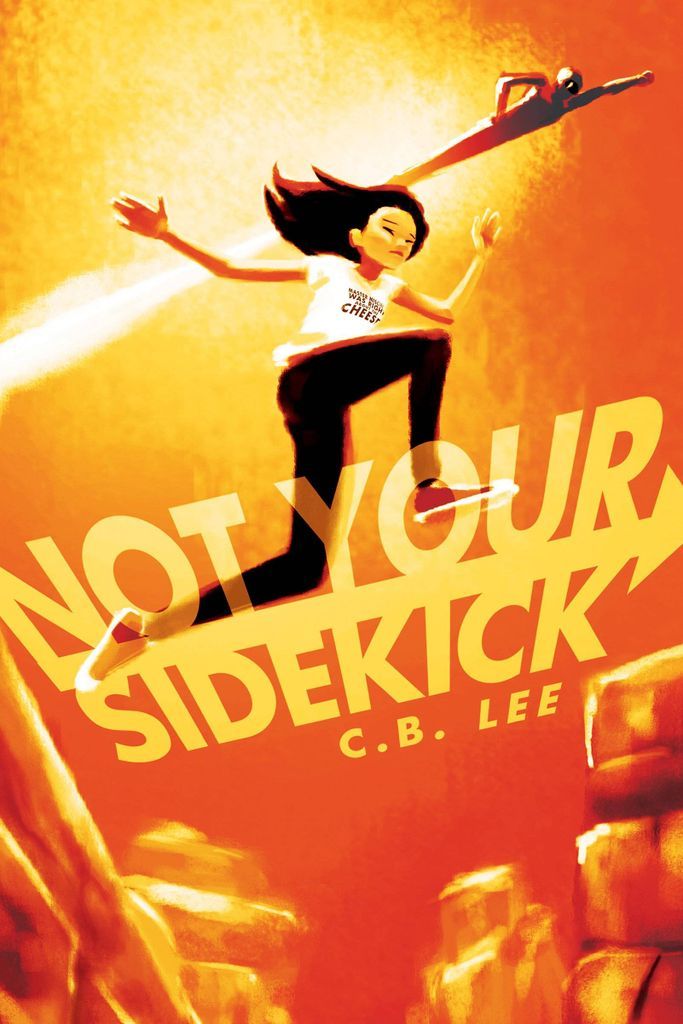 Not Your Sidekick CB Lee
Welcome to Andover… where superpowers are common, but internships are complicated. Just ask high school nobody, Jessica Tran. Despite her heroic lineage, Jess is resigned to a life without superpowers and is merely looking to beef-up her college applications when she stumbles upon the perfect (paid!) internship—only it turns out to be for the town's most heinous supervillain. On the upside, she gets to work with her longtime secret crush, Abby, who Jess thinks may have a secret of her own. Then there's the budding attraction to her fellow intern, the mysterious "M," who never seems to be in the same place as Abby. But what starts as a fun way to spite her superhero parents takes a sudden and dangerous turn when she uncovers a plot larger than heroes and villains altogether.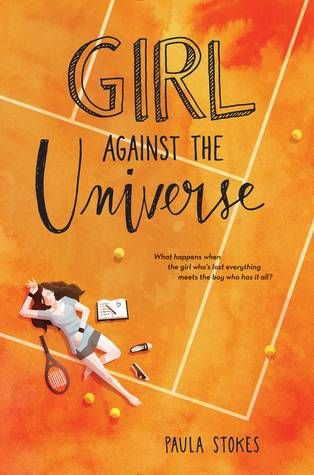 Girl Against The Universe by Paula Stokes
Maguire is bad luck.
No matter how many charms she buys off the internet or good luck rituals she performs each morning, horrible things happen when Maguire is around. Like that time the rollercoaster jumped off its tracks. Or the time the house next door caught on fire. Or that time her brother, father, and uncle were all killed in a car crash—and Maguire walked away with barely a scratch.
It's safest for Maguire to hide out in her room, where she can cause less damage and avoid meeting new people who she could hurt. But then she meets Jordy, an aspiring tennis star. Jordy is confident, talented, and lucky, and he's convinced he can help Maguire break her unlucky streak. Maguire knows that the best thing she can do for Jordy is to stay away. But it turns out staying away is harder than she thought.
Half Brother by Kenneth Oppel
For thirteen years, Ben Tomlin was an only child. But all that changes when his mother brings home Zan — an eight-day-old chimpanzee. Ben's father, a renowned behavioral scientist, has uprooted the family to pursue his latest research project: a high-profile experiment to determine whether chimpanzees can acquire advanced language skills. Ben's parents tell him to treat Zan like a little brother. Ben reluctantly agrees. At least now he's not the only one his father's going to scrutinize.
It isn't long before Ben is Zan's favorite, and Ben starts to see Zan as more than just an experiment. His father disagrees. Soon Ben is forced to make a critical choice between what he is told to believe and what he knows to be true — between obeying his father or protecting his brother from an unimaginable fate.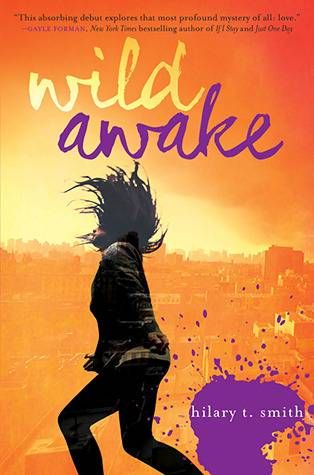 Wild Awake by Hilary T. Smith
Things you earnestly believe will happen while your parents are away:
1. You will remember to water the azaleas.
2. You will take detailed, accurate messages.
3. You will call your older brother, Denny, if even the slightest thing goes wrong.
4. You and your best friend/bandmate Lukas will win Battle of the Bands.
5. Amid the thrill of victory, Lukas will finally realize you are the girl of his dreams.
Things that actually happen:
1. A stranger calls who says he knew your sister.
2. He says he has her stuff.
3. What stuff? Her stuff.
4. You tell him your parents won't be able to—
5. Sukey died five years ago; can't he—
6. You pick up a pen.
7. You scribble down the address.
8. You get on your bike and go.
9. Things . . . get a little crazy after that.*
*also, you fall in love, but not with Lukas.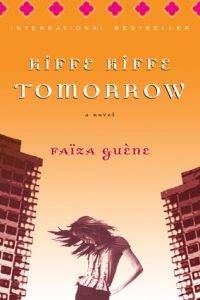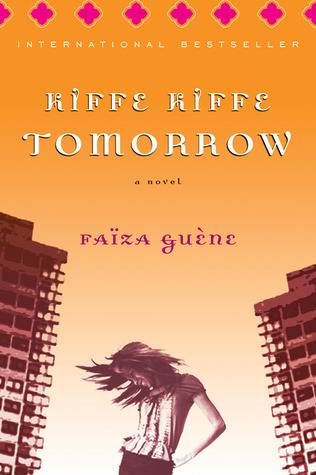 Kiffe Kiffe Tomorrow by Faiza Guene
The Paradise projects are only a few metro stops from Paris, but here it's a whole different kind of France. Doria's father, the Beard, has headed back to their hometown in Morocco, leaving her and her mom to cope with their mektoub—their destiny—alone. They have a little help– from a social worker sent by the city, a psychiatrist sent by the school, and a thug friend who recites Rimbaud.
It seems like fate's dealt them an impossible hand, but Doria might still make a new life. She'll prove the projects aren't only about rap, soccer, and religious tension. She'll take the Arabic word kif-kif (same old, same old) and mix it up with the French verb kiffer (to really like something). Now she has a whole new motto: KIFFE KIFFE TOMORROW.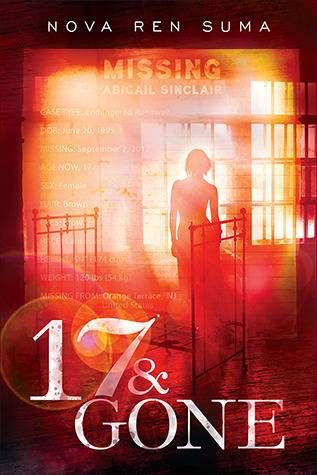 17 & Gone by Nova Ren Suma
Seventeen-year-old Lauren is having visions of girls who have gone missing. And all these girls have just one thing in common—they are seventeen and gone without a trace. As Lauren struggles to shake these waking nightmares, impossible questions demand urgent answers: Why are the girls speaking to Lauren? How can she help them? And… is she next? Through Lauren's search for clues, things begin to unravel, and when a brush with death lands Lauren in the hospital, a shocking truth changes everything.
A Time to Dance by Padma Venkatraman (hardcover — the paperback is a delicious deep purple!)
Veda, a classical dance prodigy in India, lives and breathes dance—so when an accident leaves her a below-knee amputee, her dreams are shattered. For a girl who's grown used to receiving applause for her dance prowess and flexibility, adjusting to a prosthetic leg is painful and humbling. But Veda refuses to let her disability rob her of her dreams, and she starts all over again, taking beginner classes with the youngest dancers. Then Veda meets Govinda, a young man who approaches dance as a spiritual pursuit. As their relationship deepens, Veda reconnects with the world around her, and begins to discover who she is and what dance truly means to her.
The Cat King of Havana by Tom Crosshill
Rick Gutierrez is . . . the Cat King of Havana! A cat-video tycoon turned salsa-dancer extraordinaire, he'll take Cuba by storm, romance the girl of his dreams, and ignite a lolcat revolution!
At least that's the plan.
It all starts when his girlfriend dumps Rick on his sixteenth birthday for uploading cat videos from his bedroom when he should be out experiencing the real world. Known as "That Cat Guy" at school, Rick isn't cool and he knows it. He realizes it's time for a change.
Rick decides joining a salsa class is the answer . . . because of a girl, of course. Ana Cabrera is smart, friendly, and smooth on the dance floor. Rick might be half-Cuban, but he dances like a drunk hippo. Desperate to impress Ana, he invites her to spend the summer in Havana. The official reason: learning to dance. The hidden agenda: romance under the palm trees.
Except Cuba isn't all sun, salsa, and music. There's a darker side to the island. As Rick and Ana meet his family and investigate the reason why his mother left Cuba decades ago, they learn that politics isn't just something that happens to other people. And when they find romance, it's got sharp edges.
Half World by Hiromi Goto
Melanie Tamaki is human—but her parents aren't. They are from Half World, a Limbo between our world and the afterlife, and her father is still there. When her mother disappears, Melanie must follow her to Half World—and neither of them may return alive. Imagine Coraline as filmed by the Japanese animator Hayao Miyazaki (Howl's Moving Castle), or Neil Gaiman collaborating with Charles de Lint. Half World is vivid, visceral, unforgettable, a combination of prose and images that will haunt you.
Derby Girl by Shauna Cross
Meet Bliss Cavendar, a blue haired, indie-rock loving misfit stuck in the tiny town of Bodeen, Texas.
Her pageant-addicted mother expects her to compete for the coveted Miss Blue Bonnet crown, but Bliss would rather feast on roaches than be subjected to such rhinestone tyranny.
Bliss' escape? Take up Roller Derby.
When she discovers a league in nearby Austin, Bliss embarks on an epic journey full of hilarious tattooed girls, delicious boys in bands, and a few not-so-awesome realities even the most bad-assed derby chick has to learn.
Want more "3 On A YA Theme" posts? Gotcha covered.