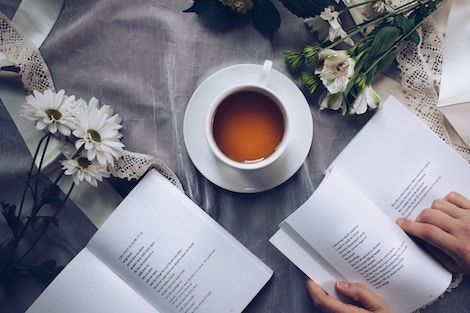 Lists
50 Must-Read Poetry Collections of 2019
This content contains affiliate links. When you buy through these links, we may earn an affiliate commission.
We all come to poetry for different reasons. Whether it's an appreciation of the lyricism, the succinct style, meter, metaphor, or its sometimes radical themes, poetry can have a profound effect on our reading lives. Reading poetry is like a deep stretch for a part of the brain that's rarely used: If reading prose is a simple hamstring stretch, reading poetry is like doing the splits.
Last year I read more poetry than I had in previous years, which encouraged me to make poetry a larger part of my 2019 reading goal. The plan is to read a poetry collection each week, which means I have to read 52 collections this year—a daunting challenge.
Luckily, there are some great collections coming out in 2019. Eve L. Ewing's (Electric Arches and Ghosts in the Schoolyard: Racism and School Closing on Chicago's South Side) second collection, 1919, will be released in June. Morgan Parker's (There Are More Beautiful Things Than Beyonce) next collection, Magical Negro, is being published by Tin House Books in February; Ocean Vuong's new book, On Earth We're Briefly Gorgeous, will also be out in June; and Jericho Brown (The New Testament) will have a new collection out in April from Copper Canyon Press.
Although there are a lot of tried and true poets with collections coming out this year, there were a few collections by unknown (to me) authors that I stumbled upon, and I'm really excited for those as well. Some of my most anticipated are tsunami vs. the fukushima 50 by Lee Ann Roripaugh, Soft Science by Franny Choi, The Octopus Museum by Brenda Shaughnessy, Exiles of Eden by Ladan Osman, and Casting Deep Shade: An Amble by C.D. Wright. These collections stood out to me, but there isn't a single collection on this list that I don't want to read.
I've collected titles that will be released this year, and I've also included a few titles from last year that might've been missed. They're in chronological order, starting with 2018 backlist collections, to August 2019 new releases. Depending on how you look at it, this list may or may not help your 2019 TBR—I know my list grew exponentially!
So, Here Are 50 Must-Read 2019 Poetry Collections:
2018 Backlist
"In her arresting collection, urgently relevant for our times, poet Emily Jungmin Yoon confronts the histories of sexual violence against women, focusing in particular on Korean so-called 'comfort women,' women who were forced into sexual labor in Japanese-occupied territories during World War II."
"In Wade in the Water, Tracy K. Smith boldly ties America's contemporary moment both to our nation's fraught founding history and to a sense of the spirit, the everlasting. These are poems of sliding scale: some capture a flicker of song or memory; some collage an array of documents and voices; and some push past the known world into the haunted, the holy. Smith's signature voice—inquisitive, lyrical, and wry—turns over what it means to be a citizen, a mother, and an artist in a culture arbitrated by wealth, men, and violence. Here, private utterance becomes part of a larger choral arrangement as the collection widens to include erasures of The Declaration of Independence and the correspondence between slave owners, a found poem comprised of evidence of corporate pollution and accounts of near-death experiences, a sequence of letters written by African Americans enlisted in the Civil War, and the survivors' reports of recent immigrants and refugees. Wade in the Water is a potent and luminous book by one of America's essential poets."
"In Andrea Gibson's latest collection, they continue their artful and nuanced looks at gender, romance, loss, and family. Each emotion here is deft and delicate, resting inside of imagery heavy enough to sink the heart, while giving the body wings to soar."
"Vulnerable, tender, acute, these are serious poems, brave poems, exploring with honesty the ambiguous moment between the rapture of youth and the grace of acceptance. A daughter tends to aging parents. A woman struggles with infertility—'What if, instead of carrying / a child, I am supposed to carry grief?'—and a body seized by pain and vertigo as well as ecstasy. A nation convulses: 'Every song of this country / has an unsung third stanza, something brutal.' And still Limón shows us, as ever, the persistence of hunger, love, and joy, the dizzying fullness of our too-short lives. 'Fine then, / I'll take it,' she writes. 'I'll take it all.'"
Junk by Tommy Pico
"The third book in Tommy Pico's Teebs trilogy, Junk is a breakup poem in couplets: ice floe and hot lava, a tribute to Janet Jackson and nacho cheese. In the static that follows the loss of a job or an apartment or a boyfriend, what can you grab onto for orientation? The narrator wonders what happens to the sense of self when the illusion of security has been stripped away. And for an indigenous person, how do these lost markers of identity echo larger cultural losses and erasures in a changing political landscape? In part taking its cue from A.R. Ammons's Garbage, Teebs names this liminal space "Junk," in the sense that a junk shop is full of old things waiting for their next use; different items that collectively become indistinct. But can there be a comfort outside the anxiety of utility? An appreciation of 'being' for the sake of being? And will there be Chili Cheese Fritos?"
"The poems in Sadie Dupuis' Mouthguard are a means of developing a deep personal mythology; to read them is to feel what self-discovery is, and then recognize it in the rearview mirror, disappearing over the broken American horizon. They emerge from the place where known experience and the unknown collide; a borderline we all cross on the way to becoming ourselves
"Mouthguard's poems are magical escapism; devotional affirmations of manic love, or incantations about illness and loss and the strangeness of bodies. Sometimes they're creepy, sometimes droll, very often woe-is-me narcissistic."
"Half-Hazard is a book of near misses, would-be tragedies, and luck. As Kristen Tracy writes in the title poem, 'Dangers here. Perils there. It'll go how it goes.' The collection follows her wide curiosity, from growing up in a small Mormon farming community to her exodus into the forbidden world, where she finds snakes, car accidents, adulterers, meteors, and death-marked mice. These wry, observant narratives are accompanied by a ringing lyricism, and Tracy's knack for noticing what's so funny about trouble and her natural impulse to want to put all the broken things back together. Full of wrong turns, false loves, quashed beliefs, and a menagerie of animals, Half-Hazard introduces a vibrant new voice in American poetry, one of resilience, faith, and joy."
"Layering joy and urgent defiance—against physical and cultural erasure, against white supremacy whether intangible or graven in stone—Trethewey's work gives pedestal and witness to unsung icons. Monument, Trethewey's first retrospective, draws together verse that delineates the stories of working class African American women, a mixed-race prostitute, one of the first black Civil War regiments, mestizo and mulatto figures in Casta paintings, Gulf coast victims of Katrina. Through the collection, inlaid and inextricable, winds the poet's own family history of trauma and loss, resilience and love."
Indecency by Justin Phillip Reed
"Indecency is boldly and carefully executed and perfectly ragged. In these poems, Justin Phillip Reed experiments with language to explore inequity and injustice and to critique and lament the culture of white supremacy and the dominant social order. Political and personal, tender, daring, and insightful―the author unpacks his intimacies, weaponizing poetry to take on masculinity, sexuality, exploitation, and the prison industrial complex and unmask all the failures of the structures into which society sorts us."
"Picture reversing a rodeo: the rider flies back onto the horse, the horse bucks into stillness. A whirling cast of characters engage in self-interrogation and self-discovery and wrestle in similar fashion in the pages of Rodeo in Reverse, a debut collection from Lindsey Alexander, which Sean Hill calls 'the genuine article.' Both time machine and microscope, Rodeo in Reverse is woven from bits of Americana: married life, art history, pioneers, and witches. These poems effortlessly traverse personal and historical pasts with tenderness and unrivaled humor. They offer a tour of American landscape—the trees with bitter crop of the South; the plains of the Midwest; the duels of a cartoonish Wild West. At once a wily romp and a lyric sweep, Rodeo in Reverse considers the possibilities and failures of domestic life on the never-ending quest of rounding up, and defining, the self. Rodeo in Reverse is the winner of the 2017 New Southern Voices Poetry Prize."
Midden by Julia Bouwsma
"In 1912 the State of Maine forcibly evicted an interracial community of roughly forty-five people from Malaga Island, a small island off the coast of Phippsburg, Maine. Though Malaga had been their home for generations, nine residents (including the entire Marks family) were committed to the Maine School for the Feeble Minded in Pownal, Maine. The others struggled to find homes on other islands or on the mainland, where they were often unwelcome. The Malaga school was dismantled and rebuilt as a chapel on another island. Seventeen graves were exhumed from the Malaga cemetery, consolidated into five caskets, and reburied at the Maine School for the Feeble Minded. Just one year after the start of the eviction proceedings, the Malaga community was erased.
"Midden confronts the events and over one hundred years of silence that surround this shameful incident in Maine's history."
"In her third collection of poetry, Tishani Doshi addresses violence against women by giving bodies abused and silenced bodies a chance to speak at last. Of and for the women that live on, she writes with bold reverence for that which thrives despite the odds—female desire, the aging body, the power of refusal. Doshi reminds us that poetry, at its root, is song–in praise and lament, hopeful and ebbing—calling out for truth and redemption."
"I Don't Write About Race is a poetic exploration of identity, as told through apologies, anecdotes, and admonitions. An autofictional cosmogony of a girl who has been alive too long, this collection of poems represents both the absolute culmination and the ultimate failure of the author's lifelong search for identity."
"In this stunning debut, poet José Olivarez explores the stories, contradictions, joys, and sorrows that embody life in the spaces between Mexico and America. He paints vivid portraits of good kids, bad kids, families clinging to hope, life after the steel mills, gentrifying barrios, and everything in between. Drawing on the rich traditions of Latinx and Chicago writers like Sandra Cisneros and Gwendolyn Brooks, Olivarez creates a home out of life in the in-between. Combining wry humor with potent emotional force, Olivarez takes on complex issues of race, ethnicity, gender, class, and immigration using an everyday language that invites the reader in. Olivarez has a unique voice that makes him a poet to watch."
"In this powerful and imaginative debut poetry collection, Fatimah Asghar nakedly captures the experiences of being a young Pakistani Muslim woman in America by braiding together personal and marginalized people's histories. After being orphaned as a young girl, Asghar grapples with coming-of-age as a woman without the guidance of a mother, questions of sexuality and race, and navigating a world that put a target on her back. Asghar's poems at once bear anguish, joy, vulnerability, and compassion, while exploring the many facets of violence: how it persists within us, how it is inherited across generations, and how it manifests in our relationships with friends and family, and in our own understanding of identity. Using experimental forms and a mix of lyrical and brash language, Asghar confronts her own understanding of identity and place and belonging."
"Divided into 'Home Recordings' and 'Field Recordings,' Brown speaks to the way personal experience is shaped by culture, while culture is forever affected by the personal, recalling a black Kansas boyhood to comment on our times. From "History"—a song of Kansas high-school fixture Mr. W., who gave his students 'the Sixties / minus Malcolm X, or Watts, / barely a march on Washington'—to 'Money Road,' a sobering pilgrimage to the site of Emmett Till's lynching, the poems engage place and the past and their intertwined power. These thirty-two taut poems and poetic sequences, including an oratorio based on Mississippi 'barkeep, activist, waiter' Booker Wright that was performed at Carnegie Hall and the vibrant sonnet cycle 'De La Soul Is Dead,' about the days when hip-hop was growing up ('we were black then, not yet / African American'), remind us that blackness and brownness tell an ongoing story. A testament to Young's own—and our collective—experience, Brown offers beautiful, sustained harmonies from a poet whose wisdom deepens with time."
January 2019
Invasive Species by Marwa Helal (January 1, 2019) Nightboat Books
"In Invasive species, Marwa Helal's searing politically charged poems touch on our collective humanity and build new pathways for empathy, etching themselves into memory. This work centers on urgent themes in our cultural landscape, creating space for unseen victims of discriminatory foreign (read: immigration) policy: migrants, refugees–the displaced. Helal transfers lived experiences of dislocation and relocation onto the reader by obscuring borders through language."
"These poems blaze in an inferno of lament and love as a son cares for his father who suffers from a debilitating illness. The speaker in Bicycle in a Ransacked City paints an emotional landscape from childhood to the present, while trying to find glimpses of happiness in the imminent painful loss.
"This debut collection follows the struggles of a son attempting to care for his father with Parkinson's Disease against the backdrop of the burning Bronx and New York City. The poems peel away at the complexity of love, family, individual growth, and sacrifice as the rough son moves through the world. In the face of a merciless disease, each poem fights to turn despair into gratitude."
Oculus: Poems by Sally Wen Mao (January 15, 2019) Graywolf Press
"In Oculus, Sally Wen Mao explores exile not just as a matter of distance and displacement but as a migration through time and a reckoning with technology. The title poem follows a nineteen-year-old girl in Shanghai who uploaded her suicide onto Instagram. Other poems cross into animated worlds, examine robot culture, and haunt a necropolis for electronic waste. A fascinating sequence spanning the collection speaks in the voice of the international icon and first Chinese American movie star Anna May Wong, who travels through the history of cinema with a time machine, even past her death and into the future of film, where she finds she has no progeny. With a speculative imagination and a sharpened wit, Mao powerfully confronts the paradoxes of seeing and being seen, the intimacies made possible and ruined by the screen, and the many roles and representations that women of color are made to endure in order to survive a culture that seeks to consume them."
"The wealth of her life experience finds expression in Laux's earthy and lyrical depictions of working-class America, full of the dirt and mess of real life. From the opening poem, 'Two Pictures of My Sister,' to the last, 'Letter to My Dead Mother,'she writes, in her words, of 'living gristle' with a perceptive frankness that is luminous in its specificity and universal in its appeal. Exploring experiences of survival and healing, of sexual love and celebration, Only as the Day Is Long shows Laux at the height of her powers."
"From Harriet Tubman to Assata Shakur, Ida B. Wells to Sandra Bland and Black Lives Matter, black women freedom fighters have braved violence, scorn, despair, and isolation in order to lodge their protests. In A Bound Woman Is a Dangerous Thing, DaMaris Hill honors their experiences with at times harrowing, at times hopeful responses to her heroes, illustrated with black-and-white photographs throughout."
The Twenty-Ninth Year by Hala Alyan (January 29, 2019) Mariner Books
"In Islamic and Western tradition, age twenty-nine is a milestone, a year of transformation and upheaval.
"For Hala Alyan, this is a year in which the past–memories of family members, old friends and past lovers, the heat of another land, another language, a different faith–winds itself around the present. Hala's ever-shifting, subversive verse sifts together and through different forms of forced displacement and the tolls they take on mind and body. Poems leap from war-torn cities in the Middle East, to an Oklahoma Olive Garden, a Brooklyn brownstone; from alcoholism to recovery; from a single woman to a wife. This collection summons breathtaking chaos, one that seeps into the bones of these odes, the shape of these elegies."
February 2019
"Casting Deep Shade is a passionate, poetic exploration of humanity's shared history with the beech tree. Before Wright's unexpected death in 2016, she was deeply engaged in years of ambling research to better know this tree–she visited hundreds of beech trees, interviewed arborists, and delved into the etymology, folk lore, and American history of the species. Written in Wright's singular prosimetric style, this 'memoir with beech trees' demonstrates the power of words to conserve, preserve, and bare witness."
If My Body Could Speak by Blythe Baird (February 5, 2019) Button Poetry
"If My Body Could Speak is about fighting for the space one takes up in a world that would rather they take up none at all. Blythe Baird deftly and uniquely charts a course through various modes of womanhood and women's bodies. Through love, loss, and the struggles of disordered eating, If My Body Could Speak uses sharp narratives and visceral imagery to get to the heart of a many-layered existence, speaking to many generations at once."
Magical Negro by Morgan Parker (February 5, 2019) Tin House Books
"Magical Negro is an archive of Black everydayness, a catalog of contemporary folk heroes, an ethnography of ancestral grief, and an inventory of figureheads, idioms, and customs. These American poems are both elegy and jive, joke and declaration, songs of congregation and self-conception. They connect themes of loneliness, displacement, grief, ancestral trauma, and objectification, while exploring and troubling tropes and stereotypes of Black Americans. Focused primarily on depictions of Black womanhood alongside personal narratives, the collection tackles interior and exterior politics—of both the body and society, of both the individual and the collective experience. In Magical Negro, Parker creates a space of witness, of airing grievances, of pointing out patterns. In these poems are living documents, pleas, latent traumas, inside jokes, and unspoken anxieties situated as firmly in the past as in the present—timeless Black melancholies and triumphs."
"In The Gilded Auction Block, the acclaimed poet Shane McCrae considers the present moment in America on its own terms as well as for what it says about the American project and Americans themselves. In the book's four sections, McCrae alternately responds directly to Donald Trump and contextualizes him historically and personally, exploding the illusions of freedom of both black and white Americans. A moving, incisive, and frightening exploration of both the legacy and the current state of white supremacy in this country, The Gilded Auction Block is a book about the present that reaches into the past and stretches toward the future."
What's in a Name by Ana Luísa Amaral (February 26, 2019) New Directions
"With the elliptical looping of a butterfly alighting on one's sleeve, the poems of Ana Luísa Amaral arrive as small hypnotic miracles. Spare and beautiful in a way reminiscent both of Szymborska and of Emily Dickinson (it comes as no surprise that Amaral is the leading Portuguese translator of Dickinson), these poems—in Margaret Jull Costa's gorgeous English versions—seamlessly interweave the everyday with the dreamlike and ask 'What's in a name?'"
March 2019
Deaf Republic: Poems by Ilya Kaminsky (March 5, 2019) Graywolf Press
"Deaf Republic opens in an occupied country in a time of political unrest. When soldiers breaking up a protest kill a deaf boy, Petya, the gunshot becomes the last thing the citizens hear—they all have gone deaf, and their dissent becomes coordinated by sign language. The story follows the private lives of townspeople encircled by public violence: a newly married couple, Alfonso and Sonya, expecting a child; the brash Momma Galya, instigating the insurgency from her puppet theater; and Galya's girls, heroically teaching signing by day and by night luring soldiers one by one to their deaths behind the curtain. At once a love story, an elegy, and an urgent plea, Ilya Kaminsky's long-awaited Deaf Republic confronts our time's vicious atrocities and our collective silence in the face of them."
Mitochondrial Night by Ed Bok Lee (March 5, 2019) Coffee House Press
"Taking mitochondrial DNA as his guide, Lee explores familial and national legacies, and their persistence across shifting boundaries and the erosions of time. In these poems, the trait of an ancestor appears in the face of a newborn, and in her cry generations of women's voices echo. Stories, both benign and traumatic, travel as lore and DNA. Using lush, exact imagery, whether about the corner bar or a hilltop in Korea, Lee is a careful observer, tracking and documenting the way that seemingly small moments can lead to larger insights."
The Summer of Dead Birds by Ali Liebegott (March 12, 2019) Amethyst Editions
"In a chronicle of mourning and survival, Ali Liebegott wallows in loneliness and overassigns meaning to everyday circumstance, clinging to an aging dog and obsessing over dead birds. But these unpretentious vignettes are laced with compassion, as she learns to balance the sting of death with the tender strangeness of life."
"In tsunami vs. the fukushima 50, Lee Ann Roripaugh takes a piercing, witty, and ferocious look into the heart of the disaster. Here we meet its survivors and victims, from a pearl-catcher to a mild-mannered father to a drove of mindless pink robots. And then there is Roripaugh's unforgettable Tsunami: a force of nature, femme fatale, and "annihilatrix." Tsunami is part hero and part supervillain―angry, loud, forcefully defending her rights as a living being in contemporary industrialized society. As humanity rebuilds in disaster's wake, Tsunami continues to wreak her own havoc, battling humans' self-appointed role as colonizer of Earth and its life-forms."
SINK by Desiree Dallagiacomo (March 12, 2019) Button Poetry
"Desireé Dallagiacomo's debut book grapples with the intersections of family and mental health. Sink asks and answers hard questions about grief, lineage, death and all manner of inheritance. What is one left with when they come from a family that has nothing to its name but loss? Throughout, Dallagiacomo weighs the cost of what it is to be alive and a woman in a landscape that makes being alive and a woman uninviting. Sink approaches grief and depression not as a tourist, but instead with the power and nuance of someone who has survived and made the most of their survival."
Don't Tell Me Not to Ask Why: Poetry Prose by Samantha King Holmes (March 19, 2019) Andrews McMeel Publishing
"Don't Tell Me Not to Ask Why, Samantha King Holmes's second solo poetry collection following her bestselling Born to Love, Cursed to Feel, is a mirror that reflects our honest truths. Holmes's poems are like little stories, hooking readers while navigating issues like body image, family relationships, loneliness, failed relationships, and finding belonging. Don't Tell Me Not to Ask Why is a call to introspection, a demand for honesty, and an affirmation of second chances."
April 2019
"Taking readers from suburban carports to wintry Russian novels, from summer tomato gardens to the sublime interiors of presleep thoughts, Magdalena Zurawski's poems anchor the complexities of our interconnected world in the singularity of the human experience. Balancing artistic experimentation with earnest expression, achingly real detail with dazzling prismatic abstraction, humor with frustration, light with dark, she offers a book of great human depth that is to be carried around, opened to anywhere, and encountered."
Brute: Poems by Emily Skaja (April 2, 2019) Graywolf Press
"Emily Skaja's debut collection is a fiery, hypnotic book that confronts the dark questions and menacing silences around gender, sexuality, and violence. Brute arises, brave and furious, from the dissolution of a relationship, showing how such endings necessitate self-discovery and reinvention. The speaker of these poems is a sorceress, a bride, a warrior, a lover, both object and agent, ricocheting among ways of knowing and being known. Each incarnation squares itself up against ideas of feminine virtue and sin, strength and vulnerability, love and rage, as it closes in on a hard-won freedom."
The Tradition by Jericho Brown (April 2, 2019) Copper Canyon Press
"Jericho Brown's daring new book The Tradition details the normalization of evil and its history at the intersection of the past and the personal. Brown's poetic concerns are both broad and intimate, and at their very core a distillation of the incredibly human: What is safety? Who is this nation? Where does freedom truly lie? Brown makes mythical pastorals to question the terrors to which we've become accustomed, and to celebrate how we survive. Poems of fatherhood, legacy, blackness, queerness, worship, and trauma are propelled into stunning clarity by Brown's mastery, and his invention of the duplex―a combination of the sonnet, the ghazal, and the blues―testament to his formal skill. The Tradition is a cutting and necessary collection, relentless in its quest for survival while revelling in a celebration of contradiction."
Soft Science by Franny Choi (April 2, 2019) Alice James Books
"Soft Science explores queer, Asian American femininity. A series of Turing Test-inspired poems grounds its exploration of questions not just of identity, but of consciousness―how to be tender and feeling and still survive a violent world filled with artificial intelligence and automation. We are dropped straight into the tangled intersections of technology, violence, erasure, agency, gender, and loneliness."
"With his fifth collection of poems, Michael Earl Craig delivers a fresh set of tableaux that have us squinting aslant at the ordinary. Dexterously constructed, the scenes, conversations, letters, instructions, stories, bios, and little fables of Woods and Clouds Interchangeable twist the comedic into shapes of startling seriousness, making us laugh at the same time they widen the dimensions of the world we live in."
Halal if You Hear Me: The Break Beat Poets Vol. 3 by Fatimah Asghar & Safia Elhillo (editors) (April 2, 2019) Haymarket Books
"The BreakBeat Poets Vol. 3: Halal If You Hear Me is a celebration of intersectional identity that dispels the notion that there is one correct way to be a Muslim, particularly for women, gender non-conforming, and trans people. In holding space for multiple intersecting identities, the anthology celebrates and protects those identities."
The Crazy Bunch by Willie Perdomo (April 2, 2019) Penguin Books
"From a prize-winning poet, a new collection that chronicles a weekend in the life of a group of friends coming of age in East Harlem at the dawn of the hip-hop era."
Patricide by Dave Harris (April 9, 2019) Button Poetry
"Dave Harris's stellar debut takes a nuanced look at the complexities of black masculinity. Patricide weighs those complexities and how they impact a lineage of black boys who fight to become men in the image of their fathers. More than just a book about fear or death centered on being black in America, Patricide illuminates the internal struggle to be the best man possible with the shadow of other men at your back. Through poems on loss, music, college, and family strife, Harris examines how time shifts and changes, despite so much of a life's architecture staying the same. Ultimately, Patricide opens itself up to reveal a story of many threads, one that finds a way to tie together in unexpected and joyful ways."
The Octopus Museum: Poems by Brenda Shaughnessy (April 9, 2019) Knopf Publishing Group
"Informed by Brenda Shaughnessy's craft as a poet and her worst fears as a mother, the poems in The Octopus Museum blaze forth from her pen: in these pages, we see that what was once a generalized fear for our children (car accidents, falling from a tree) is now hyper-reasonable, specific, and multiple: school shootings, nuclear attack, loss of health care, a polluted planet. As Shaughnessy conjures our potential future, she movingly (and often with humor) envisions an age where cephalopods might rule over humankind, a fate she suggests we may just deserve after destroying their oceans. These heartbreaking, terrified poems are the battle cry of a woman who is fighting for the survival of the world she loves, and a stirring exhibition of who we are as a civilization."
Soft Targets by Deborah Landau (April 30, 2019) Copper Canyon Press
"Deborah Landau's fourth book of poetry, Soft Targets, draws a bullseye on humanity's vulnerable flesh and corrupted world. In this ambitious lyric sequence, the speaker's fear of annihilation expands beyond the self to an imperiled planet on which all inhabitants are 'soft targets.' Her melancholic examinations recall life's uncanny ability to transform ordinary places―subways, cafes, street corners―into sites of intense significance that weigh heavily on the modern mind."
May 2019
Exiles of Eden by Ladan Osman (May 7, 2019) Coffee House Press
"Exiles of Eden looks at the origin story of Adam, Eve, and their exile from the Garden of Eden, exploring displacement and alienation from its mythological origins to the present. Steeped in Somali narrative tradition yet formally experimental, Osman's poems give voice to the experiences and traumas of displaced people over multiple generations. The characters in these poems encounter exile's strangeness while processing the profoundly isolating experience of knowing that that once you are sent out of Eden, you can't go back."
Lanny by Max Porter (May 14, 2019) Graywolf Press
"There's a village sixty miles outside London. It's no different from many other villages in England: one pub, one church, red-brick cottages, council cottages and a few bigger houses dotted about. Voices rise up, as they might do anywhere, speaking of loving and needing and working and dying and walking the dogs.
"This village belongs to the people who live in it and to the people who lived in it hundreds of years ago. It belongs to England's mysterious past and its confounding present. But it also belongs to Dead Papa Toothwort, a figure schoolchildren used to draw green and leafy, choked by tendrils growing out of his mouth.
"Dead Papa Toothwort is awake. He is listening to this twenty-first-century village, to his English symphony. He is listening, intently, for a mischievous, enchanting boy whose parents have recently made the village their home. Lanny."
"Who has not suffered grief? In Mourning Songs, the brilliant poet and editor Grace Schulman has gathered together the most moving poems about sorrow by the likes of Elizabeth Bishop, William Carlos Williams, Gwendolyn Brooks, Neruda, Catullus, Dylan Thomas, W.H. Auden, Shakespeare, Emily Dickinson, W.S. Merwin, Lorca, Denise Levertov, Keats, Hart Crane, Michael Palmer, Robert Frost, Hopkins, Hardy, Bei Dao, and Czeslaw Milosz—to name only some of the masters in this slim volume."
June 2019
"On Earth We're Briefly Gorgeous is a letter from a son to a mother who cannot read. Written when the speaker, Little Dog, is in his late twenties, the letter unearths a family's history that began before he was born—a history whose epicenter is rooted in Vietnam—and serves as a doorway into parts of his life his mother has never known, all of it leading to an unforgettable revelation. At once a witness to the fraught yet undeniable love between a single mother and her son, it is also a brutally honest exploration of race, class, and masculinity. Asking questions central to our American moment, immersed as we are in addiction, violence, and trauma, but undergirded by compassion and tenderness, On Earth We're Briefly Gorgeous is as much about the power of telling one's own story as it is about the obliterating silence of not being heard."
1919 by Eve Ewing (June 4, 2019) Haymarket Books
"The Chicago Race Riot of 1919, the most intense of the riots that comprised the 'Red Summer' of violence across the nation's cities, is an event that has shaped the last century but is widely unknown. In 1919, award-winning poet Eve L. Ewing explores the story of this event—which lasted eight days and resulted in thirty-eight deaths and almost 500 injuries—through poems recounting the stories of everyday people trying to survive and thrive in the city. Ewing uses speculative and Afrofuturist lenses to recast history, and illuminates the thin line between the past and the present."
Knitting the Fog by Claudia D. Hernandez (June 9, 2019) The Feminist Press at CUNY
"Weaving together narrative essay and bilingual poetry, Claudia D. Hernández's lyrical debut follows her tumultuous adolescence and fraught homecomings as she crisscrosses the American continent."
"The Shutters collects the two most important poetry collections—'The Shutters' and 'Photograms'—by the legendary Moroccan writer Ahmed Bouanani. By intertwining myth and tradition with the familiar objects and smells of his lived present, Bouanani reconstructs vivid images of Morocco's past. He weaves together references to the Second World War, the Spanish and French protectorates, the Rif War, dead soldiers, prisoners, and poets screaming in their tombs with mouths full of dirt. His poetry, written in an imposed language with a 'strange alphabet,' bravely confronts the violence of his country's history—particularly during the period of les années de plomb, the years of lead—all of which bears the brutal imprint of colonization. As Bouanani writes, 'These memories retrace the seasons of a country that was quickly forgetful of its past, indifferent to its present, constantly turning its back on the future.'"
August 2019
Be Recorder: Poems by Carmen Gimenez Smith (August 6, 2019) Graywolf Press
"Be Recorder offers readers a blazing way forward into an as yet unmade world. The many times and tongues in these poems investigate the precariousness of personhood in lines that excoriate and sanctify. Carmen Gimenez Smith turns the increasingly pressing urge to cry out into a dream of rebellion—against compromise, against inertia, against self-delusion, and against the ways the media dream up our complacency in an America that depends on it. This reckoning with self and nation demonstrates that who and where we are is as conditional as the fact of our compliance: 'Miss America from sea to shining sea / the huddled masses have a question / there is one of you and all of us.' Be Recorder is unrepentant and unstoppable, and affirms Gimenez Smith as one of the most vital and vivacious poets of our time."