Screen Time: A Round-Up of This Week's Videos
Did you know we have our very own YouTube (or BookTube, as they say) channel? Watch this week's videos below, and don't forget to head on over and subscribe!
This video is sponsored by Material Girls by Elaine Dimopoulos.
3 Backlist(ish) Books for Mom to Read 
[youtube]https://youtu.be/RS88VzJbwdU[/youtube]
These videos are sponsored by Undertow by Michael Buckley
These Are a Few of My Favorite (Book) Things 
[youtube]https://youtu.be/seE97jIX3cc[/youtube]
Going Out of Town? Visit a Bookstore! 
[youtube]https://youtu.be/M-Z-IgbNABY[/youtube]
In the Mailbag: May 14, 2015 
[youtube]https://youtu.be/JauI2zGfZ2M[/youtube]
Panels Mailbag Giveaway: May 2015 
[youtube]https://youtu.be/FBweUJ8IVA8[/youtube]
____________________
Book Riot Live is coming! Join us for a two-day event full of books, authors, and an all around good time. It's the convention for book lovers that we've always wanted to attend. So we are doing it ourselves.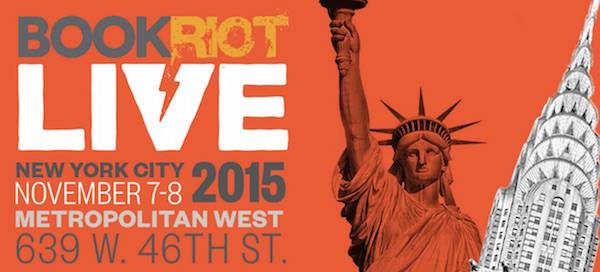 We're giving away five copies of Leslie Jamison's new essay collection
Make it Scream, Make it Burn
.
Click here to enter
, or click the image below!