In Praise of Audiobooks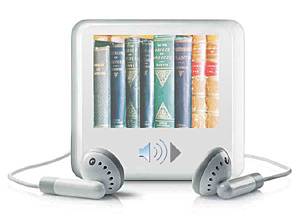 This past week I've been driving up and down the coast of California. I am not someone who can be left alone with my thoughts and music for that many hours in a car; not unless I want my brain to run off to my own version of a Nora Ephron/Terms of Endearment/female superhero daydreams with my playlist as the soundtrack… things get out of hand, and a touch exhausting to be honest. (If only there was reality TV of the mind – I'd win some sort of award, surely as it's pretty awesome in there.)
No, I need audiobooks. I need something for my brain to settle on and delve into so that it can be occupied for the trip. The tricky thing is finding just the right audiobook, because choose poorly and you have hours of boredom on your hands.
However once you find that sweet spot with a book (audio or not) you are absorbed in it in a way that you can never be with a movie or television, or even with music. You have to use your imagination, but you are given guidance. And, if the guidance is good, your imagination creates scenes that it likely wouldn't have come up with on it's own. I realized this the other night, while listening to Unbroken by Laura Hillenbrand. Not ever would this be where my daydreams took me while listening to music, but through her words a whole world was opened to me and I was able to experience it while also getting driving done.
I have long been an audiobook fan. I lived and commuted in L.A. (which, I realize, is pretty much the same thing), and fell in love with them there. The hours that I spent in the car were put to good use by listening to books.
Now I'll be back in the car again. Not so much for commuting as for traveling up and down the coast. I will be crossing my fingers for more hits than misses and could use your help; what are your favorites? Favorite audiobooks AND favorite narrators (because, sometimes, that makes all the difference).
_________________________
Sign up for our newsletter to have the best of Book Riot delivered straight to your inbox every two weeks. No spam. We promise.
To keep up with Book Riot on a daily basis, follow us on Twitter, like us on Facebook, , and subscribe to the Book Riot podcast in iTunes or via RSS. So much bookish goodness–all day, every day.
By signing up you agree to our Terms of Service
We have 10 copies of
An Anonymous Girl by Greer Hendricks & Sarah Pekkanen
to give away to Book Riot readers! Go
here
to enter for a chance to win, or just click the image below. Good luck!