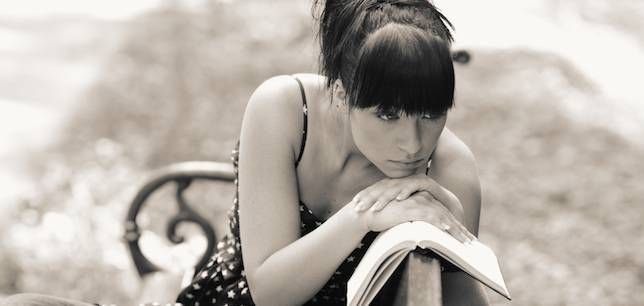 Newsletter 1
20 SFF Reads To Get You Through the 5 Stages of Grief
This content contains affiliate links. When you buy through these links, we may earn an affiliate commission.
It has been an indescribably difficult year for so many of us. It's okay to take time to mourn and tend to our wounds before we get down to the hard work of living day to day.
There is only so much we can do, so today I'm giving you a list. These are twenty SFF reads to help you through the stages of grief. They're less 'comfort' reads and more 'inspiration to shake it off and kick some ass' reads. Pick up a few and then it's time for some good trouble.
Denial
The End of All Things by John Scalzi
It would've been easy to choose this space opera for that title, alone. Scalzi's latest entry in his Old Man's War series tells the story of a wider universe on the brink. Earth has cut itself off from its colonists. The colonists and Colonial Union soldiers are barely able to fend off those who'd like nothing more than to wipe humanity out. A team of Colonial Union diplomats (and fan-favorite CDF Lieutenant Harry Wilson) are racing against time to discover the cause of attacks designed to pit humankind against other alien species and forge lasting peace with a rightly suspicious and angry Earth. If they fail, the consequences could mean, well, the end of all things.
Gray serves up a deftly plotted, well-paced political thriller focusing on then-Senator Leia Organa. Here we don't see young rebel leader Princess Leia or determined General Organa. This is savvy, but weary, Senator Organa, reluctant player on the shifting stage of galactic politics. Iit's dense and thinky without sacrificing the great action sequences that make stories in this universe such fun. Bloodline is a satisfying story for stalwart Star Wars fans as well as for readers with only a basic knowledge of the films.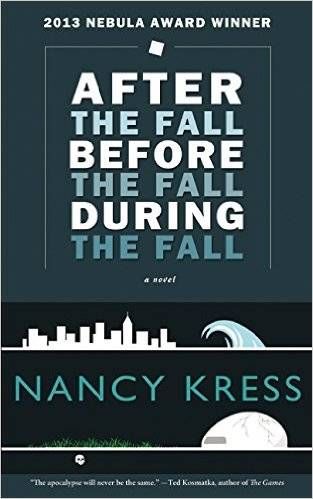 After the Fall, Before the Fall, During the Fall by Nancy Kress
A coming of age story for the human race, this Nebula- and Locus-award winning novella is a swift, brutal read. Told in three alternating timelines, we get glimpses of the before, during, and after of a post-apocalyptic dystopia that balances stark sorrow with remarkable human tenacity. Perhaps the most heartbreaking sections come before the fall, where the reader sees the ways the world could have worked harder to prevent catastrophe.
The Dream-Quest of Vellitt Boe by Kij Johnson
Vellitt Boe, one of the rare women who live in the dreamworld and a professor at a women's college, is the star of this feminist reimagining of The Dream-Quest of Unknown Kadath, a novella by fantasy's racist grandpa, H.P. Lovecraft. Boe spent her youth traveling and now, in middle-age, is forced to return to the road when one of her students elopes with a man from the waking world. Boe needs to retrieve the student before the college loses its funding and/or their home is razed by the gods.
Anger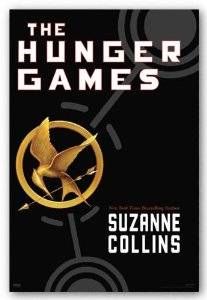 The Hunger Games by Suzanne Collins
Perhaps the most famous of YA's dystopian series, so you probably know what it's about, already. The Hunger Games is the story of a future North America divided into districts with wealth concentrated in a decadent Capitol region. Every year, children from each district are forced to fight in a broadcast battle to the death as punishment for the districts' attempted uprising decades earlier. When Katniss Everdeen, a teenager from impoverished District 12, volunteers as tribute in place of her younger sister, the wheels are put in motion for a revolution. May the odds be ever in your favor.
Ancillary Justice by Ann Leckie
This space opera won nearly every major award in science fiction, and with good reason. A brilliant examination of humanity and race and gender, Ancillary Justice is the story of Breq. Once she was a massive starship with an artificial intelligence that linked thousands of soldiers' minds in the service of the Radch, the galaxy's conquerors. Now Breq has been stripped from her sprawling home and left with a single human body. She has questions she wants answered and, what's more, she's on a quest for vengeance.
Harry Potter and the Order of the Phoenix by JK Rowling
Like The Hunger Games, I figure if you're reading this you know about Harry Potter. But I couldn't keep Order of the Phoenix off of this list. This is the book where we see the beginning of the resistance against Voldemort's return. It's when people Harry thought were friends would rather believe what the Ministry is saying than believe Harry's assertion that Voldemort's back. It's when the students of Hogwarts are forced to stand up against their own teachers for what's right. It's where Dumbledore's Army is formed.
The Fifth Season by NK Jemisin
The first in Jemisin's Broken Earth trilogy is a mind-blowing feat of epic fantasy. It's set in a post-post-post apocalyptic world with a constantly changing ecology and geology. Like The Hundred Thousand Kingdoms, The Fifth Season explores a world in which people who are powered are also oppressed, on a grand scale.
Bargaining
Hunting Monsters by SL Huang
The lone short story on this list, Hunting Monsters is a subversive, queer and POC fairytale reimagining. As author SL Huang says, "There's no reason Beauty from "Beauty and the Beast" couldn't be an Asian bisexual woman with a mixed-race daughter, and no reason she and Red Riding Hood couldn't be both my ace riflewomen and hunters and also their own diverse and nontraditional family."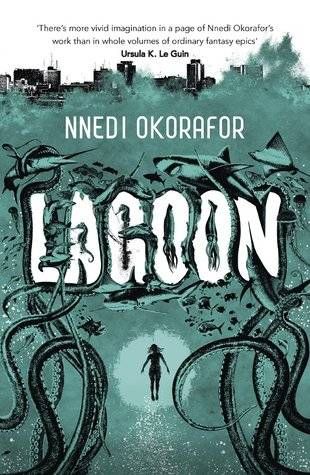 Lagoon by Nnedi Okorafor
A blend of science fiction, fantasy, and fairytale, in a genre glutted with samey renditions, Lagoon is a highly original first contact story. The aliens, when they come, land not in New York or London or insert-cities-usually-invaded-or-destroyed-by-monsters-here. They come to Lagos, Nigeria. Told in a myriad of perspectives (from soldiers and scientists and rappers to fanciful viewpoints like spiders), everything goes topsy turvy from the arrival of the first shapeshifting alien ambassador to Earth.
Ghost Talkers Mary Robinette Kowal
In Mary Robinette Kowal's first novel since the completion of the Glamourist Histories series, she's created yet another compelling and vivid alternate history. Set against the backdrop of WWI, Ghost Talkers tells the story of Ginger Stuyvesant, an American heiress and member of the Spirit Corps, mediums who aid the Allies by relaying information from deceased soldiers to military intelligence. There's romance and spycraft and friendship. It's both inspiring and heartbreaking to see the toll the war has on everyone, civilian and military alike.
Parable of the Sower by Octavia Butler
In this near-future apocalyptic novel, environmental and economic catastrophes lead to civil unrest and social chaos. Even the gated communities have become unsafe. Lauren, the teenage daughter of a minister, loses everything and is forced to venture out into the unprotected world on her own. What starts as a ruthless fight for survival evolves into the creation of a community, the realization of humankind's destiny, and the creation of a new belief system and a call to embrace diversity.
Depression
The Sparrow by Mary Doria Russell
It's an old standby at Book Riot, but The Sparrow is one of our go-to recommendations for a reason. The Sparrow is an emotional, literary gut-punch of a book told in two alternating timelines. One is the story of an ill-fated mission (manned by an engineer, an astronomer, a doctor, a computer expert, and several Jesuit priests) to find aliens in Alpha Centauri. The other is the emotional and physical recovery, as well as the sometimes cruel interrogation of, the lone survivor of the mission.
Station Eleven by Emily St. John Mandel
Station Eleven is another brilliant post-apocalyptic story that plays with timelines to show the before and after of the disaster. In this, that disaster was an epidemic that all but wiped out the North American populace. It's a book about everything and nothing, civilization and art and a theater troupe and celebrity. The language is beautiful and the characters are so fully rendered you may forget they only exist on the page.
The Dispossessed by Ursula Le Guin
I flip flopped on which Le Guin to include in this list, because all of her work has been a great help in my grieving process. I landed on The Dispossessed because I've rarely come across a work that so brilliantly captures the feeling of hope and despair in the face of government. A physicist raised on a hardscrabble, anarchist lunar colony attempts to improve relations and increase his understanding by teaching at a university on his people's former homeworld. That world, plagued by war and divisiveness between classes, illustrates what may go wrong and right with a capitalist system. What's an anarchist scientist to do, if not attempt to unbuild walls?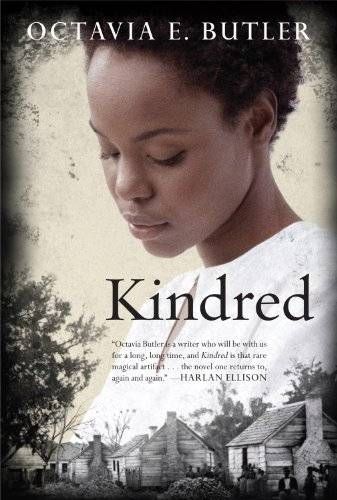 Kindred by Octavia Butler
One of the modern masterpieces of speculative fiction, Kindred is a brutal, complex, time travel novel that breaks genre conventions in almost every conceivable way. Dana, an African-American woman who's living in LA in the 70s, finds herself inexplicably transported to Antebellum Maryland. There, she rescues a drowning white boy and is swiftly and, still inexplicably, transported back to her home in LA. Over and over again, she travels through time, saving the life of her apparent ancestor. The book is a ferocious and unflinching examination of our country's prejudices and our history of slavery.
Acceptance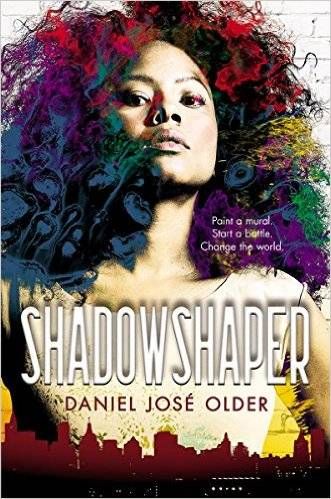 Shadowshaper by Daniel Jose Older
A diverse, dynamic YA novel feature one of the most compelling heroines I've read in years. Sierra Santiago is bold, smart, artistic, but still feels teenage anxieties and realistically interacts with her peers. The worldbuilding involved in the fantastical Brooklyn setting and the shadowshaping magic are impressive. It's wonderful to see an urban fantasy YA story with a culturally diverse setting that acknowledges and uses spiritual tradition to enhance the story.
Ms. Marvel Vol. 1: No Normal by G. Willow Wilson, Adrian Alphona, Ian Herring, Joe Caramanga, and Kris Anka
The only comic on the list, Ms. Marvel is about Kamala Khan, a Muslim teenager growing up in Jersey City. She's obsessed with superheroes (especially Captain Marvel), and then she finds herself in possession of powers and becomes one. Rioter Swapna Krishna put together an amazing list of 20 Things she learned from Ms. Marvel.
Everfair by Nisi Shawl
When writer Nisi Shawl theorized that she had trouble getting into steampunk because of its colonialist roots, she spun her own version into Everfair. It's an alternate Congolese history where Europeans and Americans purchase land to create a small country called Everfair. The novel tells a decades long tale of the creation and rise of the country. Its residents chase out King Leopold's forces through the development of steam technology and an alliance with Everfair's indigenous king.
Sorcerer to the Crown by Zen Cho
Book Riot's first #RiotRead selection takes readers to the early 19th century. At first it seems to have the trappings of your standard European historical fantasy, but Sorcerer to the Crown is anything but a traditional tale. Zacharias Wythe is a former slave and the first man of color to become the Sorcerer Royal. He fights prejudice and navigates political intrigue and the sorry dearth of magic in England with weary determination. This novel also features amazing magical women, mainly the brilliantly-named Prunella Gentleman, the half-Indian orphan of a gentleman thaumaturge. She's eminently practical and a highly gifted magic wielder in her own right. This book is funny and tightly plotted and set in a fulsomely diverse world.