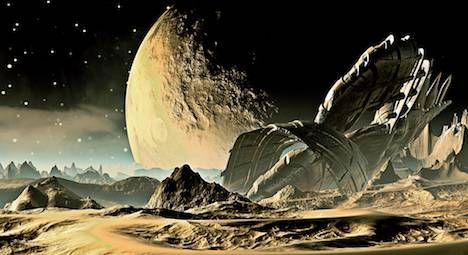 This week's Riot Recommendation is sponsored by TryAudiobooks.com.
Looking for something new to listen to? Penguin Random House Audio is always working hard to record new sci-fi audiobooks for you – and this year will not disappoint! From Star Wars Life Debt: Aftermath to Dark Matter to the finale to Justin Cronin's trilogy, The City of Mirrors, there is something to satisfy any intergalactic preference. Visit TryAudiobooks.com for a free audiobook and start listening!
____________________
We asked you to share your favorite science fiction audiobooks were and you answered. We've included the audiobook reader alongside the title and author as well.
Grab your headphones, crank up the volume, and get your listening on.
Anthem by Neal Stephenson as read by Oliver Wyman, Tavia Gilbert, William Dufris, and Neal Stephenson
Binti by Nnedi Okorafor as read by Robin Miles
Bird Box by Josh Malerman as read by Cassandra Campbell
The Collected Stories of Philip K. Dick (5 volumes) as read by Jeff Cummings
Dune by Frank Herbert as read by Scott Brick, Orlagh Cassidy, Euan Morton, Simon Vance, and Ilyana Kadushin
The Fireman by Joe Hill as read by Kate Mulgrew
The Girl With All the Gifts by MR Carey as read by by Finty Williams
The Handmaid's Tale by Margaret Atwood as read by Claire Danes
Hitchhiker's Guide to the Galaxy by Douglas Adams as read by Stephen Fry
Lagoon by Nnedi Okorafor as read by Adjoa Andoh and Ben Onwukwe
Lock In by John Scalzi as read by Wil Wheaton or Amber Benson
Ready Player One by Ernest Cline as read by Wil Wheton
The Regional Office Is Under Attack! by Manuel Gonzales as read by Sarah Scott, Natasha Soudek,Susan Hanfield, and Mike Chamberlain
Shades of Grey by Jasper Fforde as read by John Lee
Sleeping Giants by Sylvian Neuvel as narrated by a full cast
Star Wars: Bloodline by Claudia Gray as read by January LaVoy
Station Eleven by Emily St. John Mandel as read by Kirsten Potter
To Say Nothing of the Dog by Connie Willis as read by Steven Crossley
The Windup Girl by Paolo Bacigalupi as read by Jonathan Davis