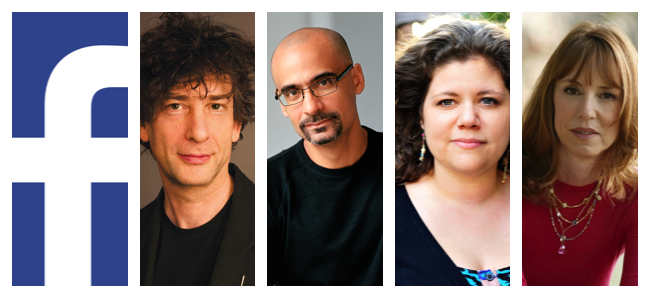 Lists
15 Author Pages You Should Like on Facebook
Want more bookishness if your Facebook feed? Check out these wicked awesome author fan pages.
If you want to get philosophical on social media, definitely check out Coelho's page. It features a lot of quotes by the author in English and Spanish.
The crime writer posts news about and quotes from her books as well as photos from her travels.
This is a great page to like if you want to stay informed about social and political topics ranging from immigration to gay marriage among minorities. Díaz posts a lot of news articles and interviews about important issues. Most of the posts are in English, but a few are in Spanish.
Everyone knows Neil Gaiman is the cat's pajamas, but did you know he also has a very cool Facebook page? He posts stuff like Weird Al's "Word Crimes" music video and pictures of him icing his hand after signing too many books.
Green is the social media king of YA authors and this is just as obvious on Facebook as it is on every other platform where he has a presence. He posts stuff like why geography is dumb, covers of his books in different translations, and of course, links to his latest Vlogbrother videos.
Kaling may only be a first-time author at this point, but that is more than enough to include her on this list in my opinion, especially when you consider how freaking awesome her Facebook page is. She posts stuff like pictures of where her book should be placed in bookstores and Wikipedia articles about correctional facilities that mention her TV show.
Stephen King is so successful he could probably get away with not even having a Facebook page, but not only does he have one, he actually posts to it himself and *gasp* responds to reader's comments. Rock on, Mr. King.
Jodi Picoult is another author who interacts with her readers on her Facebook page. If you're a fan, her page is a must-like for keeping up with her schedule and book news.
Rice is nothing if not loyal to her fans. She interacts constantly with readers on her Facebook page and, as one Rioter pointed out, has her assistant apologize on her behalf if she's been absent from the page for too long. In addition to promoting her books she posts a lot of interesting articles and encourages friendly debate and discussion.
Popular YA author of the Percy Jackson series and Bostonian (yay!) Rick Riordan publishes his tweets through his Facebook page, so if you don't have a Twitter account and want to keep up with him, liking his Facebook page is a great way to do that. Also he's a Doctor Who fan, so…
Rainbow Rowell is everywhere these days–Time Magazine, The New York Times, and The Riot Read, just to name a few. She posts book news, tour plans, and cool fanart on her Facebook page.
See is a writer of histocial novels, so it is only appropriate that her Facebook page is a great place to learn about the real life history behind many of her stories. She also posts about her research and book tour adventures.
Danielle Steel posts a letter to her Facebook fans every month along with updates about her books and travel plans. She's also been known to get philosopical every now and then.
Naturally the brilliant and ageless Amy Tan would have a terrific Facebook page. She posts photos of her travels, as well as flashback photos from her childhood. She also ocassionally posts about current events.
The famous writer of romance and erotica is very active on her Facebook page and interacts regularly with fans. She also uses her page to raise awareness about domestic violence, have candid conversations about sex, and post various news articles.