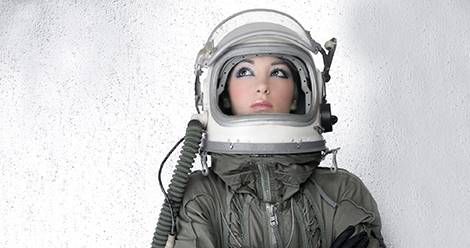 This giveaway is sponsored by Little, Brown Books for Young Readers, publisher of Defy the Stars by Claudia Gray.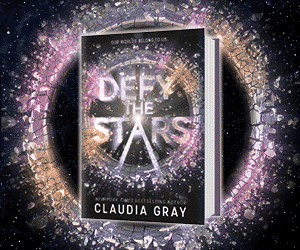 She's a soldier.
He's a machine.
Enemies in an interstellar war, they are forced to work together as they embark on a daring journey through the stars. Their efforts would end the fighting for good, but they're not without sacrifice. The stakes are even higher than either of them first realized, and the more time they spend together, the more they're forced to question everything they'd been taught was true.
---
Because high school is more thrilling in space, and saving the galaxy is (maybe?) as important as that first romance. We asked you to share your favorite Sci-Fi YA novels, and you responded. Here are 32 of your favorites!
Carve the Mark by Veronica Roth
The Lunar Chronicles Series by Marissa Meyer
The Hunger Games Series by Suzanne Collins
The Blue Sword by Robin McKinley
Grasshopper Jungle by Andrew A. Smith
A Wrinkle in Time by Madeleine L'Engle
Insignia by S.J. Kincaid
Illuminae: The Illuminae Files, Book 1 by Amie Kaufman and Jay Kristoff
Shade's Children by Garth Nix
Ender's Game by Orson Scott Card
Red Rising by Pierce Brown
Feed by Matthew Tobin Anderson
The 5th Wave by Rick Yancey
The Uglies Series by Scott Westerfield
The Knife of Never Letting Go by Patrick Ness
The Love That Split the World by Emily Henry
Shatter Me by Tahereh Mafi
Fortune's Pawn by Rachel Bach
Across the Universe Series by Beth Revis
Red Queen by Victoria Aveyard
A Thousand Pieces of You by Claudia Gray
Dark Matter by Blake Crouch
The Giver by Lois Lowry
The Lost Girl by Sangu Mandanna
All Our Yesterdays by Cristin Terrill
Ship Breaker Series by Paolo Bacigalupi
Starfall by Melissa Landers
Insurgent by Veronica Roth
Beyond the Red by Ava Jae
Faerie Wars by Herbie Brennan
Starflight by Melissa Landers
The Forgetting by Sharon Cameron