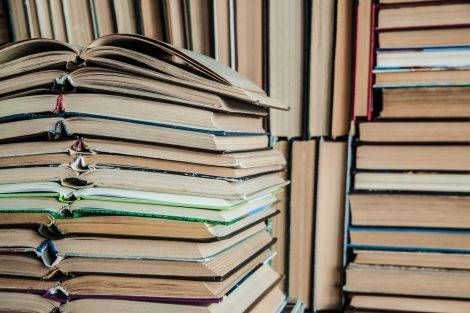 Lists
100 Must-Read Books from Our Favorite Trilogies and Series
This content contains affiliate links. When you buy through these links, we may earn an affiliate commission.
I had fully intended to do list of 100 completed trilogies or series, but that was a task that proved a bit complicated. Some of the best book series out there are not and may never be "complete." And can you imagine how far down you'd have to scroll for 300+ books? It'd be a bit unmanageable.
Instead, I went with titles from trilogies and completed series that added up to 100 individual books. That's the equivalent of about 30 box sets or really sweet ebook bundles. And when you think of it that way, it's like a super convenient gift guide. Who doesn't appreciate one of those?
The Passage Trilogy by Justin Cronin
The Magicians Trilogy by Lev Grossman
The Magicians
All Souls Trilogy by Deborah Harkness
A Discovery of Witches
Brilliance Trilogy by Marcus Sakey
Brilliance
Ibis Trilogy by Amitav Ghosh
Sea of Poppies
The African Trilogy by Chinua Achebe
Things Fall Apart
The Unwind Dystology by Neal Shusterman
Unwind
The EarthEnd Saga by Gillian Anderson and Jeff Rovin
A Vision of Fire
Area X: The Southern Reach Trilogy by Jeff Vandermeer
Annihilation
Destiny Trilogy by Beverly Jenkins
Destiny's Surrender
The Seeds of America Trilogy by Laurie Halse Anderson
Chains
The Famished Road Trilogy by Ben Okri
The Famished Road
The Summer I Turned Pretty Trilogy by Jenny Han
The Summer I Turned Pretty
Off the Grid Trilogy by Alyssa Cole
Radio Silence
The Lunar Chronicles by Marissa Meyer
Cinder
Shatter Me Trilogy by Tahereh Mafi
Shatter Me
Last Werewolf Trilogy by Glen Duncan
The Last Werewolf
The Night Trilogy by Elie Wiesel
Night
The Testing Trilogy by Joelle Charbonneau
The Testing
Miss Peregrine's Peculiar Children by Ransom Riggs
Miss Peregrine's Home for Peculiar Children
Latin American Trilogy by Louise de Bernières
The War of Don Emmanuel's Nether Parts
The Troublesome Offspring of Cardinal Guzman
The Patternist Series by Octavia Butler
Wild Seed
Maddaddam Trilogy by Margaret Atwood
The Year of the Flood
The Cairo Trilogy by Naguib Mahfouz
Palace Walk
The House of Earth by Pearl S. Buck
The Good Earth
The Neapolitan Novels by Elena Ferrante
My Brilliant Friend
Those Who Leave and Those Who Stay
Remembrance of Earth's Past by Cixin Liu
The Three Body Problem
The Inheritance Cycle by Christopher Paolini
Legend Trilogy by Marie Lu
Legend
Gallaghers of Ardmore Trilogy by Nora Roberts
Jewels of the Sun
The Giver Quartet by Lois Lowry
The Giver