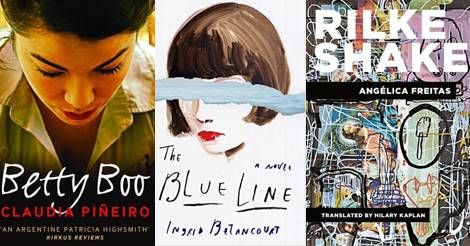 Lists
100 Must-Read Latin American Books
This content contains affiliate links. When you buy through these links, we may earn an affiliate commission.
Editor's note: The original version of this post erroneously included A General Theory of Oblivion by José Eduardo Agualusa. This title has ben removed from the list and replaced with a correct selection.
_________________________
Must-read Latin American lists aren't new. There are many, upon many. Mostly with the common thread of listing the same handful of authors and generally focusing on a few countries. And let's not forget magic realism: probably the most associated term with Latin American literature. I would not be surprised if What is magic realism, Alex! were an answer to a Latin American category question on Jeopardy!
But Latin American countries include all of South and Central America, Mexico, Cuba, Haiti, Dominican Republic, and Puerto Rico which means there is a lot of distinct histories, voices, views, and stories to read.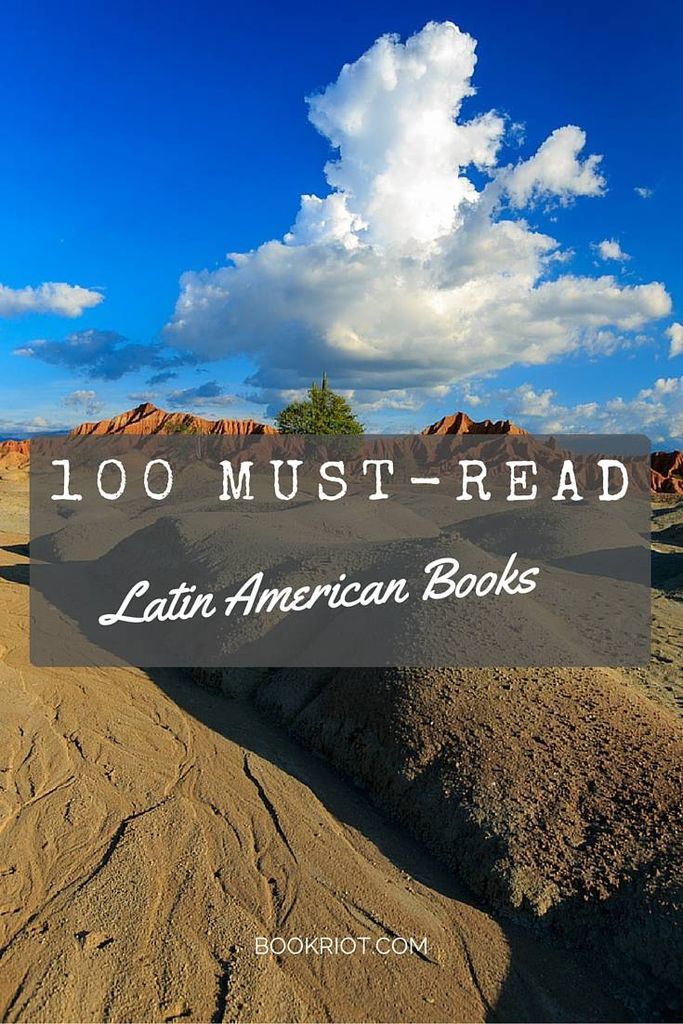 While I have not ignored the authors everyone knows of, magic realism, or the most popular countries I decided to cast my nets far and wide. I've included short stories, novels, anthologies, poetry, and even a memoir. There are works that defined/created literary movements all the way to recent crime fiction. This list is in no way comprehensive but there is something here for every type of reader– including those who like to watch the adapted film after reading the book.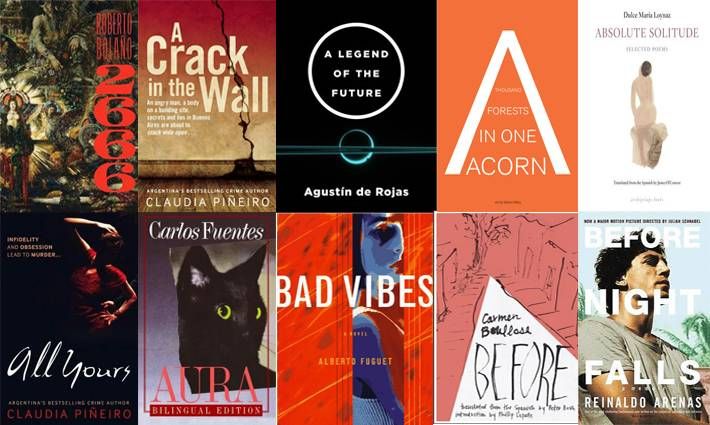 2666 by Roberto Bolaño, Natasha Wimmer (Translation)
A Crack in the Wall by Claudia Piñeiro, Miranda France (Translation)
A Legend of the Future by Agustin De Rojas, Nick Caistor (Translation)
A Thousand Forests in One Acorn: An Anthology of Spanish-Language Fiction by Valerie Miles (Editor)
Absolute Solitude: Selected Poems by Dulce María Loynaz, James O'Connor (Translation)
All Yours by Claudia Pineiro, Miranda France (Translation)
Aura by Carlos Fuentes, Lysander Kemp (Translation)
Bad Vibes by Alberto Fuguet, Kristina Cordero (Translation)
Before by Carmen Boullosa, Peter Bush (Translation) (June 14/Deep Vellum Publishing)
Before Night Falls by Reinaldo Arenas, Dolores M. Koch (Translator)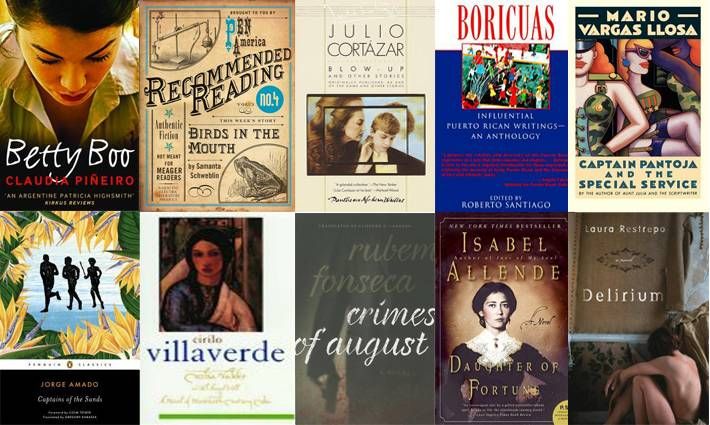 Betty Boo by Claudia Piñeiro, Miranda France (Translation)
Birds in the Mouth by Samanta Schweblin, Joel Streicker (Translation)
Blow-Up and Other Stories by Julio Cortazar, Paul Blackburn (Translation)
Boricuas: Influential Puerto Rican Writings – An Anthology by Roberto Santiago (Editor/Contributor)
Captain Pantoja and the Special Service by Mario Vargas Llosa, Ronald Christ (Translation)
Captains of the Sands by Jorge Amado, Gregory Rabassa (Translation)
Cecilia Valdes: Or El Angel Hill by Cirilo Villaverde, Helen Lane (Translation)
Crimes of August by Rubem Fonseca, Clifford E. Landers (Translation)
Daughter of Fortune by Isabel Allende, Margaret Sayers Peden (Translation)
Delirium by Laura Restrepo, Natasha Wimmer (Translation)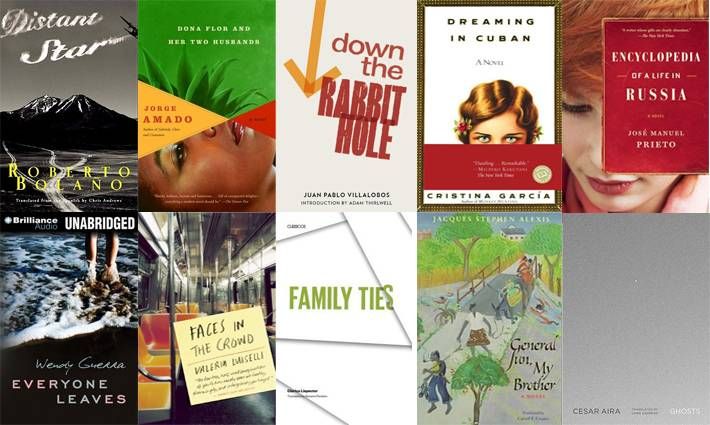 Distant Star by Roberto Bolaño, Chris Andrews (Translation)
Dona Flor and Her Two Husbands by Jorge Amado, Harriet de Onís (Translation)
Down the Rabbit Hole by Juan Pablo Villalobos, Rosalind Harvey (Translation)
Dreaming in Cuban by Cristina Garcia
Encyclopedia of a Life in Russia by José Manuel Prieto, Esther Allen (Translation)
Everyone Leaves by Wendy Guerra, Achy Obejas (Translation)
Faces in the Crowd by Valeria Luiselli, Christina MacSweeney (Translation)
Family Ties by Clarice Lispector, Giovanni Pontiero (Translation)
General Sun, My Brother by Jacques Stephen Alexis, Carrol F. Coates (Translation)
Ghosts by Cesar Aira, Chris Andrews (Translation)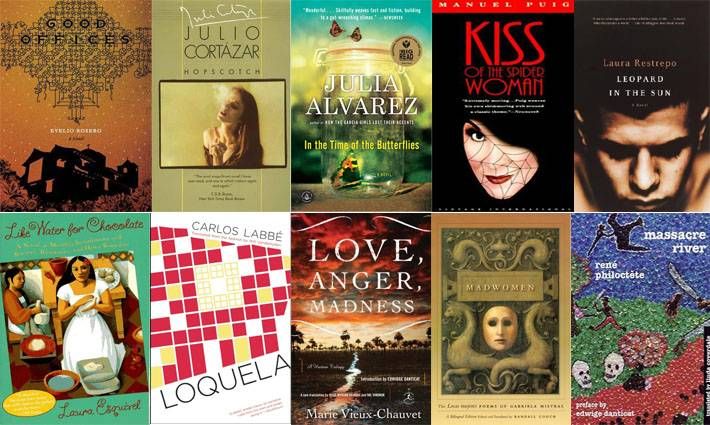 Good Offices by Evelio Rosero, Anne McLean (Translation), Anna Milsom (Translation)
Hopscotch by Julio Cortázar, Gregory Rabassa (Translation)
In the Time of the Butterflies by Julia Alvarez
Kiss of the Spider Woman by Manuel Puig, Thomas Colchie (Translation)
Leopard in the Sun by Laura Restrepo, Stephen A. Lytle, (Translation)
Like Water for Chocolate by Laura Esquivel, Carol Christensen (Translation), Thomas Christensen (Translation)
Loquela by Carlos Labbé, Will Vanderhyden (Translation)
Love, Anger, Madness by Marie Vieux-Chauvet
Madwomen: The "Locas mujeres" Poems of Gabriela Mistral, a Bilingual Edition by Gabriela Mistral, Randall Couch (Translation)
Massacre River by René Philoctète, Linda Coverdale, Edwidge Danticat (Preface by)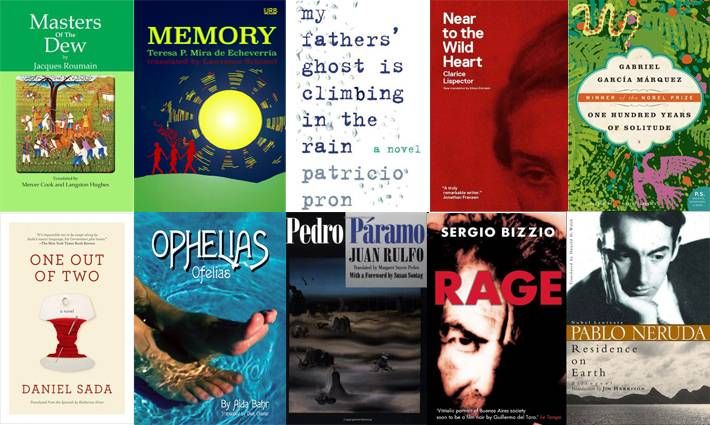 Masters of the Dew by Jacques Roumain, Mercer Cook (Translation)
Memory: a novelette by Teresa P. Mira de Echeverría, Lawrence Schimel (Translation)
My Fathers' Ghost Is Climbing in the Rain by Patricio Pron, Mara Faye Lethem (Translation)
Near to the Wild Heart by Clarice Lispector, Alison Entrekin (Translation), Benjamin Moser (Preface)
One Hundred Years of Solitude by Gabriel Garcí­a Márquez, Gregory Rabassa (Translation)
One Out of Two by Daniel Sada, Katherine Silver (Translation)
Ophelias by Aida Bahr, Dick Cluster (Translation)
Pedro Paramo by Juan Rulfo, Margaret Sayers Peden (Translation)
Rage by Sergio Bizzio, Amanda Hopkinson (Translation)
Residence on Earth by Pablo Neruda, Donald Devenish Walsh (Translator)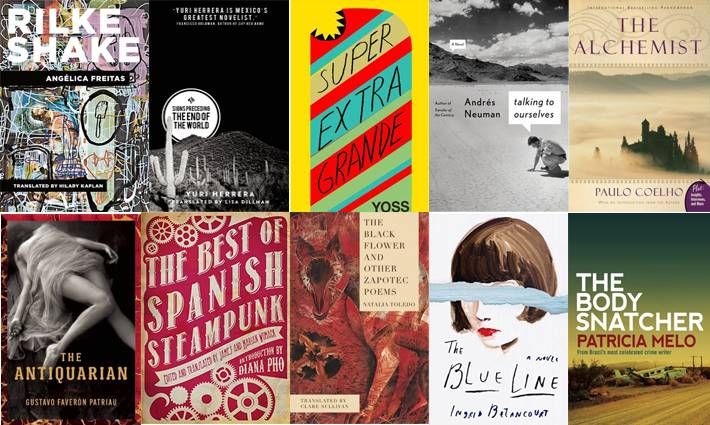 Rilke Shake by Angélica Freitas, Hilary Kaplan (Translation)
Signs Preceding the End of the World by Yuri Herrera, Lisa Dillman (Translation)
Super Extra Grande by Yoss, David Frye (Translation) (Restless Books, June 7th)
Talking to Ourselves by Andrés Neuman by Andrés Neuman, Nick Caistor (Translation), Lorenza García (Translation)
The Alchemist by Paulo Coelho, Alan R. Clarke (Translation)
The Antiquarian by Gustavo Faverón Patriau, Joseph Mulligan (Translation)
The Best of Spanish Steampunk by James Womack (Editor), Marian Womack (Editor)
The Black Flower and Other Zapotec Poems by Natalia Toledo, Clare Sullivan (Translation) by Natalia Toledo, Clare Sullivan (Translation)
The Blue Line by Ingrid Betancourt
The Body Snatcher by Patrícia Melo, Clifford Landers (Translation)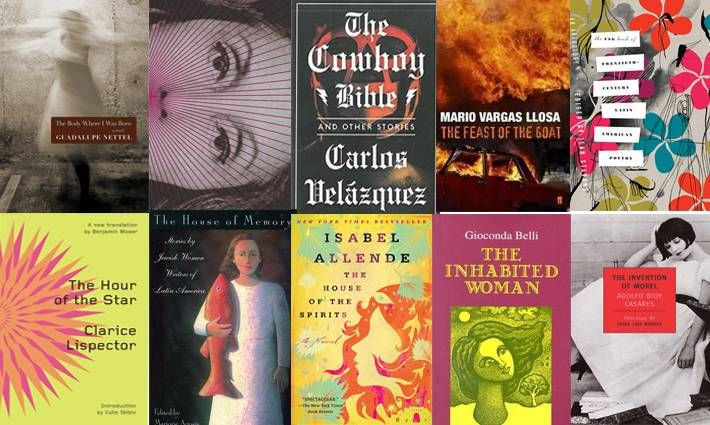 The Body Where I Was Born by Guadalupe Nettel, J.T. Lichtenstein (Translation)
The Complete Stories by Clarice Lispector by Clarice Lispector, Benjamin Moser (Editor), Katrina Dodson (Translation)
The Cowboy Bible and Other Stories by Carlos Velázquez, Achy Obejas (Translation)
The Feast of the Goat by Mario Vargas Llosa, Edith Grossman (Translation)
The FSG Book of Twentieth-Century Latin American Poetry: An Anthology by Ilan Stavans (Editor)
The Hour of the Star by Clarice Lispector, Giovanni Pontiero (Translation)
The House of Memory: Stories by Jewish Women Writers of Latin America by Marjorie Agosín (Editor)
The House of the Spirits by Isabel Allende Magda Bogin (Translation)
The Inhabited Woman by Gioconda Belli, Kathleen March (Translation)
The Invention of Morel by Adolfo Bioy Casares, Ruth L.C. Simms (Translation)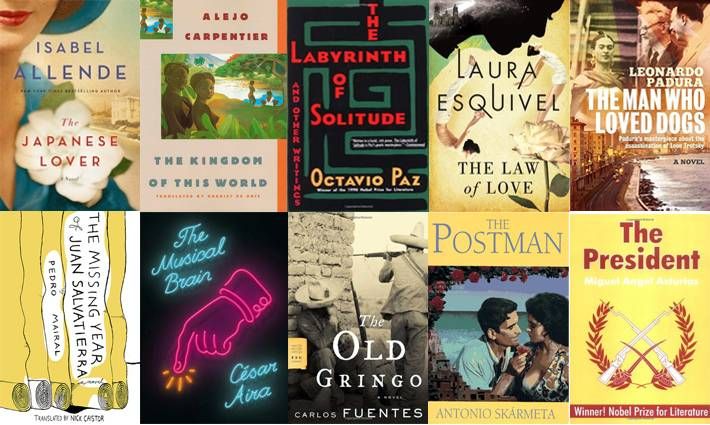 The Japanese Lover by Isabel Allende, Nick Caistor and Amanda Hopkinson (Translation)
The Kingdom of This World by Alejo Carpentier, Harriet de Onís (Translation)
The Labyrinth of Solitude and Other Writings by Octavio Paz, Lysander Kemp (Translation), Yara Milos (Translation)
The Law of Love by Laura Esquivel, Margaret Sayers Peden (Translation)
The Man Who Loved Dogs by Leonardo Padura, Anna Kushner (Translation)
The Missing Year of Juan Salvatierra by Pedro Mairal, Nick Caistor (Translation)
The Musical Brain: And Other Stories by César Aira, Chris Andrews (Translation)
The Old Gringo by Carlos Fuentes, Margaret Sayers Peden (Translation)
The Postman by Antonio Skármeta, Katherine Silver (Translation)
The President by Miguel Angel Asturias, Frances Partridge (Translation)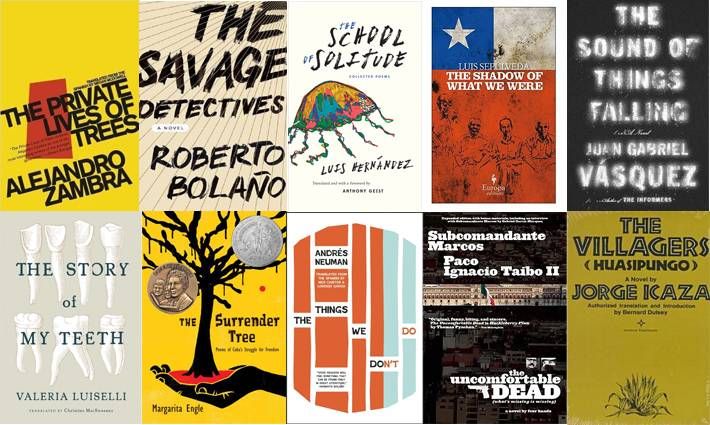 The Private Lives of Trees by Alejandro Zambra, Megan McDowell (Translation)
The Savage Detectives by Roberto Bolaño, Natasha Wimmer (Translation)
The School of Solitude: Collected Poems by Luis Hernandez, Anthony Geist (Translation)
The Shadow of What We Were by Luis Sepúlveda, Howard Curtis (Translation)
The Sound of Things Falling by Juan Gabriel Vásquez, Anne McLean (Translation)
The Story of My Teeth by Valeria Luiselli, Christina MacSweeney (Translation)
The Surrender Tree: Poems of Cuba's Struggle for Freedom by Margarita Engle
The Things We Don't Do by Andrés Neuman, Nick Caistor (Translation), Lorenza García (Translation)
The Uncomfortable Dead by Paco Ignacio Taibo II, Subcomandante Marcos, Carlos Lopez (Translation)
The Villagers by Jorge Icaza, Bernard Dulsey (Translation)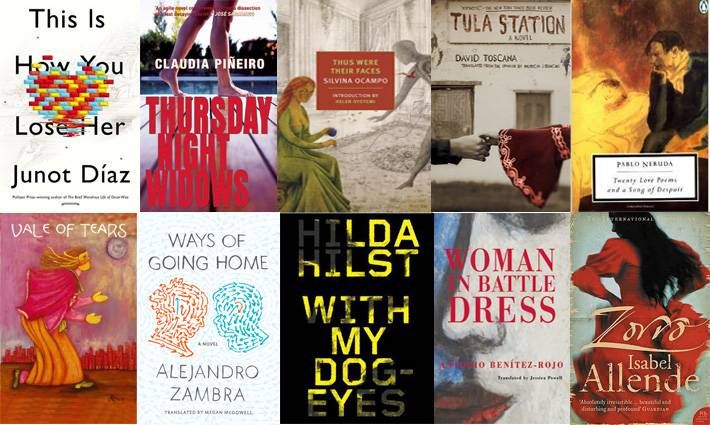 This is How You Lose Her by Junot Díaz
Thursday Night Widows by Claudia Pineiro, Miranda France (Translation)
Thus Were Their Faces: Selected Short Stories by Silvina Ocampo, Daniel Balderston (Translation), Jorge Luis Borges (Preface), Helen Oyeyemi (Introduction)
Tula Station by David Toscana, Patricia J. Duncan (Translation)
Twenty Love Poems and a Song of Despair by Pablo Neruda, W. S. Merwin (Translation)
Vale of Tears: A Novel from Haiti by Paulette Poujol Oriol, Dolores A. Schaefer (Translation)
Ways of Going Home by Alejandro Zambra, Megan McDowell (Translation)
With My Dog Eyes by Hilda Hilst, Adam Morris (Translation)
Woman in Battle Dress by Antonio Benítez-Rojo, Jessica Powell (Translation)
Zorro by Isabel Allende, Margaret Sayers Peden (Translation)
And if you're looking for more 100 must-read lists you can find weird; memoirs; Midwest; YA verse; essays; and more here…