Lists
100 Must-Read Australian Books
This content contains affiliate links. When you buy through these links, we may earn an affiliate commission.
Beaches, sunshine, and all sorts of creatures that will kill you if given half the chance. This is typically what people imagine when they think 'Australia' and technically they wouldn't be wrong. We do have a lot of beaches. A lot of sun. And quite a large number of poisonous and venomous creatures that will kill you if you aren't careful. But there's a lot more to this dry, large continent-island-country than that.
There are already a lot of lists out there about Australian classics you should read, or great Australian novels, or the most popular books in Australia. What I've tried to do with this list is to think of this as a curriculum on Australia: if you were to take a crash course and wanted to learn everything about the country, what would you read? I've included bestsellers and classics, books by Australians, about Australia, and/or set in Australia. There are books about indigenous Australians, history, politics, geography, sport, society, and culture. There are literary award winners but also lighter books. And there are also some of my most favourite and treasured books from when I was a kid, because what good is a list like this without some nostalgia?
Welcome to the sunburnt country, and happy reading!
Non-fiction
Indigenous Australia
Am I Black Enough For You? by Anita Heiss
Heiss is a writer, social commentator, and activist who has written a range of books. Am I Black Enough for You? is her memoir where she "gives a first-hand account of her experiences as a woman with an Aboriginal mother and Austrian father, and explains the development of her activist consciousness."
My Place by Sally Morgan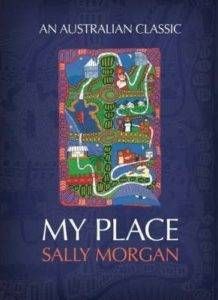 Published in 1987, My Place is an Australian classic and one of the earlier pieces of indigenous Australian literature: "Looking at the views and experiences of three generations of indigenous Australians, this autobiography unearths political and societal issues contained within Australia's indigenous culture. Sally Morgan travelled to her grandmother's birthplace, starting a search for information about her family. She uncovers that she is not white but Aborigine – information that was kept a secret because of the stigma of society."
Macquarie PEN Anthology of Aboriginal Literature edited by Anita Heiss and Peter Minter
A collection of Aboriginal writing that covers two centuries and both fiction and non-fiction.
Because A White Man Will Never Do It by Kevin Gilbert
"A classic released in 1973, Because A White Man'll Never Do It attacks the British colonisation of Australia. Land theft, human rights abuse, slavery, inequality, paternalism and theft of land are all charges levelled at the new arrivals."
Hey Mum, What's a Half-Caste? by Lorraine McGee-Sippel
A memoir revealing the experiences of being part of the Stolen Generation.
The Songlines by Bruce Chatwin
"Chatwin describes a trip to Australia which he has taken for the express purpose of researching Aboriginal song and its connections to nomadic travel. Discussions with Australians, many of them Indigenous Australians, yield insights into Outback culture, Aboriginal culture and religion, and the Aboriginal land rights movement."
History
The Tyranny of Distance by Geoffrey Blainey
"In The Tyranny of Distance, an Australian classic that has been continuously in print since 1967, Geoffrey Blainey describes how distance and isolation have been central to Australia's history and in shaping its national identity, and will continue to form its future."
Australians: A Short History by Thomas Keneally
A condensed version of Keneally's three volume series on the history of Australia: "It is the story of the original Australians and European occupation of their land through the convict era to pastoralists, bushrangers and gold seekers, working men, pioneering women, the rifts wrought by World War I, the rise of hard-nosed radicals from the Left and the Right, the social upheavals of the Great Crash and World War II, the Menzies era, the nation changing period of post-war migration and Australia's engagement with Asia."
Technically this is two books – volumes 1 and 2. For a lighter take on Australian history: "In this hilarious history, David Hunt tells the real story of Australia's past from megafauna to Macquarie … the cock-ups and curiosities, the forgotten eccentrics and Eureka moments that have made us who we are."
The Fatal Shore by Robert Hughes
An account of the colonisation of Australia and its convict history.
Social and cultural commentary
The Lucky Country by Donald Horne
"When it was first published in 1964 The Lucky Country caused a sensation. Horne took Australian society to task for its philistinism, provincialism and dependence. The book was a wake-up call to an unimaginative nation, an indictment of a country mired in mediocrity and manacled to its past."
Still Lucky by Rebecca Huntley
Published in 2017, this is a more current account of Australian society today and where it's heading. Huntley is a social researcher and in this book she answers questions such as "Why do we fear asylum seekers? Why are women still underpaid and overworked? Why do we over-parent? Why do we worry even though we are lucky?
The Rise and Fall of Australia by Nick Bryant
By BBC correspondent Nick Bryant, this is an outsider's view on the 'the lucky country': "The author argues that Australia needs to discard the outdated language used to describe itself, to push back against Lucky Country thinking, to celebrate how the cultural creep has replaced the cultural cringe and to stop negatively typecasting itself."
Australian Lives by Anisa Puri
Using oral history interviews with Australians born between 1920 and 1989, this book paints a portrait of what life is like in Australia.
The Wife Drought by Annabel Crabb
Crabb is a political commentator and writer. "The Wife Drought is about women, men, family and work. Written in Annabel Crabb's inimitable style, it's full of candid and funny stories from the author's work in and around politics and the media, historical nuggets about the role of 'The Wife' in Australia, and intriguing research about the attitudes that pulse beneath the surface of egalitarian Australia."
Affluenza by Clive Hamilton
This book is about the rampant consumerism that's prevalent in modern society. "It tracks how much Australians overwork, the growing mountains of stuff we throw out, the drugs we take to 'self-medicate' and the real meaning of 'choice'."
Everywhere I Look by Helen Garner
A collection of short non-fiction by an Australian novelist, journalist, and screenwriter: "Spanning fifteen years of work, Everywhere I Look is a book full of unexpected moments, sudden shafts of light, piercing intuition, flashes of anger and incidental humour. It takes us from backstage at the ballet to the trial of a woman for the murder of her newborn baby. It moves effortlessly from the significance of moving house to the pleasure of re-reading Pride and Prejudice."
Travel and geography
Down Under/In A Sunburned Country by Bill Bryson
Bryson is one of my favourite writers, and this book is probably my favourite of his. A warm, funny, and wonderful look at my home country from an outsider's perspective.
Rule No. 5: No Sex on the Bus by Brian Thacker
A travel book that isn't so much about Australia but by an Australian. This is the first of Thacker's travel books, and it documents his time as a tour leader through Europe. I'm including this because the gap year, the backpacking trip through Europe, and the overseas holidays are such a large part of Australian culture, and this is a hilarious look at the European bus tour from the other side.
Outback Elvis by John Connell and Chris Gibson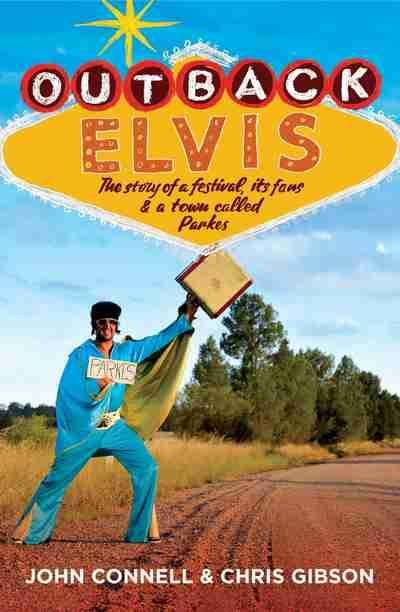 Parkes is a small town in central New South Wales, about a six hour drive from Sydney. Since 1993, it has hosted the world's second largest Elvis festival, and John Connell and Chris Gibson have been researching the festival since the early 2000s. They have presented their work at academic conferences, written report, and published papers and book chapters on their research. Outback Elvis is a delightful, easy-to-read book about Parkes, the festival, and their research.
The Bush by Don Watson
"Starting with his forebears' battle to drive back nature and eke a living from the land, Don Watson explores the bush as it was and as it now is: the triumphs and the ruination, the commonplace and the bizarre, the stories we like to tell about ourselves and the national character, and those we don't. A milestone work of memoir, travel writing and history, The Bush takes us on a profoundly revelatory and entertaining journey through the Australian landscape and character."
Tracks by Robyn Davidson
"A cult classic with an ever-growing audience, Tracks is the brilliantly written and frequently hilarious account of a young woman's odyssey through the deserts of Australia, with no one but her dog and four camels as companions. Davidson emerges as a heroine who combines extraordinary courage with exquisite sensitivity."
Politics
First Dog on the Moon is a satirical political cartoon. Irreverent, hilarious, and beautifully captures the political issues of the day.
My Story by Julia Gillard
Julia Gillard was Australia's first female Prime Minister, and this is her political memoir. "Published in 2014, My Story reflects on various personal aspects of her life and career, including her own analysis of the people and key players of the Rudd-Gillard Governments (2007–2013)"
Recollections of a Bleeding Heart by Don Watson
Paul Keating was the Prime Minister of Australia from 1991 to 1996, and Watson was his speechwriter. This book is an "'inside' account of politics and a profound and extraordinarily frank study of the most intriguing and visionary politician in Australia's modern history."
Immigration, refugees, and multiculturalism
On Not Speaking Chinese by Ien Ang
Ien Ang is a renowned cultural researcher and this is a more academic book that looks at questions of identity in an era of globalisation. This book isn't strictly just about Australia but the issues it examines are profoundly relevant to many immigrant Australians.
Songs of a War Boy by Deng Thiak Adut
Deng Adut was a child soldier and refugee from South Sudan. He came to Australia as a refugee, learnt English, and graduated from Western Sydney University. He is now working as a lawyer in Western Sydney and also spends time helping Syrian refugees. His story is truly inspirational and a reminder of where compassion and hope can take us.
Who Do You Think I Am? by Yassmin Abdel-Magied
Biography of Yassmin Abdel-Magied: "2015 Queensland Young Australian of the Year, Yassmin Abdel-Magied is a mechanical engineer, social advocate, writer and petrol head. She advocates for the empowerment of youth, women and those from culturally and linguistically diverse backgrounds."
The Happiest Refugee by Ahn Do
In keeping with the immigration theme, this is the story of another refugee who arrived on the shores of Australia. Ahn Do is a comedian, author, and TV personality whose family left war-torn Vietnam in search of a better life: "The Happiest Refugee tells the incredible, uplifting and inspiring life story of one of our favourite personalities. Tragedy, humour, heartache and unswerving determination – a big life with big dreams. Anh's story will move and amuse all who read it."
Where the Sea Takes Us by Kim Huynh
Similar to The Happiest Refugee, Where the Sea Takes Us also portrays the experiences of a Vietnamese family moving to Australia for peace and greater opportunities: "Kim traces his parents' precarious lives, from their poor villages in central and southern Vietnam, through relative affluence in Saigon, to their harrowing experiences after the American withdrawal and the fall of Saigon in 1975, which led them to a new life in Australia."
Mao's Last Dancer by Li Cunxin
"Raised in a desperately poor village during the height of China's Cultural Revolution, Li Cunxin's childhood revolved around the commune, his family and Chairman Mao's Little Red Book. Until, that is, Madame Mao's cultural delegates came in search of young peasants to study ballet at the academy in Beijing and he was thrust into a completely unfamiliar world. When a trip to Texas as part of a rare cultural exchange opened his eyes to life and love beyond China's borders, he defected to the United States in an extraordinary and dramatic tale of Cold War intrigue. Told in his own distinctive voice, this is Li's inspirational story of how he came to be Mao's last dancer, and one of the world's greatest ballet dancers."
The Good Girl of Chinatown by Jenevieve Chang
"A true story of cultural clash and hedonism gone awry as a good girl from a conservative Chinese-Australian family becomes a Shanghai showgirl."
Not Quite Australian by Peter Mares
"In Not Quite Australian, award-winning journalist Peter Mares draws on case studies, interviews and personal stories to investigate the complex realities of this new era of temporary migration. Mares considers such issues as the expansion of the 457 work visa, the unique experience of New Zealand migrants, the internationalisation of Australia's education system and our highly politicised asylum-seeker policies to draw conclusions about our nation's changing landscape."
The Hate Race by Maxine Beneba Clarke
"A powerful, funny, and at times devastating memoir about growing up black in white middle-class Australia."
Food
Not Quite Nigella by Lorraine Elliott
I've been reading Lorraine Elliott's blog for years, and her book is a memoir about food, blogging, and full of recipes.
One Continuous Picnic by Michael Symons
"Through meat pies and lamingtons, Symons tells the history of Australia gastronomically. He challenges myths such as that Australia is 'too young' for a national cuisine, and that immigration caused the restaurant boom."
Bold Palates by Barbara Santich
"Professor Barbara Santich describes how, from earliest colonial days, Australian cooks have improvised and invented, transforming and 'Australianising' foods and recipes from other countries, along the way laying the foundations of a distinctive food culture."
Sport
The Captains by Malcolm Knox
Cricket is our national sport. Well, one of them. A wonderful game that can go for five days and include tea breaks, it is an integral part of the Australian summer. "The Captains tells the colourful story of how Australian cricket has evolved since its earliest days, how the captain has influenced or stood apart from that evolution, and how the captaincy itself has changed over time."
Breaking the Mould by Angela Pippos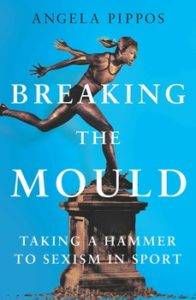 Pippos is a journalist and writer, and this book is about sexism in sport. "Pippos charts a powerful awakening across Australian life; from suburban footy fields to stadium cage fights, female athletes are changing the status quo through fierce determination and undeniable performances."
Born to Run by Cathy Freeman
Cathy Freeman is one of Australia's best-loved athletes, and this is her autobiography. She traces her story from her childhood in Queensland to her athletic career including world titles and medals at the Olympics and Commonwealth Games.
This is Me by Ian Thorpe
Another autobiography by a great Australian athlete. Thorpe "has won a record-holding 11 World Championship titles and ten Commonwealth Games gold medals. He has broken 22 world records and won five gold, three silver and one bronze Olympic medals. Having been under the spotlight since he was a young teenager, he retired from competitive swimming in 2006, but after five years he mounted a comeback for London 2012."
Design and architecture
Shelter by Kara Rosenlund
"Driving down a dirt track one day photographer, stylist and adventurer Kara Rosenlund came across a beautiful but dilapidated farmhouse. Its lonely, worn loveliness kindled a passion in Kara to photograph and celebrate Australia's authentic, intriguing rural homes and the people who live in them."
The Forever House edited by Cameron Bruhn and Katelin Butler
"The Forever House celebrates twenty-three such dwellings through the intimate stories of the families and architects who created them. Spanning over forty years, from the fifties to the eighties, The Forever House is a roll call of the work of Australia's most acclaimed architects – from Robin Boyd and Harry Seidler to Glenn Murcutt and Peter Stutchbury. Interiors are authentic, left almost untouched, and offer a true voyeuristic glimpse into the lives of families who in many cases have lived there for decades."
Aviation
QF32 by Richard De Crespigny
QF32 was a Qantas flight that almost ended in disaster. This book is partly a memoir, and partly a recount of that flight. "Tracing Richard's life and career up until that fateful flight, QF32 shows exactly what goes into the making of a top-level airline pilot, and the extraordinary skills and training needed to keep us safe in the air."
The Men Who Killed Qantas by Matthew Benns
Qantas is Australia's national airline, and in recent years has come under criticism by staff and the public for various management decisions. This book is a history of the airline. A good read for those interested in Qantas and/or aviation.
Science
The Doctor by Karl Kruszelnicki
Dr Karl is one of Australia's best known scientists, who has written multiple popular science books and is a regular commentator on radio and TV. This is his latest book and in it he "transcends history and space in his unstoppable quest to unearth scientific truths: from the theories of time travel, movie audiences emitting chemicals, an exploration of the spleen and red-blood cells to Bitcoin, dirty data, immortal jellyfish and how hot tea cools you down."
The Case Against Fragrance by Kate Grenville
Novelist Kate Grenville turns to non-fiction in this book. "Like perhaps a quarter of the population, Grenville reacts badly to the artificial fragrances around us: other people's perfumes, and all those scented cosmetics, cleaning products and air fresheners. On a book tour in 2015, dogged by ill health, she started wondering: what's in fragrance? Who tests it for safety? What does it do to people? This book is based on careful research into the science of scent and the power of the fragrance industry."
Why Aren't We Dead Yet? by Idan Ben-Barak
An amusing, accessible read about our immune system, Ben-Barak "explores the immune system and what keeps it running, how germs are destroyed, and why we develop immunities to certain disease-causing agents. He also examines the role of antibiotics and vaccines, and looks at what the future holds for our collective chances of not being dead."
True crime
Sins of the Brother by Mark Whittaker and Les Kennedy
Ivan Milat, known as the Backpacker Murderer, is probably one of the more famous serial killers in recent Australian history, murdering seven young backpackers in a NSW forest in the early 1990s. This book "tells the story of Ivan Milat, convicted of the serial backpacker murders in the Belanglo State Forest. Describes his childhood and his relationship with his large family, particularly with his brothers."
Someone Else's Daughter by Julia Sheppard
The murder of Anita Cobby in 1986 shocked and appalled the nation. She was a young nurse, walking home from the train station after work one night, when she was assaulted and murdered. Julia Sheppard was a journalist assigned to the case and the book is a well-researched account of the crime and aftermath.
Fiction
Historical fiction
The True History of the Kelly Gang by Peter Carey
A historical novel that won the 2001 Booker Prize and the Commonwealth Writers Prize, this tells the story of Australia's most famous (and infamous) bushranger: "The legendary Ned Kelly speaks for himself, scribbling his narrative on errant scraps of paper in semiliterate but magically descriptive prose as he flees from the police. To his pursuers, Kelly is nothing but a monstrous criminal, a thief and a murderer. To his own people, the lowly class of ordinary Australians, the bushranger is a hero, defying the authority of the English to direct their lives. Indentured by his bootlegger mother to a famous horse thief (who was also her lover), Ned saw his first prison cell at 15 and by the age of 26 had become the most wanted man in the wild colony of Victoria, taking over whole towns and defying the law until he was finally captured and hanged."
The Secret R

iver

by Kate Grenville
"In 1806 William Thornhill, an illiterate English bargeman and a man of quick temper but deep compassion, steals a load of wood and, as a part of his lenient sentence, is deported, along with his beloved wife, Sal, to the New South Wales colony in what would become Australia. The Secret River is the tale of William and Sal's deep love for their small, exotic corner of the new world, and William's gradual realization that if he wants to make a home for his family, he must forcibly take the land from the people who came before him."
Burial Rites by Hannah Kent
"A brilliant literary debut, inspired by a true story: the final days of a young woman accused of murder in Iceland in 1829."
That Deadman Dance by Kim Scott
"Bobby Wabalanginy never learned fear, not until he was pretty well a grown man. Sure, he grew up doing the Dead Man Dance, but with him it was a dance of life, a lively dance for people to do together… Told through the eyes of black and white, young and old, this is a story about a fledgling Western Australian community in the early 1800s known as the 'friendly frontier'".
Picnic at Hanging Rock by Joan Lindsay
"In 1900, a class of young women from an exclusive private school go on an excursion to the isolated Hanging Rock, deep in the Australian bush. The excursion ends in tragedy when three girls and a teacher mysteriously vanish after climbing the rock. Only one girl returns, with no memory of what has become of the others."
People of the Book by Geraldine Brooks
"A 2008 historical fiction novel by Geraldine Brooks. The story focuses on imagined events surrounding protagonist and real historical past of the still extant Sarajevo Haggadah, one of the oldest surviving Jewish illuminated texts."
Literary fiction (note: some of these could be in the historical fiction category. Book categories are hard.)
My Brilliant Career by Miles Franklin
"First published in 1901, this Australian classic is the candid tale of the aspirations and frustrations of sixteen-year-old Sybylla Melvin, a headstrong country girl constrained by middle-class social arrangements, especially the pressure to marry."
The Narrow Road to the Deep North by Richard Flanagan
Winner of the Man Booker Prize 2014. A novel of the cruelty of war, tenuousness of life and the impossibility of love.
The Swan Book by Alexis Wright
Shortlisted for the Miles Franklin Award (Australia's premier literary prize), "The Swan Book is set in the future, with Aboriginals still living under the Intervention in the north, in an environment fundamentally altered by climate change."
Home by Larissa Behrendt
"A story of homecoming, this absorbing novel opens with a young, city-based lawyer setting out on her first visit to ancestral country." Home won the Queensland Premier's Literary Awards, the David Unaipon Award in 2002, and the Commonwealth Writers Prize for Best First Novel in the south-east Asian/South Pacific region in 2005.
The Boat by Nam Le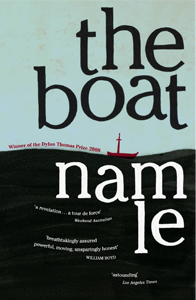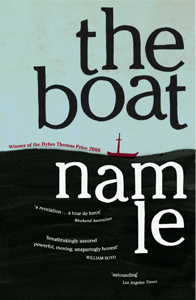 This is a short story collection that received widespread critical acclaim. Catherine Cole writes of this collection, "each story bears the hallmarks of a carefully thought out, well-crafted and edited reflection on the short story form and the artistic skill necessary in the successful realisation of it. As well as its fine writing, its carefully drawn characters, the use of place as both a locating medium and a metaphor for existential conflict, it also raises questions about the commonalities and the distinctiveness of lived experience."
Questions of Travel by Michelle de Kretser
"Questions of Travel charts two very different lives. Laura travels the world before returning to Sydney, where she works for a publisher of travel guides. Ravi dreams of being a tourist until he is driven from Sri Lanka by devastating events. Around these two superbly drawn characters, a double narrative assembles an enthralling array of people, places and stories – from Theo, whose life plays out in the long shadow of the past, to Hana, an Ethiopian woman determined to reinvent herself in Australia."
The Slap by Christos Tsiolkas
Before Liane Moriarty's Truly Madly Guilty and Big Little Lies, there was The Slap. "At a suburban barbecue, a man slaps a child who is not his own. This event has a shocking ricochet effect on a group of people, mostly friends, who are directly or indirectly influenced by the event."
The Light Between Oceans by M. L. Stedman
"1926. Tom Sherbourne is a young lighthouse keeper on a remote island off Western Australia. The only inhabitants of Janus Rock, he and his wife Isabel live a quiet life, cocooned from the rest of the world. Then one April morning a boat washes ashore carrying a dead man and a crying infant and the path of the couple's lives hits an unthinkable crossroads. Only years later do they discover the devastating consequences of the decision they made that day as the baby's real story unfolds."
All That I Am by Anna Funder
"All That I Am is Australian novelist Anna Funder's first fictional work. It follows characters affected by the Nazi regime in pre-war Germany and Britain."
Jessica by Bryce Courtenay
Courtenay is probably best known for The Power of One, but this one is my favourite Courtenay novel. "Jessica is based on the inspiring true story of a young girl's fight for justice against tremendous odds."
The Harp in the South by Ruth Park
An Australian classic. "Amid the brothels, grog shops and run-down boarding houses of inner-city Surry Hills, money is scarce and life is not easy. Crammed together within the thin walls of Twelve-and-a-Half Plymouth Street are the Darcy family- Mumma, loving and softhearted; Hughie, her drunken husband; pipe-smoking Grandma; Roie, suffering torments over her bitter-sweet first love; while her younger sister Dolour learns about life the hard way."
Cloudstreet by Tim Winton
"Cloudstreet is Tim Winton's sprawling, comic epic about luck and love, fortitude and forgiveness, and the magic of the everyday."
The Natural Way of Things by Charlotte Wood
Joint winner of the Prime Minister's Literary Awards in 2016 and the fiction category Winner of the 2016 Stella Prize. "Two women awaken from a drugged sleep to find themselves imprisoned in an abandoned property in the middle of a desert in a story of two friends, sisterly love and courage – a gripping, starkly imaginative exploration of contemporary misogyny and corporate control, and of what it means to hunt and be hunted."
Jasper Jones by Craig Silvey
Described as the Australian To Kill A Mockingbird. "Late on a hot summer night in the tail end of 1965, Charlie Bucktin, a precocious and bookish boy of thirteen, is startled by an urgent knock on the window of his sleep-out. His visitor is Jasper Jones, an outcast in the regional mining town of Corrigan. Rebellious, mixed-race and solitary, Jasper is a distant figure of danger and intrigue for Charlie. So when Jasper begs for his help, Charlie eagerly steals into the night by his side, terribly afraid but desperate to impress."
A Fraction of the Whole by Steve Toltz
"From his prison cell, Jasper Dean tells the unlikely story of his scheming father Martin, his crazy Uncle Terry and how the three of them upset – mostly unintentionally – an entire continent. Incorporating death, parenting (good and bad kinds), one labyrinth, first love, a handbook for criminals, a scheme to make everyone rich and an explosive suggestion box."
My Brother Jack by George Johnston
"David and Jack Meredith grow up in a patriotic suburban Melbourne household during the First World War, and go on to lead lives that could not be more different. through the story of the two brothers, George Johnston created an enduring exploration of two Australian myths: that of the man who loses his soul as he gains worldly success, and that of the tough, honest Aussie battler, whose greatest ambition is to serve his country during the war."
The Permanent Resident by Roanna Gonslaves
"Roanna Gonsalves' short stories unearth the aspirations, ambivalence and guilt laced through the lives of 21st century immigrants, steering through clashes of cultures, trials of faith, and squalls of racism. Sometimes heart-wrenching, sometimes playful, they cut to the truth of what it means to be a modern outsider."
Selection Day by Aravind Adiga
"Set in Mumbai, Adiga's story of two cricketing brothers, divided by success and failure, holds up a mirror to the shattered dreams of a nation."
Somewhat lighter reads
Pavlovas and Pappadums by Nitasha Thomson
This is a short story collection that draws on the life experiences of the author and tells the story of what it's like to be an Indian immigrant in Australia: "The author is a woman of Indian origin who has lived in this country for over thirty years. The book attempts to present a snapshot of life in Australia with its unique challenges, joys and opportunities. Some issues covered include diet, relationships, parenting, attitudes to ageing and dual identity. The protagonist in each story is an Indian born woman facing a clash of cultures, values and beliefs. She is joined on this journey by family, friends and neighbours."
The Beekeeper's Secret by Josephine Moon
Josephine Moon's latest book. "Maria Lindsey is content. She spends her solitary days tending her bees and creating delicious honey products to fund orphaned children. A former nun, her life at Honeybee Haven has long been shaped by her self-imposed penance for terrible past events. But the arrival of two letters heralds the shattering of Maria's peaceful existence."
Free Falling by Nicola Moriarty
Nicola Moriarty is the little sister of Liane and Jaclyn Moriarty, and this is her first novel (she has since written a few others). I loved this book. It made me cry a lot. "Free-Falling by Nicola Moriarty is a beguiling tragic-romantic comedy – of heartbreak and heroism, grief and ghostly dreams…"
The Rosie Project by Graeme Simsion
"An international sensation, this hilarious, feel-good novel is narrated by an oddly charming and socially challenged genetics professor on an unusual quest: to find out if he is capable of true love."
Three Wishes by Liane Moriarty
Liane Moriarty's first novel – I read this one when it first came out and have since read and loved everything she's written. "Lyn, Cat, and Gemma Kettle, beautiful thirty-three-year-old triplets, seem to attract attention everywhere they go. Together, laughter, drama, and mayhem seem to follow them. But apart, each is dealing with her own share of ups and downs. Lyn has organized her life into one big checklist, Cat has just learned a startling secret about her marriage, and Gemma, who bolts every time a relationship hits the six-month mark, holds out hope for lasting love. In this wise, witty, and hilarious novel, we follow the Kettle sisters through their tumultuous thirty-third year as they deal with sibling rivalry and secrets, revelations and relationships, unfaithful husbands and unthinkable decisions, and the fabulous, frustrating life of forever being part of a trio."
Ice Station by Matthew Reilly
Thrilling, stressful, the kind of book you read in an afternoon. "At a remote ice station in Antarctica, a team of US scientists has found something buried deep within a 100-million-year-old layer of ice. Something made of metal. In a land without boundaries, there are no rules. Every country would kill for this prize. A team of crack United States marines is sent to the station to secure the discovery. Their leader – Lieutenant Shane Schofield, call-sign: SCARECROW. They are a tight unit, tough and fearless. They would follow their leader into hell. They just did…"
The Alphabet Sisters by Monica McInerney
"Anna, Bett and Carrie Quinlan were childhood singing stars, The Alphabet Sisters. As adults they haven't spoken for years, ever since Bett's finance left her for another sister. Now Lola, their larger-than-life grandmother, summons them home for her 80th birthday extravaganza and a surprise announcement – she wants them to revive their singing careers and stage a musical she has written. Rehearsals get underway, and family secrets begin to be shared and revealed. But just as the rifts begin to close, the Alphabet Sisters face a test they never imagined."
Love Struck by Melanie La'Brooy
Fantastic novel with a lot of laugh out loud moments. "Royally dumped by her boyfriend, Isabelle finds herself suddenly single in Sydney, but seeks solace in her arty job, eccentric friends and a series of romantic adventures that may or may not lead to true love and a happy ending."
83. Campaign Ruby by Jessica Rudd
"With its light touch and deft comic instincts, Campaign Ruby is a delightful combination of fashion, faux pas, falling for the wrong man and the unexpected fun of federal politics." Jessica Rudd is also the daughter of Kevin Rudd, Australia's Prime Minister from 2007 to 2010, and in 2013.
The Secret Recipe for Second Chances by J. D. Barrett
"Lucy Muir is leaving her husband. It's complicated. They're joint owners and chefs at one of the best restaurants in town, so making a clean break is tough. But, let's face it, a woman can only take so much cheating, recipe stealing and lack of good grace. Despondently driving around the back streets of Woolloomooloo one night, Lucy happens upon an old, empty terrace that was once the city's hottest restaurant: Fortune. One minute she's peering through grimy windows into an abandoned space, the next she's planning a pop-up bistro. When Lucy fires up Fortune's old kitchen she discovers a little red recipe book that belonged to the former chef, the infamous Frankie Summers. As she cries over the ingredients for Frankie's French Onion Soup, she imagines what Fortune was like in its heyday. A surprising, smart, charming novel that shows every day brings with it a second chance."
Bad Debts by Peter Temple
The first in the Jack Irish crime fiction series. "When Jack receives a puzzling message from a jailed ex-client he's too deep in misery over Fitzroy's latest loss to take much notice. Next thing Jack knows, the ex-client's dead and he's been drawn into a life-threatening investigation involving high-level corruption, dark sexual secrets, shonky property deals, and murder. With hitmen after him, shady ex-policemen at every turn, and the body count rising, Jack needs to find out what's going on—and fast."
Spirits of the Ghan by Judy Nunn
"It is 2001 and as the world charges into the new Millennium, a century-old dream is about to be realised in the Red Centre of Australia: the completion of the mighty Ghan railway, a long-lived vision to create the 'backbone of the continent', a line that will finally link Adelaide with the Top End. But construction of the final leg between Alice Springs and Darwin will not be without its complications, for much of the desert it will cross is Aboriginal land. Hired as a negotiator, Jessica Manning must walk a delicate line to reassure the Elders their sacred sites will be protected."
A Distant Journey by Di Morrissey
"In 1962 Cindy drops out of college to impulsively marry an Australian grazier, moving from the glamorous world of Palm Springs, California, to an isolated sheep station on the sweeping plains of the Riverina in New South Wales. Cindy's new life at Kingsley Downs station is not what she'd imagined as she is flung into a strange and challenging world. Natural disasters and the caprices of the wool industry shape her destiny and though she tries hard to fit in, she finds she is always the outsider. Adjusting to her new life, Cindy discovers that her new family comes with secrets and a mystery that haunts them all."
I Came to Say Goodbye by Caroline Overington
"The CCTV footage shows a young woman pushing through the hospital doors. She walks into the nursery, picks up a baby and places her carefully in a shopping bag. She walks out to the car park, towards an old Ford Corolla. For a moment, she holds the child gently against her breast and, with her eyes closed, she smells her. Then she clips the baby into the car, gets in and drives off. This is where the footage ends. What happens next will leave a mother devastated, and a little boy adrift in a world he will never understand."
Children's/YA (note: this list is roughly in age order, from youngest to oldest)
Tales from Outer Suburbia by Shaun Tan
This looks like a picture book but is probably best understood by adults. "Fifteen intriguing illustrated stories about the mysteries that lurk below the surface of suburban life. Shaun Tan reveals the quiet mysteries of everyday life: homemade pets, dangerous weddings, stranded sea mammals, tiny exchange students and secret rooms filled with darkness and delight."
Seven Little Australians by Ethel Turner
"A classic Australian children's novel by Ethel Turner. Set mainly in Sydney in the 1880s, it relates the adventures of the seven mischievous Woolcot children, their stern army father Captain Woolcot, and flighty stepmother Esther."
Selby's Secret by Duncan Ball
Selby is the only talking dog in Australia, and perhaps even the world. He taught himself how to talk by watching TV, and it's his greatest mission to keep this a secret from his owners, the Trifles. Selby's Secret is the first in the Selby series, and the adventures of Selby are charming and delightful.
Jodie's Journey by Colin Thiele
Colin Thiele is one of Australia's best-loved children's authors, and this is my favourite book of his. "When Jodie Carpenter won the Greenvale Junior Jumping Chapionships there were tears of happiness in her eyes. She was not to know that she was about to be struck down by a crippling disease, and the hurdles ahead would be more challenging than those she had evercome."
Hating Alison Ashley by Robin Klein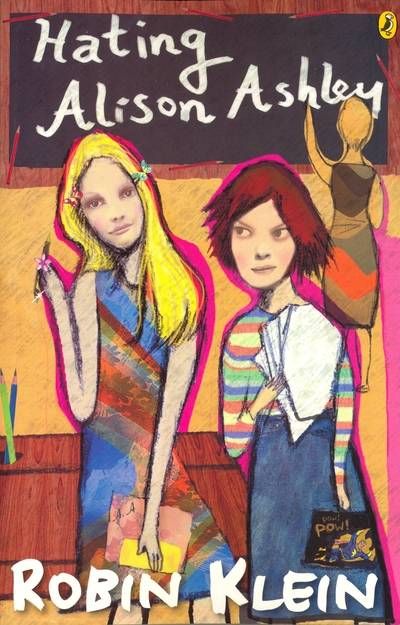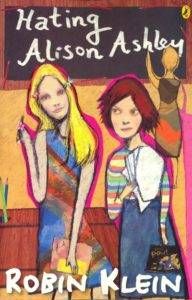 This book is wonderful. A great portrait of Australian primary schools and the friendships, rivalries, and jealousies that can occur at that age. I love the main character and the writing. Loved the book when I first read it in primary school, and still love it twenty years later.
45 + 47 Stella Street and Everything That Happened by Elizabeth Honey
A great novel depicting a far more exciting childhood than mine: "Elizabeth Honey's first, best-selling junior adventure story, about a gang of kids who expose a money-laundering scam. Here's 11-year-old Henni's original version of what her gang did when The Phonies moved into their street and started to spoil everything! It's fast and funny and you never know what's going to happen next."
Penny Pollard's Diary by Robin Klein
I love the whole Penny Pollard series. "Penny Pollard hates: old people, Annette Smurton (who has her own horse), wearing dresses, and doing homework. On a school excursion she meets someone just as rebellious as herself: Mrs Edith Bettany (nearly) eighty-one years old and a new friend for Penny. This is Penny's diary."
Two Weeks With the Queen by Morris Gleitzman
"Two Weeks with the Queen is a 1990 novel by Australian author Morris Gleitzman. It focuses on a boy named Colin Mudford, who is sent to live with relatives in England, while his brother is being treated for cancer."
Feeling Sorry for Celia by Jaclyn Moriarty
"Life is pretty complicated for Elizabeth Clarry. Her best friend Celia keeps disappearing, her absent father suddenly reappears, and her communication with her mother consists entirely of wacky notes left on the fridge. On top of everything else, because her English teacher wants to rekindle the "Joy of the Envelope," a Complete and Utter Stranger knows more about Elizabeth than anyone else. But Elizabeth is on the verge of some major changes. She may lose her best friend, find a wonderful new friend, kiss the sexiest guy alive, and run in a marathon. So much can happen in the time it takes to write a letter…"
The Book Thief by Markus Zusak
"It is 1939. Nazi Germany. The country is holding its breath. Death has never been busier, and will become busier still. Liesel Meminger is a foster girl living outside of Munich, who scratches out a meagre existence for herself by stealing when she encounters something she can't resist-books. With the help of her accordion-playing foster father, she learns to read and shares her stolen books with her neighbours during bombing raids as well as with the Jewish man hidden in her basement."
Looking for Alibrandi by Melina Marchetta
A book that was studied by almost every Year 12 student in NSW of a certain generation and heralded as a modern classic. "Josephine Alibrandi is seventeen and in her final year at a wealthy girls' school. This is the year she meets her father, the year she falls in love, the year she searches for Alibrandi and finds the real truth about her family – and the identity she has been searching for."
Does My Head Look Big in This? by Randa Abdel-Fattah
"Welcome to my world. I'm Amal Abdel-Hakim, a seventeen year-old Australian-Palestinian-Muslim still trying to come to grips with my various identity hyphens.
It's hard enough being cool as a teenager when being one issue behind the latest Cosmo is enough to disqualify you from the in-group. Try wearing a veil on your head and practising the bum's up position at lunchtime and you know you're in for a tough time at school."