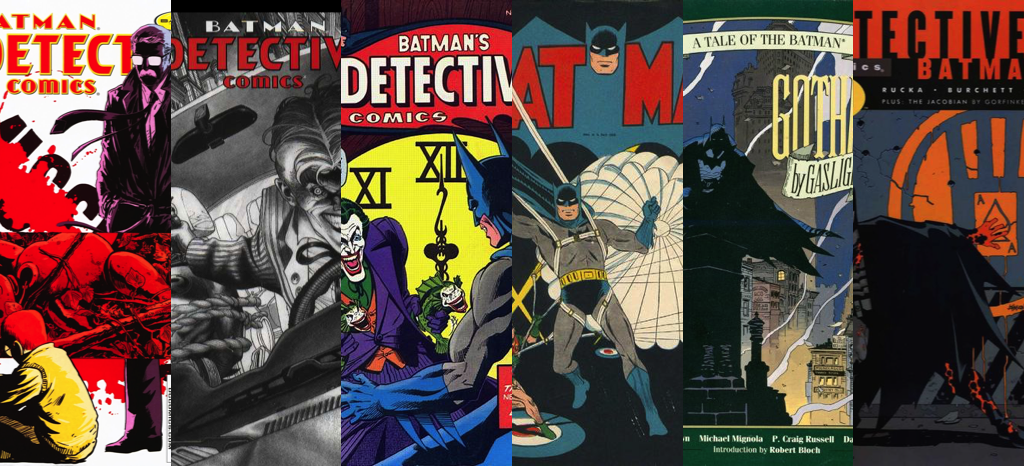 10 Stories to Read in comiXology's Batman 750 Sale that Aren't Batman: Year One or The Dark Knight Returns
DC Comics is having a giant digital sale on Batman comics starting today. There are 750 issues for sale and everything's a buck. Now, if you haven't already read some of Batman's perennial stories, such as The Dark Knight Returns or "Batman: Year One," now's a great time to do so. But let's say you want a slightly deeper cut than those. Here are ten more stories to check out.
1. Batman #13 (1942) by Bill Finger, Bob Kane, and more
This is a fine example of Golden Age Batman. In each of these early Batman issues, four brand-new stories were told. In the first story in this issue, Batman essentially fires Robin as his sidekick. They're back together by the next story, which involves the Joker and has a special cameo by Superman co-creator Jerry Siegel. Rounding out the issue is a morality play based around stones and a mystery aboard a moving train. If you liked this issue, there are plenty of more Golden Age stories in this sale.
2. Detective Comics #475 & #476 (1978) by Steve Englehart, Marshall Rogers, and Terry Austin
We've got a bit of a jump here past the entirety of Batman's Silver Age period and directly into the Bronze Age. Stories about Batman traveling in outer space, meeting Bat-Mite, and hanging out with Ace the Bat-Hound aren't part of this sale. Too bad. Instead, there's this memorable two-parter in which the Joker returns to Gotham and is crazier than ever. His attempts to trademark fish in his image meet red tape and Joker takes this setback poorly. This story was later adapted into an excellent episode of Batman: The Animated Series.
3. Detective Comics #569 & #570 (1986) by Mike W. Barr, Alan Davis, and Paul Neary
Alan Davis' time on Detective Comics was gorgeous and, sadly, short-lived. Few of his stories are part of this sale, but this two-parter is a standout. Catwoman's attempts to turn over a new leaf haven't gone unnoticed by the Joker, who takes her switching sides personally. Alan Davis' Gotham is a city without shadows and his facial expressions are top notch and fluid. His Batman isn't afraid to smile while his slightly big-headed Robin makes the second Boy Wonder look a bit like a mop-topped lollipop. It's all great stuff. If only the rest of this run were also here.
4. Batman: Gotham by Gaslight (1989) by Brian Augustyn, Mike Mignola, and P. Craig Russell
This turned out to be the first in a series of comics DC called "Elseworlds". These are out-of-continuity stories which placed DC's collection of characters into other times and places. This one, featuring a version Batman in 1889 attempting to hunt down Jack the Ripper, remains one of the best. A big part of that is thanks to Mike Mignola, future creator of Hellboy. His Gotham City looks well lived in and his Batman costume looks homemade. As was the case for many Elseworlds, the action soon hits very close to home and ties into Batman's origins. Also, this story guest-stars Sigmund Freud so that's a plus.
5. Batman #465 (1991) by Alan Grant, Norm Breyfogle, and Steve Mitchell
This is already the third Robin seen in this sale. Tim Drake took on the mantel of Robin in a story that's not part of this sale, so here's a one-and-done issue instead. Having just become Robin, Tim has to figure out his role in the city and how he'll operate as Batman's newest partner. This issue also shows how Bruce Wayne's philanthropy is as helpful to Gotham as Batman's muscles. But Norm Breyfogle's art is the standout here and he remains a favorite here at Panels.net. His Batman is more shadow than man and his cape has a mind of its own. It's wonderful.
6. Batman: Legends of the Dark Knight #125 (2000) by Greg Rucka, Rick Burchett, and James Hodgkins
This issue, which takes places near the end of the No Man's Land storyline, is one of my favorites. Gotham City has been struck by an earthquake and has been abandoned by the United States government. In the months following the earthquake, Batman was no where to be found, which created a deep rift between him and Jim Gordon. This issue brings the years of secrets and resentment between the two to a head. It's a human drama without a supervillain in sight. The story is mostly confined to Gordon's backyard but there are dramatic moments between these old allies that still make me catch my breath.
7. Detective Comics #757 (2001) by Greg Rucka, Rick Burchett, and Rodney Ramos
Soon after Gotham City was rebuilt, Rucka and Burckett moved over to Detective Comics. There, the series became dichromatic. For example, only purple and green are used in this issue. This story is a relatively simple tale of Batman tracking down a gang of cop killers. However, there's a parallel story happening where a family's car has been forced off the road into the ocean. As water fills up the car, Batman's attempts to take down the gang suddenly has a countdown attached to it that he's not even aware exists. This one is nerve racking.
8. Superman / Batman #26 (2006) by Sam Loeb and others
This issue is a tribute by way of a jam piece. Jeph Loeb's son, Sam Loeb, plotted this issue before his death in 2005 at age 17. This book has dozens of listed writers and artists who came together to finish it. There's an all-star roster here and at least one page of it should appeal to every reader. Ostensibly, this story is about Tim Drake remembering his recently deceased friend Conner Kent AKA Superboy but it's easily seen to be each artist remembering Sam. It's a touching tribute for both the fictional character and the real life teen. The back-up story, written by Jeph Loeb, about Clark Kent meeting a kid named Sam with cancer, makes me cry.
9. Detective Comics #826 (2007) by Paul Dini, Don Kramer, and Wayne Faucher
Paul Dini's run on Detective Comics was mostly a series of one-and-done stories and this one is a highlight. When Robin needs help during the middle of a fight, a car pulls up to help. Before he knows it, Robin is in the clutches of the Joker. Set at Christmas, this story shows little in the way of holiday cheer, though Joker tends to bring his own brand of fun with him. This one hinges on how well Dini and Kramer can thread the Joker between being funny and disturbing. Both absolutely nail it. It's an uncomfortable car ride for everyone involved.
10. Detective Comics #875 (2011) by Scott Snyder and Francesco Francavilla
Scott Snyder's time on Batman didn't start in the New 52. For about a year prior, he was working on Detective Comics with a run dealing with Jim Gordon's estranged son, James Gordon Jr. Every issues ties together, but this can be read separately as a one-off. It involves a past case of Gordon's in which a little girl went missing. It's the tone here that's so well crafted. Francavilla's art is pitch perfect for this story that Snyder leaves ambiguous and moody. In a world full of killer clowns, evil ex-district attorneys, and mind-controlling haberdashers, a young man in glasses may be the most unsettling character of all.
That's it for this list of ten Batman stories. We didn't even attempt to cover some of the huge Batman stories like "Knightfall" or "Bruce Wayne: Fugitive," though those stories are also a part of this sale. What else during this sale do you think folks should check out? Let us know in the comments.