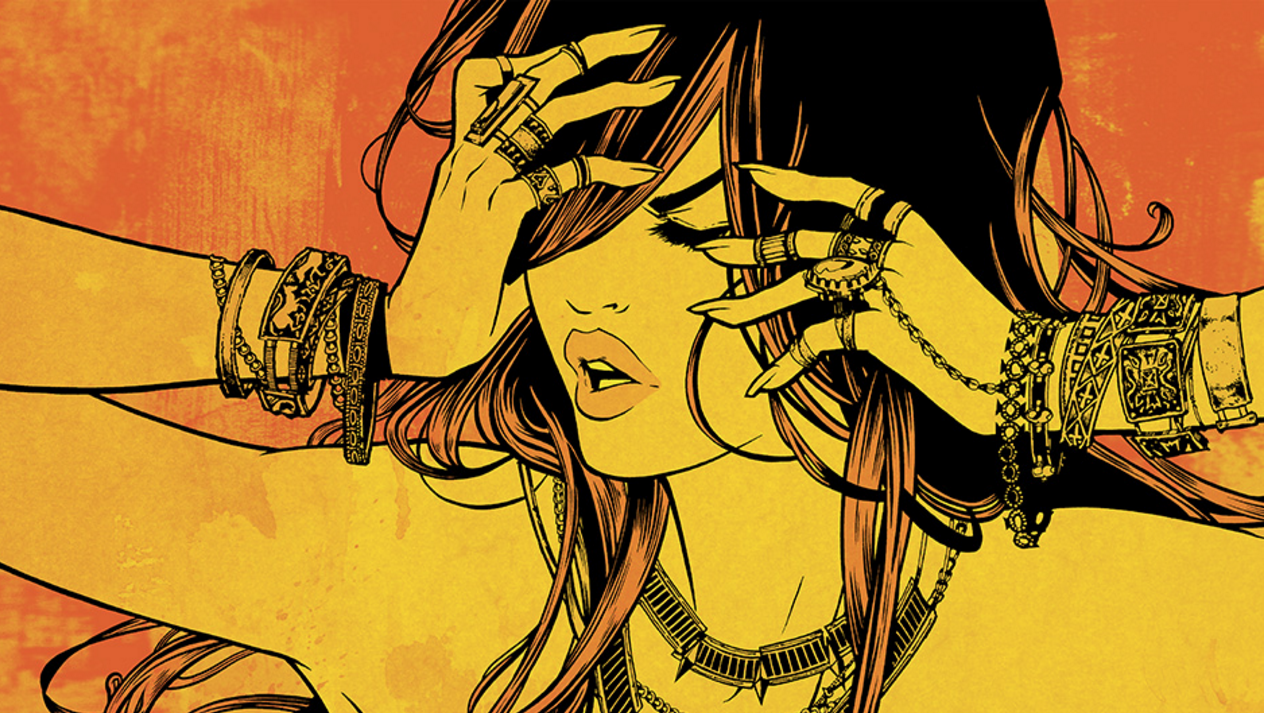 In 2015, I wrote a post listing some of the Muslim characters in comics but this year, I wanted to offer a list of Muslim women who make comics or who just draw beautiful illustrations. Who knows? Maybe you'll hire them to create beautiful sequential stories. Eid Mubarak!
https://www.instagram.com/p/BGsLyBoFKCs/?taken-by=munadraws
It was really hard to pick a single illustration to showcase Muna's art because they're all so wonderful. Her Wonder Woman warm-up is so lovely! She's definitely someone to watch.
2. Sanya Anwar
OUTCRY by Sanya Anwar
I found out about Sanya at FanExpo Canada in 2012, and the illustration above is what drew me to her table. She has does some freelance work, and has a comic called 1001 that reimagines Scherezade's life from the A Thousand and One Nights (aka Arabian Nights) story.
3. Samiira Wali
You might have seen the artwork above around Twitter for the #StyleChallenge, and it was featured in a Twitter moment. Samiira is really good at lifelike drawings, and my favourite is one of the Rihanna drawings she did.
I've known Autumn on Twitter for…I think over a year now? Her art is fun, and her pencils are chaotically beautiful. Her sketches are where its at, and I can't wait to see more.
5. Anoosha Syed
Anoosha's art is the kind you want to hug. I'm really glad someone recommended her because I can't get enough. This piece is my favourite, and I want to see more from Anoosha! Imagine me with heart eye right now.
When I think of Areeba Siddique's art, I think cool. The illustration above is a favourite, and I want to post her her work on my walls. I feel cooler just by looking at this, and I really want her zine Youth Stuck Between Deen and Dunya.
7. Soufeina Hamed (aka Tuffix)
What I like about Soufeina's art is how some of her comics, and illustrations challenge the idea of who a Muslim is. I really liked this one where she had a hijabi, and a non-Muslim woman getting ready to leave for the day but in a way that suggests they're not as different as we'd like to think. Check out her site because she's got some more great artwork along those lines (as well as some fun ones where she changes up her style).
Nasima's art makes me laugh, and feels relatable. It's great to see her doing work for places like Muslim Girl and I'd love to see more from her. Definitely check out her comics for Muslim Girl on her Tumblr.
9. Shurmmi
I could have chosen any of the more dynamic works by Shurmmi but this sketch really spoke to me and it should say a lot about her as an artist. Shurmmi is a talented artist but holy moly, her colouring is lovely. I love art that makes me feel and I'm in awe of what I'm seeing here.
10. Fahmida Azim
The image above is the gem known as Garnet from the show Steven Universe, and it's a gorgeous rendering of the character. This is a great way to end the list with something recognizable but transformed through the POV of a talented artist. Fahmida also does a dope mermaid.
I wanted to celebrate Eid by celebrating talented Muslim women. This list is not the end but the beginning so go forth, and find some more. If you have additional suggestions, put them in the comments. Otherwise, explore the works of these artists, and bask in the beauty.