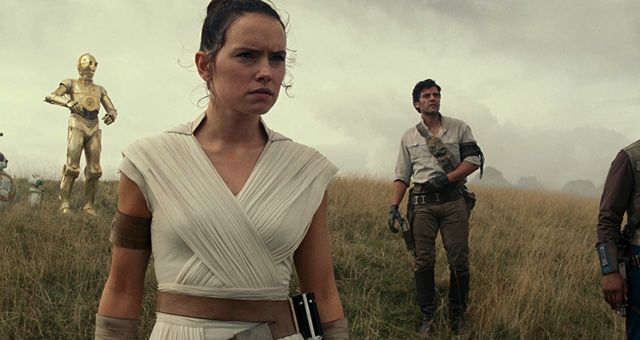 Lists
5 YA Books for Star Wars Fans
This content contains affiliate links. When you buy through these links, we may earn an affiliate commission.
While watching the trailer for Episode IX of Star Wars, I looked down at my arms to find goosebumps had risen. Was this truly the end of a lifetime of films that prodded me to repeatedly declare my love for Darth Vader? What would happen come December 2020 when there was no new Star Wars film to flood the IMAX theater to watch? Perhaps similar questions are filling your mind as you wonder what to do with the Millennium Falcon–shaped hole in your life as you wait for the newest and final chapter. One delicious solution is to fill your time with a few YA books for Star Wars fans.
I know there are many Star Wars books in the world, but for those of you who want to read something set in a new galaxy even farther and farther away, here are five YA books for Star Wars fans.
Mirage by Somaiya Daud
Somaiya Daud's love of Star Wars is a well-known fact. Unsurprisingly, Amani—the main character in Mirage—is inspired by Padme. When Amani is pulled from her home moon to serve as Princess Maram's body-double, she is thrust into a world of hatred and racism. Far from her peaceful family and books of poetry, Amani must stand in for the real princess in moments of anticipated danger, ready to trade her life for the princess's at any moment. As Amani learns how to mask herself into a perfect replica of the other girl, she also finds herself a part of a rebellion that strives to take down the corrupt monarchy.
Cinder by Marissa Meyer
It would feel like a sin to compile a list of reads for Star Wars fans and not include Marissa Meyer. Cinder is a cyborg mechanic living on Earth. Humans live in fear of the inhabitants of the moon, known as Lunars, because of their ability to glamour themselves and use mind control on those weaker than themselves. This fear is simply a fact of everyday life as a human. Cinder is more concerned about surviving her own life at home with a displeased stepmom and stepsisters (one of whom is a complete love). But then, all of a sudden, the deadly sickness spreading across the world and the strained relationship between Earthens and Lunars becomes very personal.
Running away from corrupt governments? Check. Finally finding out the truth about your identity as a teenager? Check. Gathering a crew of rejects to save the universe? Check. Raised in the peaceful vineyard belonging to her family, Stacia has no reason to believe she has anything to do with an intergalactic rebellion. Then one day, she finds out she is the lost princess who escaped before the unpredictable Direktor Eminent could kill her as a child. Now, the fate of the galaxy—as well as her family and friends—rests on Stacia's shoulders. To bring peace back to the planets, Stacia has to explore the power that runs in her veins.
Fierce, capable, royal women on the run are characters prevalent throughout the Star Wars films. Rhoda Belleza's debut runs in a similar vein: Rhee is the heir to the throne of Kalusa. She has trained for years to avenge the murder of her family, but when someone tries to murder her as well, she is forced to go into hiding. To make matters worse, she is assumed dead and all evidence points to death at the hands of a military-turned-TV-show-star boy named Alyosha. Working together is the only way to survive and fight back. And that's just the beginning of their problems.
Aurora Rising by Amie Kaufman and Jay Kristoff
If you have searched the universe for the snark and sass of Han Solo and Princess Leia, here's the book for you. Tyler Jones is the highest scoring graduating student at Aurora Academy. His prize? Having first pick for his crew. Unfortunately, Tyler ends up missing the draft while unexpectedly rescuing the last living girl on a ship that's about to explode. Auri is shocked to find out that not only has she been asleep for 200 years, but there are many who'd love to see her dead. It is up to Tyler's diverse, completely underrated crew and Auri herself to fight back. (And stay alive.)
The next episode cannot come soon enough, but these books for Star Wars fans should keep you busy.
Looking to read about more young adult teams? Check out 9 Badass Girl Crews in YA. Wondering about Stars Wars characters and their personality types? Read all about it in this Guide to Star Wars Myers-Briggs Types for Your Favorite Characters.