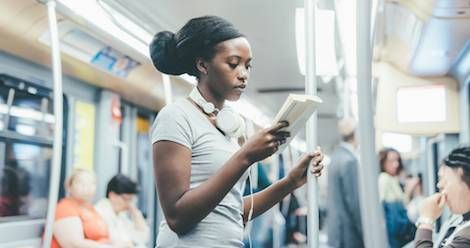 Newsletter 1
15 WoC Poets to Read During National Poetry Month
This content contains affiliate links. When you buy through these links, we may earn an affiliate commission.
National Poetry Month is my favorite month of the year. Not only does it give us the opportunity to celebrate the poetry that has been foundational to our culture, but it is also a chance to uplift the voices of incredible contemporary & emerging poets. National Poetry Month is the time to find new favorites and support poets who are working today.
Poetry has long been a vehicle for resistance and chance, and a space for marginalized voices to be heard loud and clear. Today's poets are digging deep into real emotions; they're exploring issues of race, gender, sexuality, family, culture, violence, and forging ahead on a path that forces readers to consider new points of view. In today's political climate, we need poetry from diverse writers more than ever, especially from women of color who are showing us new perspectives and laying down truths in earth-shattering ways.
If you're looking to add more WoC poets to your shelf, start here:
Tracy K. SmiTH
Tracy K. Smith, current Poet Laureate of the United States, is kind of a big deal. Her 2011 collection Life On Mars won the Pulitzer Prize, joining her two other collections, The Body's Question and Duende. Her new collection, Wade in the Water, will be released this month. Read "My God, It's Full of Stars."
Donika Kelly
Donika Kelly is the author of Beastiary, which received a number of accolades including being long listed for the National Book Award (2016) and a being a finalist for a Lambda Literary Award (2017). Read "Partial Hospitalization."
Fatimah Asghar
Fatimah Asghar is not only a poet, but also the mastermind behind the Emmy-nominated web series Brown Girls. A multi-faceted artist, Asghar's full-length book of poems, If They Come for Us will be published in August of 2018. Read "Mother" and "Ways I Am Tired."
Erika L. SÁnchez
Some of you may know Erika L. Sánchez as the author of bestselling young adult novel I Am Not Your Perfect Mexican Daughter, but she is also an accomplished poet. Her collection, Lessons on Expulsion, was published last year. Read "Kingdom of Debt."
Eve L. Ewing
Dr. Eve L. Ewing writes poetry, essays, creates art, and regularly schools people on racism in the education system. Her nonfiction work Ghosts in the Schoolyard: Racism & School Closings on Chicago's South Side comes out this year, and her collection Electric Arches was published in 2017. Read "to the notebook kid."
Layli Long Soldier
Layli Long Soldier's 2017 collection WHEREAS was nominated for the National Book Award and won the National Books Critics Circle award. In addition to her writing, she contributes to Drunken Boat and is poetry editor at Kore Press. Read from WHEREAS.
Safia Elhillo
Safia Elhillo is an accomplished poet, with a Pushcart Prize nomination and a fellowship from poetry powerhouse Cave Canem. She is also the poet behind Under Armor's campaign with Olympic skier Lindsey Vonn. Her full length collection is The January Children. Read her work here.
Victoria Chang
Victoria Chang is the writer behind celebrated collection Barbie Chang, as well as The Boss, Salvinia Molesta, and Circle. She also has a children's book called Is Mommy? and edited the anthology Asian American Poetry: The Next Generation. Read "Barbie Chang's Tears."
Jenny Xie
Jenny Xie's newest collection, Eye Level, releases this month, joining her chapbook Nowhere to Arrive. Eye Level is the recipient of the 2017 Walt Whitman Award of the Academy of American Poets, and she is the recipient of several prestigious fellowships. Read "Metamorphosis."
Analicia Sotelo
Analicia Sotelo is an emerging poet whose first full length collection, Virgin, was released in February of this year. Her work has been selected for Best New Poets 2015 by Tracy K. Smith. Read "Do You Speak Virgin."
Vanessa Angélica Villarreal
Vanessa Angélica Villarreal's collection Beast Meridian was released last year. She is also a visual artist and filmmaker, which her work reflects, and the child of formerly undocumented immigrants. Read "Corpse Flower."
Diana Khoi Nguyen
Diana Khoi Nguyen is a poet and visual artist from California. Her first collection, Ghost Of, publishes this month, accompanied by her win of 92Y's Discovery/Boston Review 2017 Poetry Contest. Read "Ghost Of."
Shauna Barbosa
Shauna Barbosa has been hailed as Kendrick Lamar's favorite poet. A former music journalist, her debut collection Cape Verdean Blues was released in March of this year. Read "Liberation."
Sally Wen Mao
Sally Wen Mao's debut collection Mad Honey Symposium was named Poets & Writers Top Ten Debut of 2014, and she won the Pushcart Prize in 2017. Mao is a Chinese immigrant and will publish her second collection next year. Read "Occidentalism."
Nabila Lovelace
Nabila Lovelace is currently the poetry editor at The Offing and part of the brains behind The Conversation, which organizes readings and a fellowship program focusing on blackness and the South. Her debut book, Sons of Achilles, will be released in June of this year. Read her work here.
For more contemporary poets to add to your shelf, check out 10 Unmissable LGBTQ+ poets.
If you want more poetry in your life, see 30 Poetry Apps For The Mobile Poet And Poetry Lover.