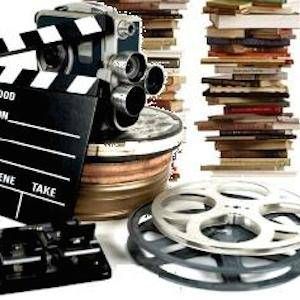 Nonfiction
Unlikely Book-to-Movie Deals That Should Exist
This content contains affiliate links. When you buy through these links, we may earn an affiliate commission.
While we at the Riot are taking this lovely summer week off to rest (translation: read by the pool/ocean/on our couches), we're re-running some of our favorite posts of 2014. Enjoy this Best Of, and we'll be back to your regularly scheduled programming on Monday, July 7th!
This post originally ran February 3rd.
____________________
Sheryl Sandberg's Lean In is now on its way to becoming a movie. It's not going to be a Sheryl Sandberg biopic, though — it's going to be somehow inspired by the get-more-out-of-your-job principles she writes about. I suppose that means something along the lines of He's Just Not That Into You or What to Expect When You're Expecting.
Three instances make a trend, right? Clearly, making movies out of books that aren't particularly story-based is now A Thing. If you're looking for ideas, Hollywood producers, how about one of these?
At Home by Bill Bryson. The house itself is the protagonist, as generation after generation of English families move through it, modernize, and engage in all sorts of domestic scandals.
Cars on Mars by Alexandra Siy. Opportunity (and Spirit, sigh) plays the role of WALL-E. Bobek Ferdowsi's hair will get a Best Supporting nod.
How to Win Friends and Influence People by Dale Carnegie. Professor Harold Hill, the early years. He didn't become the Music Man overnight, after all.
Younger Next Year by Chris Crowley. Surely someone can turn this into a decent rom-com.
Professor Stewart's Hoard of Mathematical Treasures by Ian Stewart. Remember the game that was embedded in the original Encarta? Our heroes have to fight through a math version in order to save the world.
Stitch 'n Bitch by Debbie Stoller. Steel Magnolias set among knitting hipsters.
A Random Walk Down Wall Street by Burton Malkiel. This is what happens when you don't get into insider trading. Working title: The Lamb of Wall Street.
Gulp by Mary Roach. Pretty sure an episode of Magic School Bus already covered this one, though.