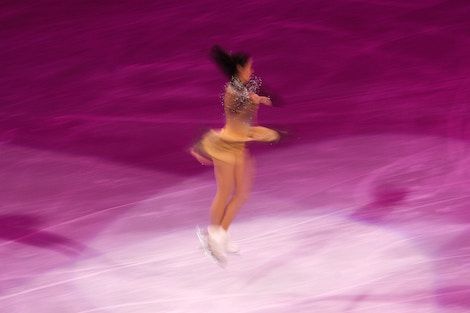 Newsletter 1
Tonya and Nancy: The History, The Legacy, and The Ways We Pit Women Against Each Other
This content contains affiliate links. When you buy through these links, we may earn an affiliate commission.
With the Winter Olympics coming and the recent release of the film I, Tonya, the Tonya Harding–Nancy Kerrigan story has been in the spotlight again. And like every time this story reemerges, opinions about victimhood abound: in this year's conversation, there's been much discussion about how Harding was "never a victim." But this is a falsehood.
Being a victim takes more than one shape and look, and in the case of Harding, she was a victim of abuse from both her mother and her ex-husband, as well as a victim of a ratings-hungry media storm which pitted her story against Kerrigan's. It made both of them victims of misogyny, stripping them of their complex stories and experiences and instead creating a mythology about who they were and how their single intertwined experience was the whole of who either of them were as individuals. Many choose to believe Harding isn't a victim because she isn't the "right" kind of woman, harder and tougher and more vulgar than the sorts of women lauded in the media and in the world of competitive skating.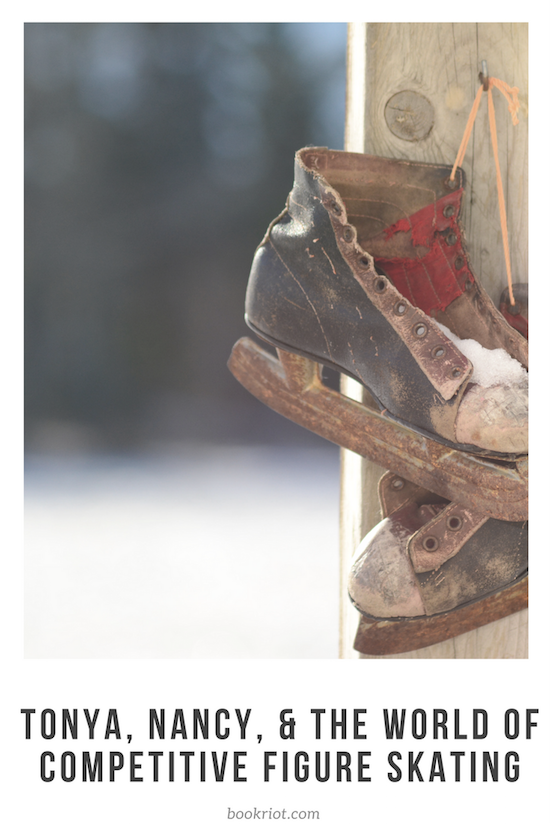 To hear Kerrigan talk about it now is to hear someone who isn't paying attention to the media. And though I, Tonya is a fictionalized take on the real Harding story, it, too, doesn't spend a whole lot of time focusing on Kerrigan or the incident that tied the two women together. Kerrigan has left this part of her life behind her.
"But Harding attacked Kerrigan" is a claim in the court of public opinion which is unfounded. It's one which was not proven in court proceedings. Harding was convicted of hindering an investigation, and in the court of law, she's innocent of all else. While many would suggest it's time for her to move on in the same way Kerrigan has, the fact of the matter is she continues to speak because of the court of public opinion. Because she is a survivor of abuse.
In light of the attention being brought back to Harding, Kerrigan, and the Olympics, a reading list. Some of these books are older, published in the mid-'90s when the story first began. Others are newer. In the case of all these books, there are few, if any, written from authors of color; it would, of course, have been an entirely different story had either or both of these women been women of color. These books offer insight into the incident, into media responses to it, and they allow both women to speak their own stories within and beyond the incident that brought them to the center of a media spectacle.
Note that descriptions come from Amazon, and also note that some of these titles might take some work to track down because of their publication age. A number have been republished with the release of the movie and may only be available digitally.
Championship figure skating, despite its surface appearance of pristine elegance, is a ferociously competitive sport, full of bitter rivalry and personal antagonism. Olympic glory means everything: fame, money, and the admiration of millions.
Every skater who goes for the gold has drive and tremendous competitive spirit, but few more than Tonya Harding. In Fire on Ice, you will learn about Harding's hardscrabble childhood—a childhood wracked by abuse, money problems, and unceasing pressure and belittlement by her mother. And you will learn how Tonya Harding made herself into one of America's best skaters.
Here is a young woman whose fierce ambition was, in the end, her downfall. Her story is a tale of sacrifice and overcoming obstacles, of the strength of competition and the blindness of ambition. In the thin ice over which Tonya Harding always glided, we could not help but see an American story, and all of America was watching.
Figure skating is the most beautiful and mysterious of all sports. When the skaters are on the ice, every twitch of a muscle and every slip of a skate blade is visible for the world to see. In Inside Edge, Christine Brennan chronicles—for the first time—a season on the skating circuit, intimately portraying the lives, on and off the ice, of the sport's current and upcoming stars. Woven into the narrative are stories of figure skating luminaries past, present, and future—including Peggy Fleming, Katarina Witt, Brian Boitano, Scott Hamilton, Kristi Yamaguchi, Nancy Kerrigan, Oksana Baiul, Michelle Kwan, Rudy Galindo, and Tara Lipinski. Revealing the backstage conflicts high-profile figure skaters face, and the ambition that drives them, Brennan also tells the stories of their families, of improbable rises to the top, and of wasted talents.
If skaters are perfect, they can become international heroes. But if they fall, if they miss a three-revolution jump on a quarter-inch blade of steel, the despair is theirs alone. This is their life on the edge, where decades of training culminate in little more than four crucial minutes on the ice. There is no other sport like it. There is no other story like theirs.
The figure skaters gathered slowly in the mahogany-paneled lobby of the majestic Mirror Lake Inn in Lake Placid, New York, flashing no smiles, barely saying a word. The collection of gregarious entertainers had been reduced to silent, wide-eyed stares. The crackling wood in the fireplace made the room's only noise.
They had met in hotel lobbies in fancy street clothes hundreds of times in the past, but never for an event as devastating as this. On a cold night in late November 1995, they were to travel through snowswept Adirondack mountain roads to a nearby funeral home for a private wake for Sergei Grinkov, their colleague and friend who died of a massive heart attack during a skating practice the day before.
In this disturbing book, sports columnist Ryan exposes the tarnish beneath Olympic gold as she reveals heartbreaking stories of the physical and psychological abuse suffered by countless young girls driven to achieve Olympic medals. In harrowing detail, Ryan documents the preponderance of abuse, eating disorders, weakened bones, and damaged psyches that are often the result of intensive training.
From frozen pond to Olympic rink, Nancy Kerrigan started skating when she was six years old. Nineteen years later she won the Olympic silver medal. This is the story of what happened in between: the hard work, the fun and friends, the nerve-racking competitions, the disappointing losses and, of course, the thrilling victories. Here is Nancy's story about a little girl from Massachusetts who grew up to be an Olympic champion.
The Tonya Tapes by Lynda Prouse and Tonya Harding
Based on the candid and sometimes startling conversations that you were never meant to hear, THE TONYA TAPES, written by award-winning author, Lynda D. Prouse, chronicles the life of the world's most infamous female athlete—TONYA HARDING—revealing for the first time the whole truth of her difficult and sometimes amazing life on and off the ice. Based on actual, extensive interviews with Tonya Harding, and written with her collaboration, this is her story!
The attack on Nancy Kerrigan at the 1994 U.S. Figure Skating Championships set the stage for a Winter Olympics spectacle: Tonya versus Nancy. Women on Ice collects the writings of a diverse group of feminists who address and question our national obsession with Tonya and Nancy and what this tells us about perceptions of women in twentieth century America.