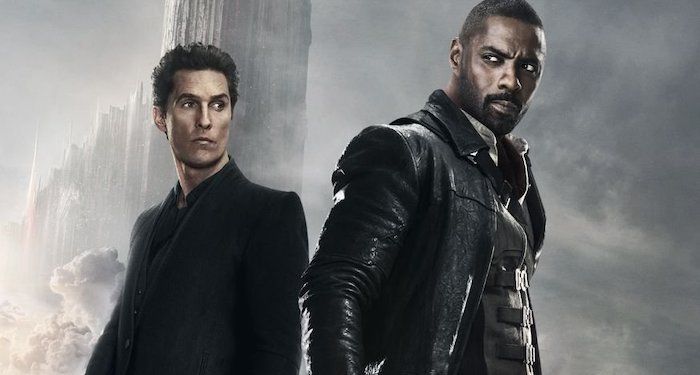 Essays
The Bookish Life of Idris Elba
This content contains affiliate links. When you buy through these links, we may earn an affiliate commission.
Idrissa Akuna Elba was born on September 6, 1972, to Sierra Leone Creole Winston and Ghanaian Eve, who married in Sierra Leone and moved to London, where he grew up. Although he first became known to U.S. American audiences for his portrayal of Stringer Bell on the 2002 series The Wire, he had by then been a working actor — mostly on TV — for nearly a decade. In addition to acting, he has worked as a DJ since 1986.
The much-beloved actor (and DJ, and director) has been working seemingly nonstop for the last 30 years. Let's take a look at the most bookish of his roles.
In what seems like a slow start, compared to his later output, he was in four bookish properties in the first decade of this century. In 2001 he appeared in the Joaquin Phoenix–starring Buffalo Soldiers, based on Buffalo Soldiers by Robert O'Connor. In 2005, he starred in The Gospel, based on the parable of the Prodigal Son. In 2007, he was in Ridley Scott's American Gangster, starring Denzel Washington and Russell Crowe and based on a New York Magazine article, "The Return of Superfly" by Mark Jacobson. And in 2008 he appeared in the pilot episode of The No.1 Ladies Detective Agency, based on The No.1 Ladies Detective Agency by Alexander McCall Smith.
Then things picked up a bit as he had his first (and second and third) turn in a comic book adaptation. In 2010 he was in The Losers, based on the Vertigo comic. In 2011, he portrayed Heimdall in Thor, based on the Marvel comic; he would go on to reprise the role in 2015's Avengers: Age of Ultron, 2017's Thor: Ragnarok, 2018's Avengers: Infinity War, and 2022's Thor: Love and Thunder. Also, in 2011 he was in Ghost Rider: Spirit of Vengeance, based on the Marvel comic but unrelated to Thor continuity. And in 2021, he was in The Suicide Squad, based on the DC comic.
While not based on a book, I think his appearance in 2012's Prometheus counts as bookish because — as Jessica Avery explains elegantly — a literary franchise has been built around the Alien film franchise. And Jessica was generous enough to write an Alien book list in 2019, although it is surely somewhat outdated four years later.
He portrayed Nelson Mandela in 2013's Mandela: Long Walk to Freedom, based on Mandela's autobiography, Long Walk to Freedom. In 2015 he starred in The Gunman, based on The Prone Gunman by Jean-Patrick Manchette, In 2016, he voiced Shere Khan in The Jungle Book, based on The Jungle Book by Rudyard Kipling.
Like Prometheus, 2016's Star Trek Beyond was not based on a book, but the franchise includes many books and comics. We have lists of the best Star Trek Books or books to read based on your favorite Star Trek character.
Also in 2016, he voiced the televised advertisements in Tom Clancy's Rainbow Six Siege 2016, the video game based — perhaps obviously — on Rainbow Six by Tom Clancy.
In 2017, he starred in three movies based on books: Molly's Game was based on the poker memoir Molly's Game by Molly Bloom; The Mountain Between Us was based on The Mountain Between Us by Charles Martin; and The Dark Tower was based on The Dark Tower by Stephen King.
The following year, he made his directorial debut with Yardie, based on Yardie by Victor Headley. The movie received mixed reviews.
I hardly need to mention his most notable bookish role: Macavity in Cats, which is of course based on the stage musical, which was based on Old Possum's Book of Practical Cats by T.S. Eliot. Since then, he has appeared in 2020's Concrete Cowboy, based on Ghetto Cowboy by G. Neri; 2022's Three Thousand Years of Longing, based on "The Djinn in the Nightingale's Eye" by A.S. Byatt; and 2022's The Boy, The Mole, The Fox and the Horse based on The Boy, The Mole, The Fox and the Horse by Charlie Mackesy.
In addition to his many bookish roles, Elba has been the recipient of several awards and distinctions: he was the Essence Sexiest Man of the Year in 2013, People's Sexiest Man Alive in 2018, and one of Powerlist's "top 100 most influential people in the UK of African/African-Caribbean descent." He has also been nominated for many acting awards and won a handful, including BET's Best Actor award for The Losers.