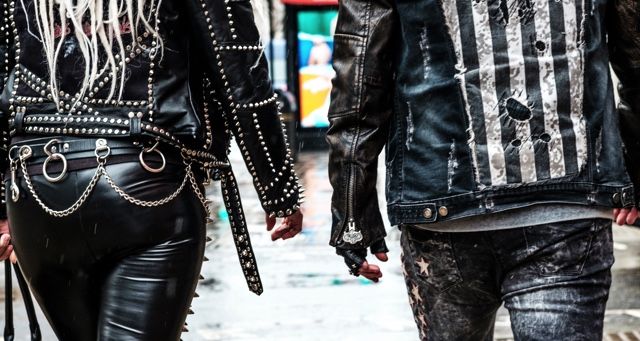 Nonfiction
Reading Pathways: Gillian McCain and Legs McNeil
This content contains affiliate links. When you buy through these links, we may earn an affiliate commission.
Oral history as a method of obtaining information, typically from people who lack the ability or means to record their thoughts and memories on paper, began in the 1960s, owing to the rise in accessibility of tape recorders. The technique quickly found its way into literature, and while its early practitioners listened in on the testimonies of Vietnam veterans (Bloods, Everything We Had) or survivors of the Great Depression (Hard Times), oral history has expanded to cover just about every topic largely thanks to two people: Gillian McCain and Legs McNeil.
McNeil, a music journalist, was present at the mid-1970s birth of punk rock and, along with John Holmstrom and Ged Dunn, published Punk magazine in 1976, popularizing the term itself. McCain began her writing career as a poet but devoted herself to oral history following her meeting McNeil through the late poet Maggie Estep.
While the two have authored and co-authored work separately (the oral history The Other Hollywood from McNeil, and prose poetry collections Tilt and Religion from McCain), this article will focus on their collaborations…with one exception. For more about music oral histories, check out Rachel Rosenberg's article here.
Dear Nobody: The True Diary of Mary Rose is composed of journal entries and drawings by Mary Rose, who died at age 17 from cystic fibrosis in 1999. For years, the journals were, according to Rose's mother, "tucked away in a bin in a bedroom closet" and read only by Rose's sister and her friend, who happened to be the daughter of a friend of McNeil's. The journals were released in 2014, with McCain and McNeil serving as the book's editors. The two deserve credit for their presentation of the writings, which range from rants about Rose's hellish home life to painful descriptions of the condition that killed her, but this is obviously Rose's show. From the first pages, it's clear she's a strikingly keen observer; the passage about the differences in marijuana, cocaine, and heroin users is a highlight. McNeil sees the book as a spiritual predecessor to his and McCain's earlier work. "We felt kind of like it was a prequel to Please Kill Me," he said at a reading in 2014. "You know, all of our fucked-up childhoods before we found rock 'n' roll."
Here you have the book that kicked off the craze for oral histories about music. It was far from the first of its kind (McNeil and McCain themselves praise Edie: American Girl by Jean Stein and George Plimpton as a direct influence on their work), but make no mistake: Everybody Loves Our Town, I Want My MTV, Louder than Hell, Meet Me in the Bathroom and many more are children of this raw account of punk rock's genesis, peak, and nasty decline told by some of its most prominent artists. Made up of hundreds of interviews, the book can be neatly divided into two sections: the exhilarating first half, catching up on the formation and rise of bands like The Velvet Underground, The Stooges, New York Dolls, and The Ramones, and the sobering second half, where drug addiction finally catches up with many of the scene's biggest names. It's this kind of arc that McNeil says is so hard for many oral historians to nail. "Everyone thinks, 'Oh, I'll do an oral history, it'll be easier,' and it's not," he said at a reading in 2014. "You really have to know narrative structure."
This "family memoir" is told from the perspective of Mickey Leigh, punk frontman Joey Ramone's younger brother, with McNeil credited as co-author and often appearing as an interviewee (McCain is given "extra special thanks" for "all her editing suggestions" in the book's acknowledgments). Leigh was there for everything: Ramone's initial adolescent and young adulthood struggles with obsessive-compulsive disorder, the formation of The Ramones, the band's tumultuous 22-year career, and finally Ramone's death from lymphoma at age 49. Being a Ramones fanatic, I've devoured stories about the band whenever I can, and this unwieldy, gossipy book is the most detailed history you're going to find. And even if you're unfamiliar with the band, this is an inspirational tale of a misfit who made a mark.