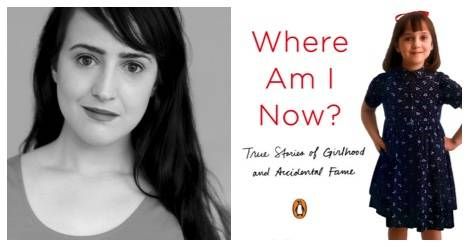 This content contains affiliate links. When you buy through these links, we may earn an affiliate commission.
Mara Wilson will be speaking at Book Riot Live 2016, November 12 and 13 in New York City.
Hey kids, remember the feeling you got when you cleaned your room without being asked and no one noticed? That's what adulthood's like.

— Mara "Get Rid of the Nazis" Wilson (@MaraWilson) May 19, 2013
Maybe you know her as the Faceless Old Woman from the strange, unpredictable town of Night Vale. Maybe your bookish childhood was illuminated by her performance in the classic film Matilda. Or maybe you've stumbled upon her tweets every couple weeks, wondering how she comes up with stark and humourous observations of life.
Whatever you might recognize her from, Mara Wilson's work speaks well enough for itself. Having started writing during her time at New York University, Wilson has penned essays on her acting career, family, and the wide spectrum of her experiences in several outlets.
Loved the Babysitters' Club series? Wilson memorializes The B.Y. Times for The Toast, and the ways Leah Klein's series ("or at least a group of ghostwriters writing under the name Leah Klein," theorizes Wilson) helped her learn about parts of her Jewish identity.
I was left with a feeling of longing. Not a longing to be more religious, like the first time, but for the feeling of sisterhood. The world of the B.Y. Times was a girls' world. When Pinky obsessed about being eight pounds overweight, the other girls told her she could lose weight if she wanted to, but they loved her just the way she was. There were sleepovers and pacts of sisterhood. The only boys they talked about were their brothers or their Abbas or some famous wise rabbis. If they had questions, they could ask the wise Rebbetzin. They had an inner sanctum, a safe space within a strict patriarchy.
On Cracked, Wilson explains some of the reasons why child stars might struggle to adjust to post-acting life, and she does so with an undeniable empathy. Her tribute to Robin Williams on the event of his death gives a glimpse into how she knew and appreciated someone who was so well-loved all over the world. And of course, there are beautifully wrought and loving stories about her family and their influence on her life.
Feeling unsure about where to start reading Wilson's work? Her first book, an upcoming collection of essays titled Where Am I Now? True Stories of Girlhood and Accidental Fame (out September 13, 2016), is a great place to start. Here, you follow Wilson through the sets of Mrs. Doubtfire and Matilda and Miracle on 34th Street, as well as child star summer camp, and her unique school experiences. In my favourite essay, Wilson grapples with existentialism and faith during her adolescence, and the truths she learned about herself and her perspectives in the aftermath. It's not an easy essay to read, but she writes it with a deft, piercing sensibility, grounding the collection with the kind of writing that only makes you want more. And oh, there is always more to read with Mara Wilson.