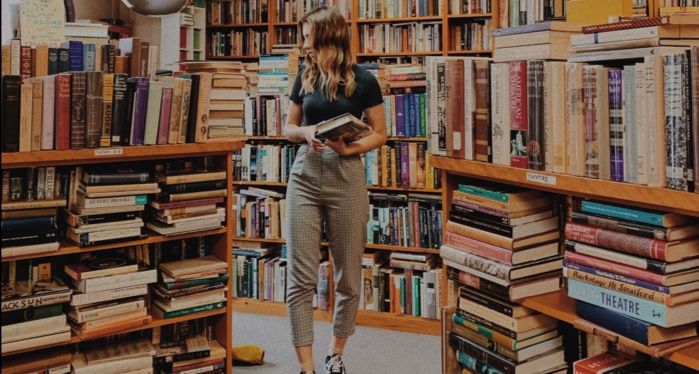 Lists
10 Propulsive 2021 Books Everyone Will Be Talking About
New year, new books. While a lot about 2021 still feels so uncertain, there is one thing we can all be optimistic about. And that's books. 2021 is a promising year for new books, with lots of buzzy new titles coming out from some of your favorite authors. And there are plenty of exciting debuts coming our way throughout the year too. If you're looking to update your TBR pile for 2021, here are 10 propulsive 2021 books everyone will be talking about. You won't want to miss out on them.
Black Buck by Mateo Askaripour
If you're looking to read one of the buzziest books of 2021 right away, this first one has already hit shelves. This satirical debut is being compared to the movies Sorry to Bother You and The Wolf of Wall Street. It's the story of 22-year-old Darren, a young man who's given the opportunity of a lifetime when he's offered a job as the only Black salesman at a mysterious cult-like startup company. This book takes a hard look at the myth of the American Dream, the price of blind ambition, and racism in America. Plenty of subjects that will have people talking long after they've finished this one.
Publication date: January 5, 2021
The Project by Courtney Summers
Courtney Summers, the author who brought us the unforgettable young adult novel Sadie in 2018, is back with a new novel everyone will be talking about in 2021. When Lo Denham's parents died in a tragic car accident, Lo didn't just lose her mother and father. She also lost her sister Bea to The Unity Project. The Unity Project is an organization that's won over many people through its extensive charitable work and community outreach. But Lo knows there's something more sinister going on beneath the surface. And she will stop at nothing to prove it.
Expected publication date: February 2, 2021
The Gilded Ones by Namina Forna
The Gilded Ones is a debut young adult fantasy novel, the first in what is a planned trilogy. And people have been anxiously awaiting the release of this book for some time now. It was originally set to come out in 2020, before COVID-19 hit and scrambled up release dates for a lot of the most hotly anticipated titles of last year. But it looks like we're finally getting this one in February.
Sixteen-year-old Deka is about to reach a pivotal moment in her life: the blood ceremony that will decide her fate. If her blood runs red, then she will become a member of her village and finally feel like she truly belongs. If her blood runs gold, the color of impurity, then Deka will face a consequence worse than death. When the day of the ceremony comes and Deka's blood is revealed to be gold, the young girl thinks she has run out of options. That is, until a mysterious woman comes to her with a choice: she can stay in the village and accept her fate, or she can leave and fight for the emperor alongside alaki, an army of girls just like her who are near-immortals with rare gifts.
Expected publication date: February 9, 2021
The Echo Wife by Sarah Gailey
If you loved Big Little Lies, but wished it was more like Westworld, then best-selling author Sarah Gailey's latest novel might be the perfect 2021 read for you. Evelyn Caldwell has created a genetically cloned replica of herself. Her name is Martine, and she's patient, gentle, and obedient. Basically everything Evelyn isn't and swore she'd never be. And Martine is having an affair with Evelyn's husband. Gailey's 2019 novel Magic for Liars and 2020 novella Upright Women Wanted were both huge hits, so of course it's safe to assume this one is going to be a winner too.
Expected publication date: February 16, 2021
The Committed by Viet Thanh Nguyen
Viet Thanh Nguyen's sequel to his Pulitzer Prize-winning novel The Sympathizer has been highly anticipated by many readers for some time now. And we're finally getting it in March of this year. The Committed picks up where The Sympathizer left off, following the anonymous narrator as he arrives in Paris as a refugee and becomes a drug dealer alongside his blood brother Bon.
Expected publication date: March 2, 2021
Klara and the Sun by Kazuo Ishiguro
Nobel laureate Kazuo Ishiguro returns to literary sci-fi with his latest novel Klara and the Sun. Klara is an Artificial Friend who carefully watches the behavior of all the human beings who come to browse the store where she currently resides. With every passing day, Klara remains hopeful that one of the people she observes will chose to buy her and take her home. Ishiguro's novel explores the meaning of love and humanity.
Expected publication date: March 2, 2021
The Final Revival of Opal & Nev by Dawnie Walton
For readers who read and loved Daisy Jones and the Six, and are looking for another book that they'll love just as much (if not more), The Final Revival of Opal & Nev could just be the answer. This novel is the oral history of the fictional rock & roll duo Opal & Nev, who rose to fame in 1970s New York. The narrative structure and music-based storyline will certainly remind many readers of Taylor Jenkins Reid's Daisy Jones, but Dawnie Walton's debut novel is doing its own thing, for sure, with a strong narrative voice and unforgettable characters.
Expected publication date: April 20, 2021
Malibu Rising by Taylor Jenkins Reid
Speaking of Taylor Jenkins Reid, the beloved author has a new book coming out in 2021, too. Set in Malibu in 1983, Malibu Rising is the story of four famous siblings, the Rivas, who throw and epic party to really end the summer with a bang. But over the course of the next 24 hours, as the party gets out of hand, each Riva sibling will have to make big decisions about who they are and what they will leave behind in this summer forever.
Expected publication date: June 1, 2021
The Other Black Girl by Zakiya Dalila Harris
This debut novel is being called a cross between Get Out and The Devil Wears Prada. Set against the starkly white backdrop of the New York City publishing industry, The Other Black Girl is a novel about two young Black women. Nella is an editorial assistant who is initially thrilled when Hazel is hired at Wagner books. Now she's no longer the only Black woman in the office. But soon Hazel becomes the office darling, and Nella is left in the dust. Then threatening notes start appearing, and Nella can't help but wonder if Hazel is behind them. This book is the perfect mixture of of edge-of-your-seat thrills and biting social commentary that will get readers talking.
Expected publication date: June 1, 2021
Harlem Shuffle by Colson Whitehead
Two-time Pulitzer Prize–winning author Colson Whitehead's latest novel won't be out until later in 2021. But there's already plenty of anticipation building around this one. Harlem Shuffle is part family saga, part crime novel, set in New York City in the early 1960s. Whitehead describes his latest novel as a "lively heist" story that's also a love letter to Harlem.
Expected publication date: September 14, 2021