Fiction
12 Movies That Should Be Books
Around Oscar season, there's always a lot of talk about book-to-film adaptations. But personally, I'm more interested in seeing it done the other way around. Often, I'll be watching a movie, one whose tone and narrative really speak to me as a reader, and I'll think,"Damn. I wish this were a novel."
So here's a list of my fantasy novelizations – movies that I wish would be made into books, and the writers I'd assign to them (don't mind me, I'm just playing god here):
Film: New Waterford Girl – A morbidly funny Canadian film about a bookish teenage girl ("Moonie") living in a very Catholic town on the coast of Cape Breton Island in the 70's. Despite her virginity, she pretends to be pregnant so she can be sent away to "have the thing," and eventually escape for New York City.

Fantasy Novelizer:
Janet Fitch
, because her descriptions are so beautiful, and I think she could capture Moonie's voice.
Film: Adaptation – Okay, I know the film is based on (and meta-meddled with) Susan Orlean's The Orchid Thief, but the movie is so good that I think it warrants a straight novelization.
Fantasy Novelizer: Donald Ray Pollock, because he'd make it all sexy-violent like it should be.
Film: Magnolia – No explanation needed.

Fantasy Novelizer: George Saunders
, no explanation needed.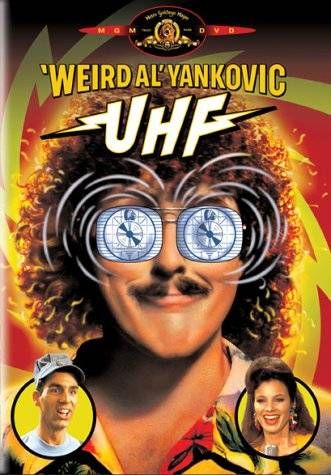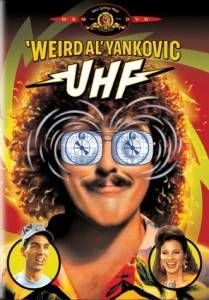 Film: UHF – Possibly the weirdest movie ever made, starring Weird Al (who imagines himself as Rambo) as the new station manager tasked with saving the local public television station from demise.
Fantasy Novelizer: Helen DeWitt, because she's possibly the weirdest writer we've got, and her wicked sense of humor and perversity would be perfect.
Film: Saved! – An extremely funny religious satire about a motley group of students at a Christian high school.

Fantasy Novelizer: Barry Hannah
I know he's dead, but he would write the shit out of this novel, possibly even from the grave.
Film: Working Girl – A super fun underdog movie about a struggling stock market secretary who finds out that her boss is planning to steal her big idea in order to save the company from foreign takeover. When the boss is injured in a ski accident, the secretary takes over the office and just gets generally badass.
Fantasy Novelizer: Victoria Patterson, because she's a devilishly smart and unapologetic female writer who would know when to hover, and when to bring the hammer down.
Film: Modern Times – One of Chaplin's "Little Tramp" films. Forgive me, but this one deserves a Wikipedia description: "Modern Times portrays Chaplin as a factory worker employed on an assembly line. After being subjected to such indignities as being force-fed by a "modern" feeding machine and an accelerating assembly line where Chaplin screws nuts at an ever-increasing rate onto pieces of machinery, he suffers a mental breakdown that causes him to run amok, throwing the factory into chaos. Chaplin is sent to a hospital. Following his recovery, the now unemployed Chaplin is mistakenly arrested as an instigator in a Communist demonstration. In jail, he accidentally ingests smuggled cocaine, mistaking it for salt. In his subsequent delirious state he stumbles upon a jailbreak and knocks out the convicts. He is hailed a hero and is released."
Fantasy Novelizer: Bret Easton Ellis or Katherine Dunn, no explanation necessary.
Film: Mystic Pizza – Because it's a fun movie.
Fantasy Novelizer: Maile Meloy, because she'd turn a fun movie into a smart novel.
Film: Slackers – Again, just a fun movie.
Fantasy Novelizer: Matthew Sharpe, because he would make it weird, and weirdly poignant.
Film: The Hairy Bird (originally released in Canada under the name Strike! and alternately titled All I Wanna Do) – A great movie about a group of hilarious loudmouth girls living in a preparatory school in 1963 who form a club designed to sabotage the school's plans to go co-ed. There's awkward sex, townies, and basically everything that I like.
Fantasy Novelizer: Jo Ann Beard, because she is uh-may-zing at writing about teenage girls, and she's not afraid to throw in some grit.
Film: Gladiator – Okay, I owe my friend Karen for this one. She informed me that Nick Cave was assigned to write a sequel to the film, and what he came up with was pretty epic: "Maximus meddles with Roman gods in the afterlife, is reincarnated, defends early Christians, reunites with his son, and ultimately lives forever – leading tanks in the second world war and even mucking around in the modern-day Pentagon." Um, YES PLEASE. Obviously, the movie didn't get made. But as Karen said to me this morning, I think just about anyone who appreciates awesome stuff would read that hot mess, preferably in trilogy form.
Fantasy Novelizer: Rick Moody or Joshua Cohen, because they're the only ones who are both crazy and good enough to do it.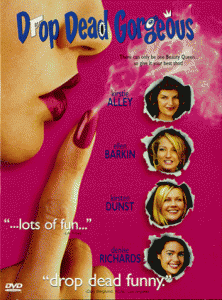 Film: Drop Dead Gorgeous – One of the funniest movies I've ever seen; a mockumentary that follows the Mount Rose, MN, contestants of the "Sarah Rose Cosmetics Mount Rose American Teen Princess Pageant," who keep getting killed off in bizarre rural accidents in the run up to the pageant.
Fantasy Novelizer: Cintra Wilson. Actually, I can't believe she didn't write the screenplay.
Film: Being John Malkovich – No explanation needed.
Fantasy Novelizer: Me, because I want to do it.
What about you? Any films you wish were novels? Any you'd like to novelize yourself?