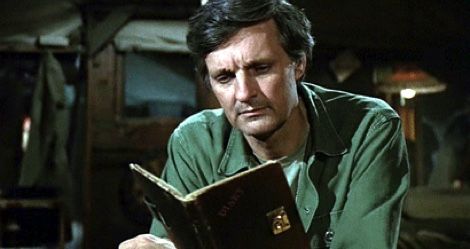 Nonfiction
Reading is Painless: Memoirs from M*A*S*H
This content contains affiliate links. When you buy through these links, we may earn an affiliate commission.
I'm always met by confused looks when I tell people that one of my favorite television shows ever is M*A*S*H. Being only two years old when the record-breaking, heart-wrenching finale aired, it's unusual that I took so completely to the antics of Benjamin Franklin "Hawkeye" Pierce and his friends of the 4077th. Even as a young child, The Swamp seemed like the most fun place to while away an afternoon in picturesque Uijeongbu, South Korea. As I got older, my mouth would water for a dry martini from the homemade still of Hawkeye, Trapper John and, eventually, B.J. Hunnicutt. Early on, the horrific reality of war was lost on me, not understanding that the humor displayed by these doctors was simply a coping mechanism. Later on, watching Hawkeye's break down over what he thought to be the death of a chicken would impact me in ways I still feel to this day. If you so much as repeat the line "It spun in. There were no survivors" or "You dear, sweet man," tears immediately spring to my eyes (as confirmation, I'm currently grabbing a tissue as I write this).
So, I'm sure you can imagine that when Alan Alda announced that his communication podcast Clear + Vivid would be hosting a M*A*S*H reunion of sorts, I was giddy. Loretta Swit, Mike Farrell, Jaime Farr, and Gary Burghoff would be joining Alda for a conversation about their time on the beloved show and how their communication with each other only enhanced their performances. This episode did not disappoint. Being privy to the laughs and inside jokes of this group of actors whom have been friends for nearly 50 years was as comforting to me as Radar's teddy bear.
So for my fellow M*A*S*H fans, I wanted to share a reading list of the memoirs of some of our favorites, along with the book that started it all.
This is the novel that gave birth to some of the most beloved characters in all of film/television. Hooker's book tells of the joys and horrors of being a healer in the middle of utter destruction.
A behind-the-scenes book about the filming of one of America's most successful television shows, complete with an introduction by its creator, Larry Gelbart.
Known to fans as lovable Radar O'Reilly, Burghoff shares his experiences as an actor and on the set of M*A*S*H. You'll come to appreciate just how versatile and multi-faceted Burghoff is.
Not only is Farrell known to the world as mustached B.J. Huneycutt, but his time outside of acting and producing has taken him across the world in a quest to be a better global citizen.
The late actor who gifted us Father Mulcahey lets us into his innermost life and his family's experience as they learned of their son's Autism diagnosis.
Corporal Klinger shocked a less-woke country in pinafores and gorgeous dresses, but Jamie Farr's comedy chops are exactly what breathed life into his character. Read about how the actor stumbled into the Klinger character and became a national icon.
The actor who plays the much loved Hawkeye shares with us experiences from his childhood that paved the way to M*A*S*H and the lessons he learned on the way.
The wife of Alan Alda shares on-set experiences and photos as the show's 11 year run came to a close.
And while these books may not contain memories of their time in "South Korea," it doesn't hurt to support these talented M*A*S*H alum!
The actress who played "Hot Lips" turns out to be an incredibly talented artist, specifically focusing on the gorgeous inner and outer lives of the world's animals. This book chronicles that talent and proceeds from the book are donated to charities focused on ending animal suffering and cruelty.
The late actor who gave us clever imp Trapper John had even more success after his M*A*S*H days as a business man and entrepreneur. In this guide, he provides insights and stories that drove him forward in his business life.
Although M*A*S*H spoke to use of derogatory, racist terms and pushed back on a lot of stereotypes, we must be honest—it was being created in a time when diversity in representation and employment wasn't the focus it is today. Due to it being a product of its time, the 4077th was awfully cis het and white. Therefore, this list of cast member memoirs does not include books by marginalized voices. If you know of authors or actors of color who have written about their experience working on M*A*S*H, please do share!