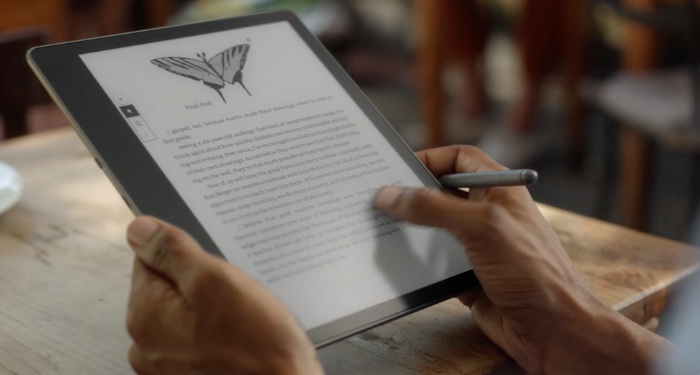 Book Fetish
Should You Buy That? A Kindle Scribe Review
When I first heard the news about the Kindle Scribe, I was pretty curious. New gadgets, especially if they're book-related, always catch my eye. When you can do more than one thing on them, I'm always going to at least fall down the rabbithole for a few hours. And this one was no different! I love the size of my Kindle Paperwhite, but some things are better on a bigger screen, right? And then there was the other side of the Scribe, the bit that gives it its name: the writing element. Is it worth it? I delve into that question in this Kindle Scribe review!
In late 2020, after watching my husband play with his shiny new iPad Pro, I decided to get one for myself. I would be editing at least one book in the near future and figured the ability to take digital notes and write on written documents without having to deal with paper would come in handy. Also, I had become intrigued by digital planners and was hoping to get my life together (not for the last time). I really enjoyed using it for specific things, but as a daily reader, it was just…too heavy. So I would usually go back to my Kindle when I wanted to read prose. The size and shape was perfect for my hands, and it has a case that allows it to stand on its own.
Kindle Scribe Review: Pros and Cons
Fast forward to late 2022, when the Scribe was announced. I was intrigued, but not yet ready to push the button. I wanted to know what people thought of it, what first-round buyers felt were the pros and cons. And just like with anything in consumer technology, the results were mixed:
Pros:
The size is good, whether you're reading prose, comics, or textbooks
The weight is good, especially compared to the heavier iPad
There is definitely enough hard drive space
The reading experience is good for the average person
Making notes in Kindle books is easy and useful
The notebooks are easy to understand and manage
You can send PDFs and mark them up, or add sticky notes to other kinds of files (like Microsoft Word documents)
The pen comes in handy, whether for writing or as a stylus
The overall experience is satisfactory and worth the money spent
Cons:
It's too big
It's too heavy
The reading experience is clunky and slow
It's frustrating that you can't mark up Kindle books or Word docs
The notebook folders can't be nested within each other
It's too expensive for what it is (a glorified ereader with some frills and whistles)
Okay, so maybe the whole reviews section on Amazon isn't that contradictory, but there are definitely some pros and some cons that I want to address.
What is the Kindle Scribe? What Can You Do With It?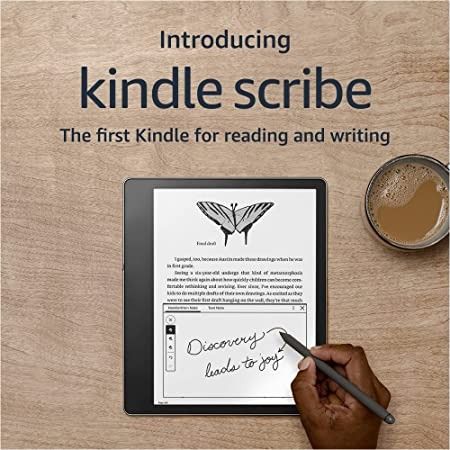 The Kindle Scribe is Amazon's response to multiple companies offering multi-use digital tools — not just the iPad but also the reMarkable, which is a digital mark-up and notes tablet, and Kobo's Elipsa, an ereader that also offers the ability to mark up ebooks and documents.
It's the largest Kindle offered so far, with a 10.2-inch paperwhite screen, and comes with a basic or premium pen. Like the Oasis, the screen is off-center, allowing for ease of grip (and it reacts to direction if you need to hold it with your right hand). In almost any ebook you've purchased directly from Amazon, you have the ability to add sticky notes to your books — they say it's for a cleaner reading experience, but I wonder if they just haven't figured out how to allow for ebook markup yet. The sticky notes are managed through an icon in the header, so you can see all of them if you need to.
You can add a written note or a text note, but you can't convert your own notes to text. I know some people love to annotate their books with underlining and highlights and notes; unless you convert everything you read to a PDF and send it from your computer, alas, you can't do that here.
But you have a new section: notebooks.
With Kindle notebooks, you can use one of several different page templates to write whatever you want. You can take notes on a blank page, or on lined, grid, or dotted pages. There are templates for day planners, calendars, and notes sheets, as well as staff rows for music. You can send PDFs through your Kindle email and mark those up, too — nothing fancy, just writing and highlighting. Writing is easy and smooth, though if you are a hand-rester you might end up accidentally turning the page if the side of your hand hits the exact wrong spot. If you intend to use this feature and send a lot of PDFs over for marking up, I recommend getting a larger hard drive. They come in 16GB, 32GB, and 64GB, so whatever floats your boat.
And of course, you can do all of this in light mode or dark mode. (And if you're in light mode, you can change the warmth of the screen, even set it on a timer.)
I mentioned that there are both a basic and a premium pen. I got a larger hard drive and therefore the premium pen, but you can probably do just fine with the basic pen if you don't want the built-in eraser and the programmable side button. If nothing else, you won't keep accidentally pressing said button to change to highlighter while you're writing like some people I know. (Me. I'm some people.)
You can get a 16GB Kindle Scribe with a basic pen and without a subscription to Kindle Unlimited for $339.99 or five payments of $68 (because that's a thing Amazon is doing now for larger purchases). If you want the premium pen, it's an additional 30 dollars. If you want a 32GM or 64GB Scribe, it only comes with the premium pen – around $390 for the 32 gig and $420 for the 64. You can add three months of Kindle Unlimited for a bit more, but nowhere on the page is there a box you have to select in order to pay more to go ad free.
That's right: the Kindle Scribe comes completely ad free. (The lockscreen cover is whatever book you're currently reading, as it should be.)
Out of the box, you get the tablet, your pen, replacement tips (I think just for the premium pen), and a USB-3 to USB-C charging cord. Since it doesn't come with an AC adapter, you'll have to dig around for one on your own (or buy one, but make sure it's got the right sized slot).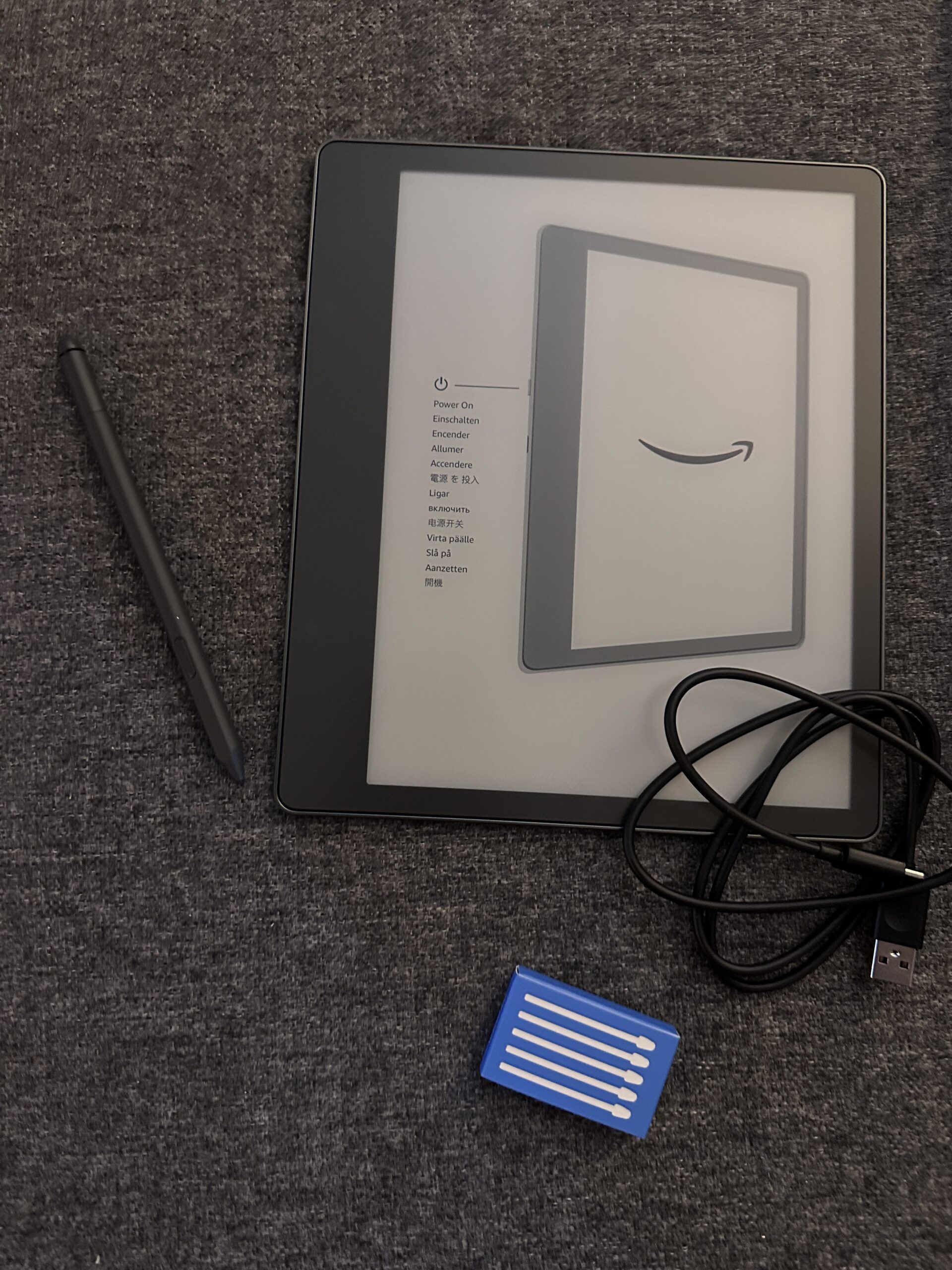 While the Scribe is a couple inches smaller than the bigger iPad Pro (and one tenth of an inch smaller than the reMarkable), it still works well for note taking and other writing. And the writing element comes in handy for multiple reasons: I didn't think about the sticky notes as anything but a way to comment on the text of a book, but one reviewer mentioned that if they have a thought — something to get from the store, or a task to do later — they can just jot it down and keep going, then review their notes at the end of their book. And of course, if you're reading and suddenly have an idea for your own novel, it's pretty easy to hop over to notebooks and write in a scene, then easily go back to your book with a couple of taps.
But What About the Reading Experience? It is an Ereader First, After All.
Personally? I love it. The 10-inch screen means I can bump up the font size and spacing and use the Open Dyslexic text (which I've found works best for me as a neurodivergent reader) without having to turn the page every ten seconds, a frustration I've had when reading on my Paperwhite or phone.
While Amazon offers cases that allow you to stand it up at multiple levels, I bought a third-party case that has standing heights more my style. The battery life is pretty spectacular; I charged it to 100 percent the night before I left for a 10-day trip out of the country, and as of this writing five days after my return, I still have 28 percent. That's four long flights and multiple days of doing nothing but reading, plus a few things to see how they worked, including a couple hours of listening to Quinta Brunson's audiobook, She Memes Well, through the bluetooth feature. It wasn't on wifi that whole time, so you might run it down faster if you're connected the whole time, but it doesn't seem like mine has gone down very far since coming back. I have a bad habit of forgetting to charge things unless the cord is literally on my pillow, so knowing I don't have to charge this every few days adds another layer of safety in my reading experience.
If you're a comics reader, the larger screen is also much more useful. I finally started reading manga digitally several months ago, and the Paperwhite…is not very big. So reading manga on my Scribe is much more helpful, since it's even bigger than print manga. Comics that were originally published in color are a little more difficult to read, but at least you can double-tap for the Kindle panel-by-panel view to make them easier to parse. I probably won't read very many western comics on my Kindle because I have a color alternative, but I am ready to read All The Manga. (It's much easier than trying to buy or get 100 volumes of something from the library.)
So, Should You Get a Kindle Scribe?
My final answer is: It depends.
If you want something bigger to read on, with a bonus spot for notes and organizations to the level you might want, it might be a great choice for the money. But if you're looking for the markup tool that will change your life and hold all your textbooks, without the bonuses you get with an e-ink ereader the size of a hardback book, maybe an iPad or reMarkable 2 are more your speed.
And if you're happy with your Kindle Paperwhite and don't need anything bigger or any of the extra bells and whistles, no need to spend $400 on a gadget you don't need or want.
I'm happy with my choice, and I hope you'll be happy with yours, whichever one it may be! And if you do buy it, find out how to find Kindle book deals here!