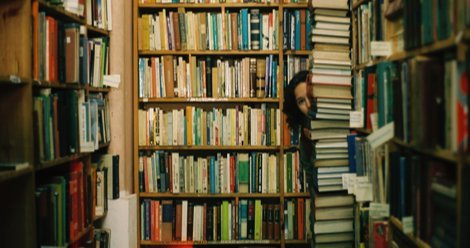 I hide when I read
This is one of my flaws.
It's so interesting what the isolation of reading can require. There are those people who require silence for the plot to stick. There are those willing to sit in a busy coffee shop and soak up the environment and the characters of a novel at the same time. There's no argument that our technical capabilities have opened up our willingness to read in between subway stops and email checks. But, I am regularly frustrated by my own hesitancy to read in public.
By all means this is a set back for me given that I write about reading so often. When I look back on why I'm restrained, it might be because of unfortunate youthful experiences—that time when somebody gave me hell for appreciating Nancy Drew in elementary school not because they knew Nancy Drew, but because I was caught reading a book. Good lord, kids can be cruel for no reason.
Or maybe it's the whole rural childhood thing. Since I used to read in the field or on a hammock in the wind, it's hard to let go of the sense of ease that comes from being in the middle of nowhere. That means that a crowd is never really that comfortable for me. This makes sense in some ways because I'll read on a beach with people passing by pretty easily.
The harder issue is in that isolation that reading can encourage. Here you have an article from a while ago on Franzen's connection between isolation, reading and depression. So maybe I'm prone to falling into seclusion too easily. Maybe this can be a problematic influence on mood. So, when I'm around people, I want to take advantage of that scenario?
I hope I just like rural living instead, but I can't tell.
As people have embraced reading in public with their devices in hand, the silent reading party has emerged. Early visions of public, silent reading parties came about years ago, with The New Yorker running with the joy of it. Forbes claims the trend began in 2010. Now, it's so common, scholastic is recommending pajama reading parties for kids (Can adults please call them Pajama Jams too?). And of course, Book Riot gave sweet recommendations for holding a party too.
And now, I truly wish I had gone to this party in April in Seattle where waiters brought drinks and musicians played in the background.
Swoon.
Except would I swoon with delight? Or would I be nervous and watch the musicians do their thing instead? Would distraction win? What does it take for my brain to read in public?
In the end, the question is never Where should you read? The answer should be Anywhere!
The question is instead: How does self-consciousness in public keep you from meeting fellow readers, from connecting at a Silent Reading Party, or simply from embracing the fact that this isn't third grade anymore?
The world reads. And so do I.
So I'm looking for a silent reading party in DC (possibly through the Silent Book Club, a resource of silent reading events). Maybe I'll see you there. Say hi, and I'll wave and smile, then go back to the chapter I'm on and fixing childhood setbacks.