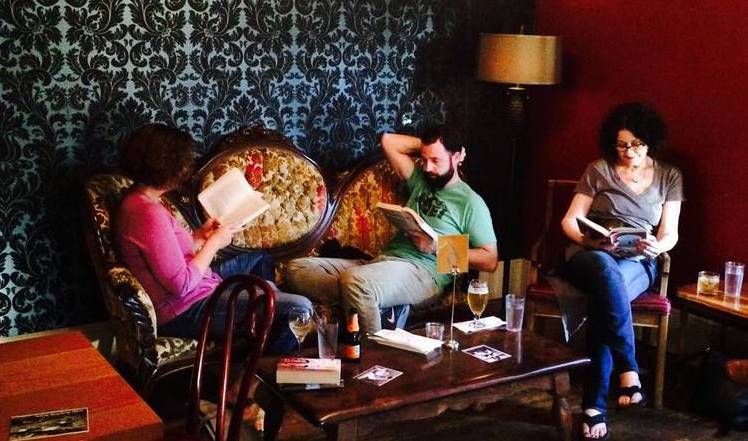 If you are a reader, you know the special pleasure of going out to read in public. But for most of us, reading in public has meant reading in public alone.
But recently, a few recurring Silent Reading Parties have sprung up, giving readers a chance to read alone in public, but together. That's right: a bunch of people get together and read. And that's it. Doesn't it sound great?
I spoke with Karen Munro and Amanda Morgan, organizers of Silent Reading Party Portland, about the best ways (and why) to host a Silent Reading Party of your own. Here is their advice.
Pick a Place You Love
Seattle's Silent Reading Party founder, Christopher Frizzelle, told us to choose a place that we absolutely loved. For us that meant a place with comfortable seating, good lighting, some patina, some ambience, some comfort, some dignity… The kind of place that makes you want to read. We love our home at Beech Street Parlor. It's a Victorian house with gorgeous flocked wallpaper, period couches, and wood floors. And of course it has a full bar–that's important too. We're also constantly dreaming up other locations for special pop-up parties. It would be so cool to do silent reading parties in public parks, at the art museum, at Powell's bookstore… We don't know how well those will work yet, but we're hoping we get to try.
Two Hours is Just About Right
We've scheduled silent reading parties for weeknights from 6-8, after work for most people. We've also scheduled them for Sunday afternoons from 3-5, when most people are winding up their weekend. So far there doesn't seem to be a clear preference for one over the other. Two hours seems to be about the right amount of time. People come and go throughout, but for those who stay the whole time (including us) two hours is about the point at which you want to stand up, stretch, and say a few words out loud.
Make People Read Quietly. For Real.
It hasn't come up often and it's our least favorite thing, to have to shush people–but we decided at the outset that really, the one thing that sets Silent Reading Party apart is, well, silence. If people start chatting, it breaks the spell and then you're just out for a couple of hours at any old bar. Most of the time the silence manages itself, and it's a really magical experience.
A Little Background Music is a Good Idea.
We love playing ambient music during the party. It sets the mood and helps reduce any awkwardness about being silent together. Our host at Beech Street Parlor, Maryam, is also our DJ. She's put together special playlists, including some Brian Eno, that's been perfect. Once or twice some Strauss marching bands have slipped into the mix, and we've had to skip those.
Let People Know When It's Over.
We have a beautiful old bell, like something a Victorian schoolmarm would have on her desk, that we ring at the end of the session. The bell belonged to Amanda's grandmother–it was part of her vast bell collection that was swept away in Hurricane Opal and that the family rediscovered later on a beach. So it comes with its own history and patina. Also, people usually clap when we're finished, which is nice.
Enforce the Quietude, Quietly.
We recently invested in some lovely, saucy "Shh…" business cards that we can hand-deliver with a smile to people who don't understand the silent vibe.
Trust That People Will Enjoy It
When we started this, we weren't sure people would come. We'd tell friends about it–"It's a silent party, everyone just reads!"–and everyone thought it sounded weird and great. But that's different from really showing up. So when we threw the first party and people came, we were delighted. Now we hear from people that they can't fit reading time into their lives, and this gives them the excuse to do it. People tell us they love being around other readers, getting a break from high-contact socializing, getting affirmation that other people love books too. And there's something special about the silence, too. We so rarely sit quietly with strangers. It's restorative, almost church-like. It's really beautiful to look around and see a room full of people who've made time in their lives to read together. It gives you faith in our species.
If you are in Portland area, the next meeting of the Portland Silent Reading Party is this Sunday (May 22) at the Beech Street Parlor House. As a bonus, Book Riot's Portland Read Harder Group will be meeting right after, from 5 to 6pm, in the same spot for some book talking and readerly mingling.
Check out some photos of the Portland Silent Reading Party in action: