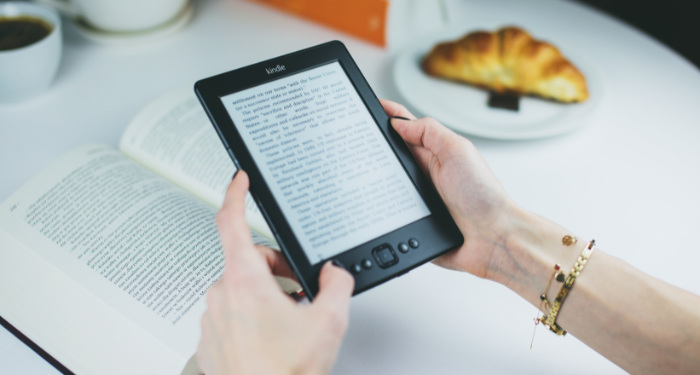 Libraries
How to Get Library Books on Kindle: Your Guide
Kindles are marvelous inventions because at what other point in human history have we been able to access hundreds of thousands of books at our fingertips, in a device that is light, portable, and looks just like paper? Besides being able to carry around a library's worth of books in your bag, Kindles are amazing because of their ability to get almost every book you can want with the few taps of a button…but that can be dangerous for your wallet! While there are so many great Kindle deals and budget-friendly options like Kindle Unlimited to keep you in reading material, truly the best way to enjoy unlimited reading on your device for FREE is through your local library with library books on Kindle devices.
If you're thinking, Wait, I can get library books on my Kindle? Yes, you can! With a few stipulations and a few steps, you'll be reading more books than you can keep up with. However, reading free library books on Kindle does have a few requirements, and takes a little set up. Once you've gotten things squared away, though, it's a fairly seamless process. All that's required is your Kindle, and if your Kindle is NOT a Kindle Fire, one additional device that can connect to the internet, whether it's your phone or a public access computer at your local library. Let's dive into how to get library books on Kindle devices!
Library Cards
The first step may seem obvious, but you'll need to obtain a library card. If you don't already have a library card, find your closest library and head in to get that sorted out. Library cards are almost always free. In rare cases, you might need to pay a membership fee if you don't live in a particular library's service area, but everyone is always welcome in a library, and librarians will be able to direct you to where you can get a free library card. Usually, you will need to show some kind of proof of address — a piece of mail or an I.D. — but not always. Ask your librarian how to get started, and I promise you that they'll be happy to get you signed up.
Overdrive Access
Most libraries have a service called Overdrive, which is a platform that provides ebooks and digital audiobooks to library users, and for some, even magazines. If you're not sure if your library offers ebooks and audiobooks via Overdrive, just ask! A librarian will be able to set you up with an account and help you navigate the platform.
Many libraries are part of a consortium, which means they share access to thousands of titles across library systems. Some large library systems have their own Overdrive collections. It depends on your library and their budgets. But every ebook on Overdrive is free to access, which will save you money in the long run by borrowing instead of buying.
How to Borrow Library Ebooks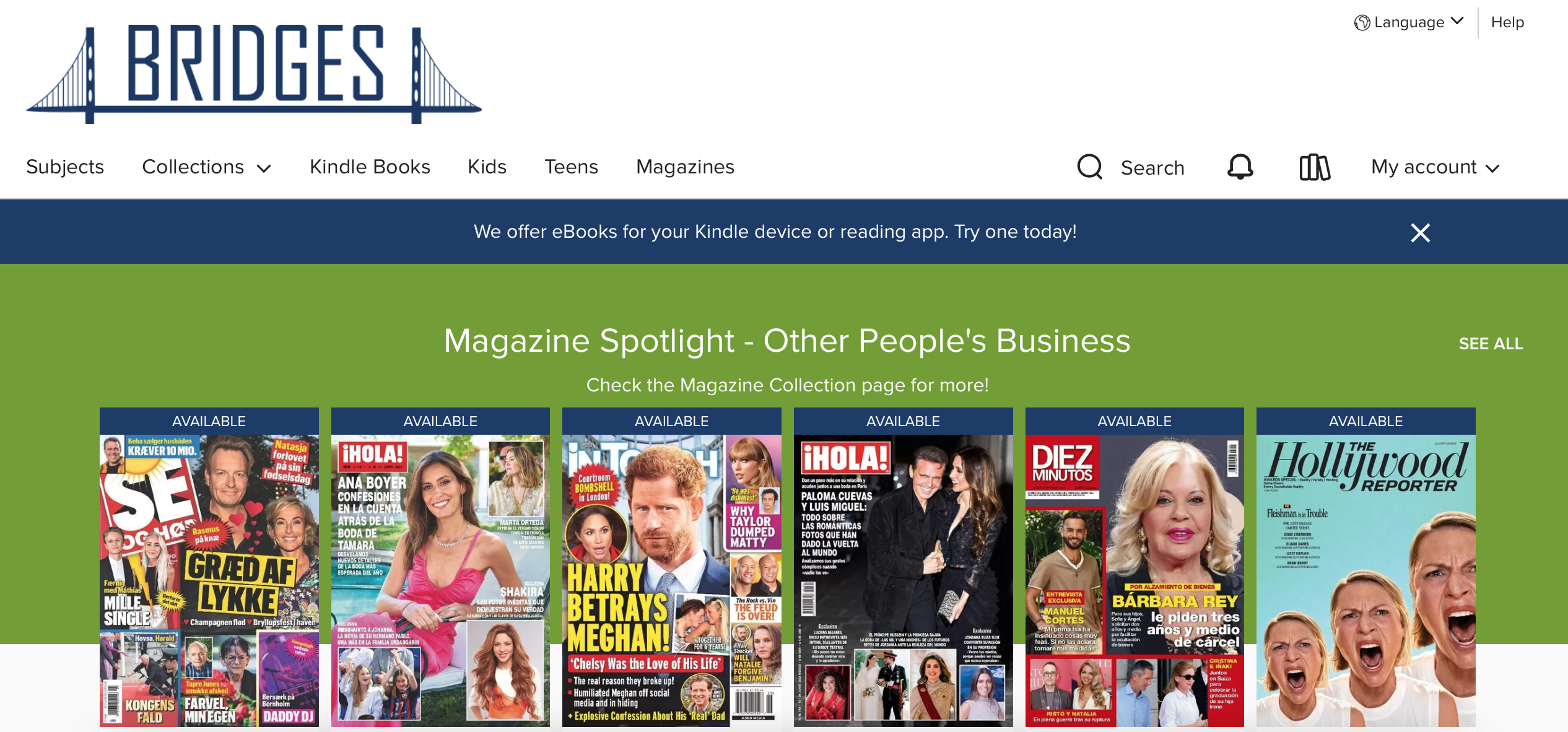 Once you're set up with your own library account for Overdrive, there are two ways you can access ebooks: on the browser, via your library's unique Overdrive web address, or via the app Libby. Both offer the same catalogue, but they look a little different. Here's how my Overdrive accounts look on the browser (above) vs. on the app (below).
You'll start off by searching for a title and viewing the results. Make sure that you are only choosing "ebook" results. You can even filter your search to only include ebooks.
If a book is labeled "waitlist," that means it's checked out. Most Overdrive materials are like physical library materials, even though they're digital — only one person can check out one copy at a time, so if a library only has one or two digital copies, you'll have to wait until they're returned before you can borrow them. But if you put yourself on the waiting list, you'll be notified when it's ready to check out! Some materials, such as works in the public domain, will have an unlimited license so they're always available.

Another consideration is what format the book is available in. You will find this information on the right side of the book listing, if you're on the browser. if you're in the Libby app, you'll have to scroll down to the book's info, and look under "Read With." In both instances, you'll want to find "Kindle" listed under format.
When you're ready to borrow a book, click borrow. A pop-up will appear to confirm the borrow, and you can adjust your borrowing period to be either seven or 14 days, with 14 days as the most common lending period. Then you'll borrow the book!
Getting Library Ebooks on Kindle
Now that you've borrowed the ebook, there is just a couple of extra steps to get it on your Kindle device. In Libby, you'll be shown a few different options. You'll want to click on "Go to Shelf," where you'll see the books you've borrowed listed. Click on "Read with Kindle." On the Overdrive website, a pop-up will show up with the button "Read now with Kindle."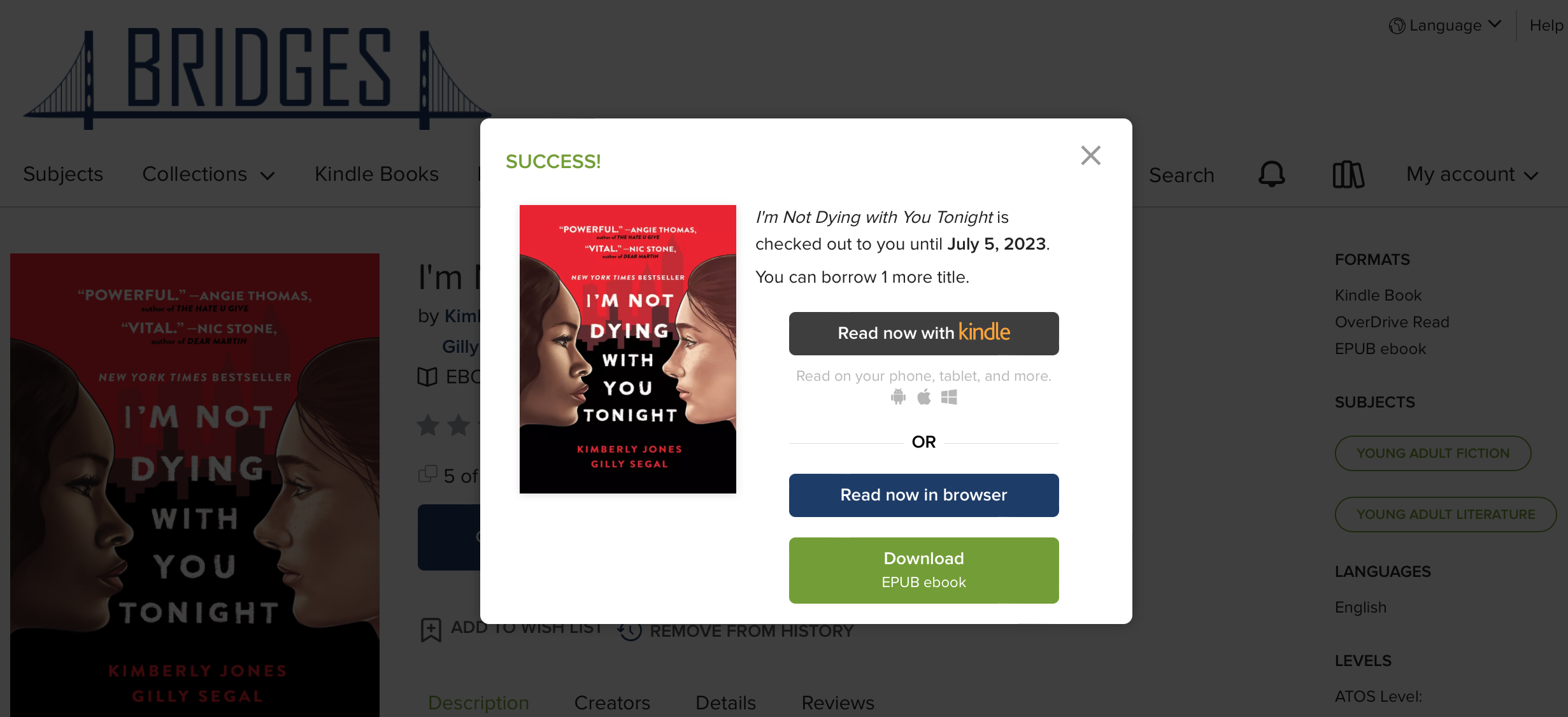 Once you click on either, your internet browser will open up at take you to Amazon. If you're not logged into your Amazon account already, you'll have to sign in. Once you sign in, you'll see the library book listed, with a yellow "Get Library Book" button, and then you'll have the option of delivering the book to any of your Kindle apps or devices. As long as your Kindle has a wifi connection, the book should appear almost instantly on your Kindle!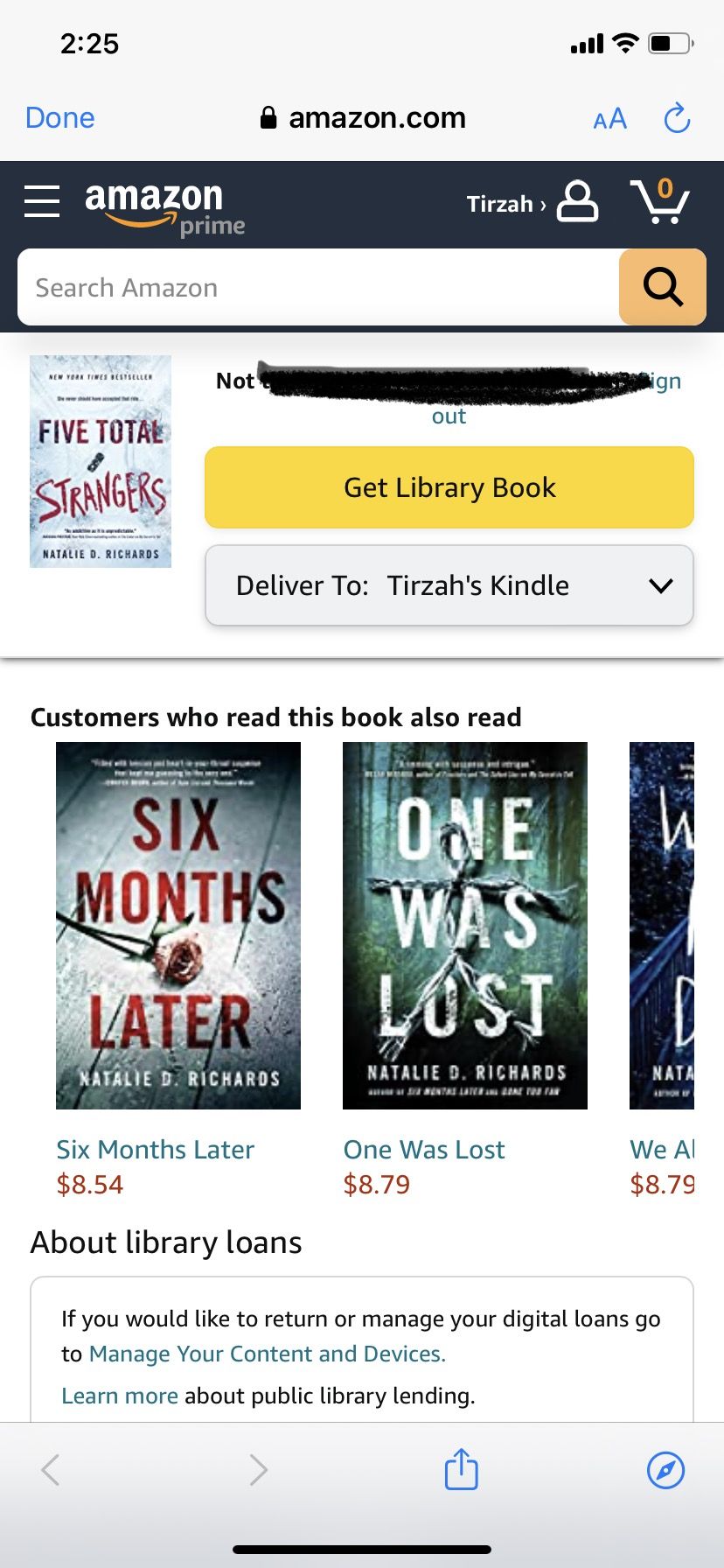 How Do I Return Library Books on Kindle?
Once you get your library book on Kindle, you'll have it for the duration of the loan checkout period, seven or 14 days. Once the book expires, it will no longer be accessible to you and the book will automatically return itself on Overdrive — which means no overdue fines for you! Sometimes the book will still appear in your Kindle Library after it's been returned, but you can simply delete it from your library, as it's a book you no longer own.
If you wish to be a good library user and return books as soon as you're done with them, you can do so from the browser or app by clicking on "Loans" under your Shelf, and then clicking "Return" on the browser, or "Manage Loan" and "Return early" in Libby.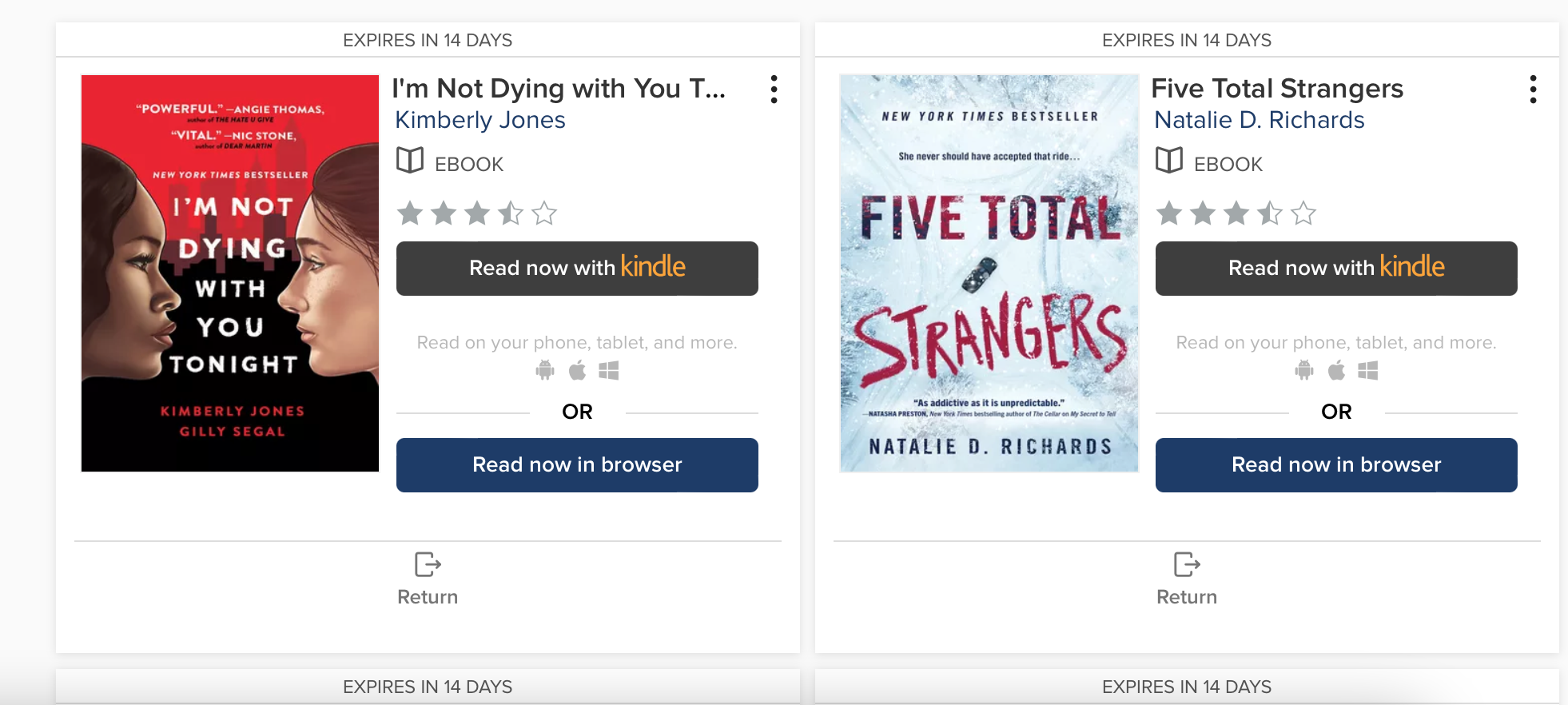 And just like that, you've opened up a whole new world of reading on your Kindle! Library books for Kindle are amazing because they allow you to make all the same adjustments to the size and font of the text as you would for an ebook you purchase, but you don't have to pay for access to the books. Plus, you can access Overdrive anywhere at any time, so no more worrying about returning books to the library on time or getting to the library before they close.
If you want to know more about how to use your Kindle, learn how to email files to your Kindle.