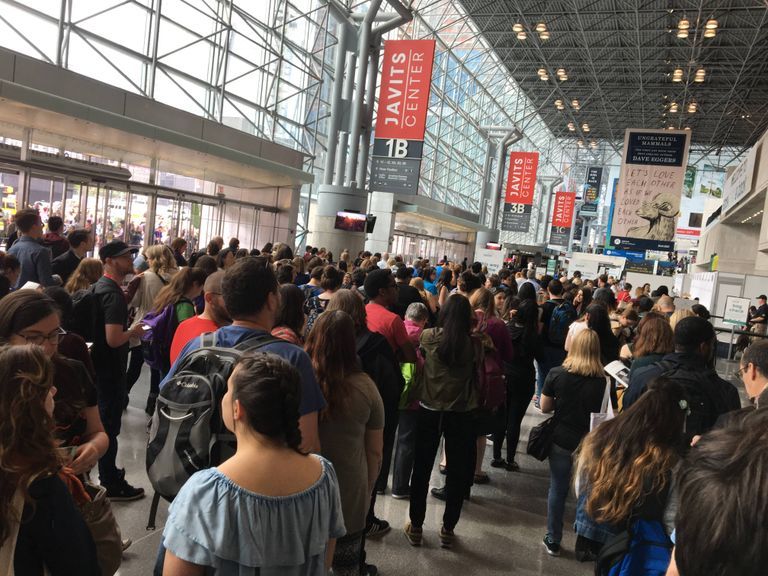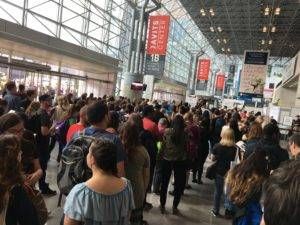 When Book Riot editors informed contributors that we could apply for press credentials at 2017's BookCon, I was thrilled. After taking place in Chicago last year, this year's BookCon was back home at the NYC Javits Center June 3-4.
I'd never been to Book Expo or BookCon before and had no idea what to expect. My naivete was exposed when I discovered I didn't even understand the difference between the two. My fellow Rioters explained that Book Expo America, or BEA, takes place during the week and is more for publishers and industry insiders. BookCon, which has only been around for four years, is on the weekend and is more for the general public. BookCon's official tagline is "where storytelling and pop culture collide." Basically, it's like ComicCon but more…literary?
Overall, it was an interesting experience. The Javits Center, which I had never visited before, is beautiful. Its outer facade is all glass, and it feels a little like an airport terminal, but cleaner. There were giant ads everywhere for new books coming out, hundreds of publisher booths with prizes, giveaways, and books for sale, and panels and signings with some of the biggest authors working today. Dan Brown and Kevin Hart were headliners on the Main Stage, to give you an idea of the celebrities BookCon attracts.
First, I went to several panels on science fiction and fantasy writing and heard Rainbow Rowell interviewed by Emma Straub. These were the best part of the day. Hearing writers talk about their writing, the inspiration behind their latest book, and the publishing industry is always interesting to me.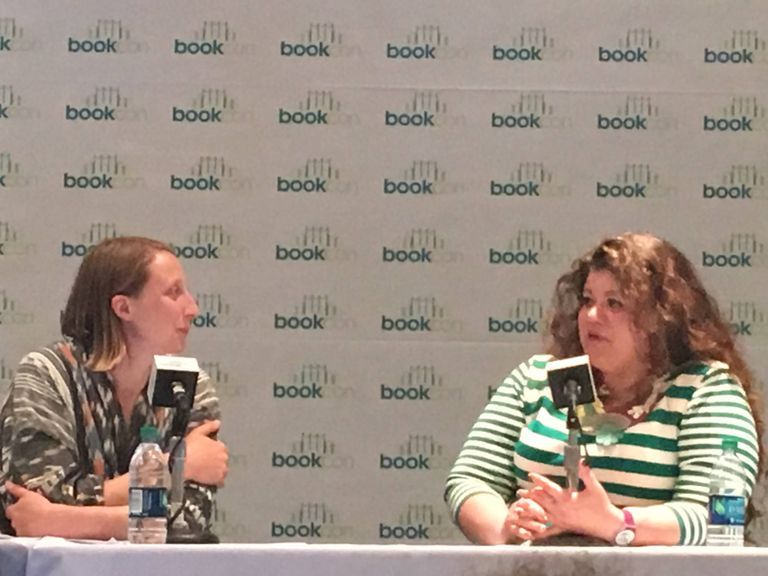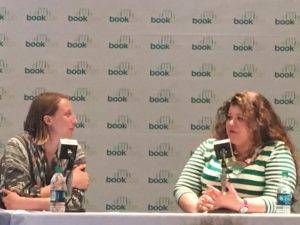 But on the show floor, I quickly realized my day would amount to…a lot of standing around in lines. Everywhere I went, no matter what time of day or where it was, a new line was forming. People jumped into lines without even knowing what they were for.
My favorite story is when I found a line and asked the people around me what they were waiting for. No one could tell me, but still, I waited. We didn't want to leave in case we might miss out on something free and amazing. Advance Reader Copies (ARC) of hot new books were being given out all the time, but you had to be in the right place at the right time to catch them. At least four more people came up to ask what we were waiting for, and even though none of us could tell them, they stayed too. (Turns out, we waited about half an hour for a pouch with cheap earbuds and a car phone charger, neither of which I needed).
Another time, I decided to try for a book release. I got in line and received a ticket to a choice of one of four YA books. But when I realized I would have to stand in line for another hour just to see if the book I wanted was available, I gave my ticket to someone else. The people around me in line looked at me like I was crazy.
Here's the thing: I love books, and I love authors. But I personally would be hard pressed to find any book (or author for that matter) I'd stand in line for an hour for. There's just too many books I already know I want to read, and I can get them on demand from the library. I thought about getting a book signed, but those lines were even longer. Also, the few books I have with author signatures I'm afraid to read for fear of ruining them.
This isn't to say that these aren't perfectly valid things to do or desire. BookCon was clearly for fans of very specific authors, and I was glad to see these writers celebrated. It may not have appealed to me in the way it did for others, but for the first time, I really did get to witness readers as a fandom all their own. That was really cool.
Also, I met Captain Underpants, so that was a win. There was absolutely no line to get a picture taken with him. Go figure.