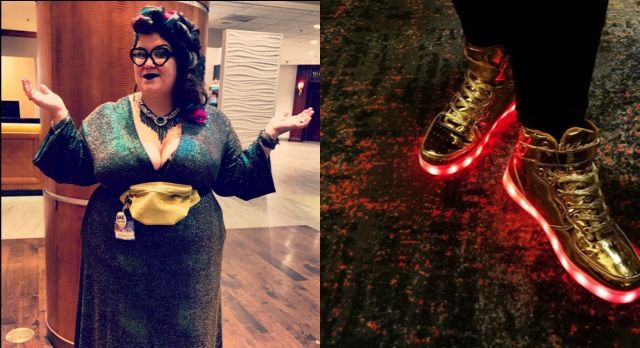 This content contains affiliate links. When you buy through these links, we may earn an affiliate commission.
Move over, Met Gala, the Nebula Awards served up some serious looks this year.
The 2018 Nebula Awards Ceremony was held Saturday, May 18, in Los Angeles. The Nebulas, as they're commonly called, are awarded by the Science Fiction and Fantasy Writers of America (SFWA) to recognize the best works of American science fiction and fantasy. I have never been, but it is a great dream of mine to attend someday, so I watch some of my favorite authors' social media closely, trying to live vicariously.
And then I started seeing the clothes! Some of these writers & editors did not come to play. I am a book journalist, not a fashion reporter, but I couldn't ignore all the fabulousness coming out of this ceremony. Thanks to everyone who responded so quickly to my request to be featured in this post!
It all started when I saw this picture from two of my amazing friends. José Pablo Iriarte is a finalist this year in the Best Novelette category for "The Substance of My Lives, the Accidents of Our Births," published by Lightspeed Magazine. Elle E. Ire is the author of Threadbare, coming later this year from Dreamspinner Press.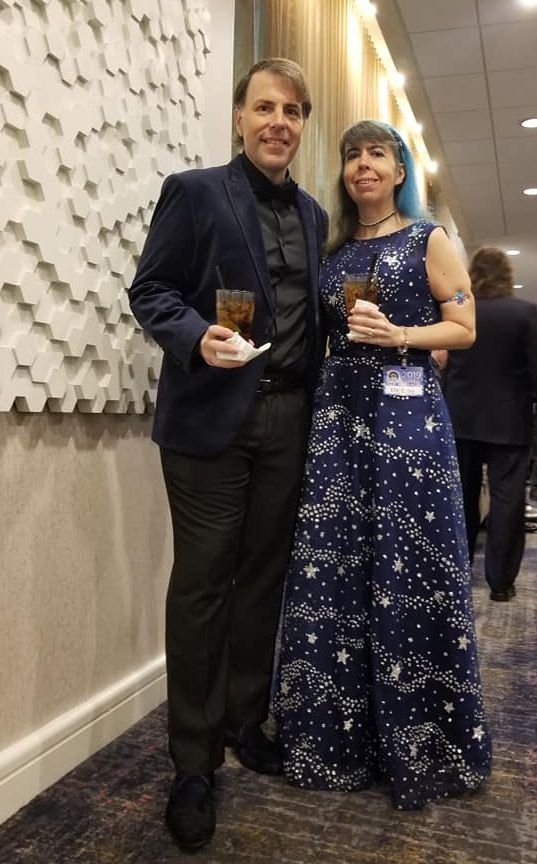 Look at that dress! Complimented by the arm bands and blue streak in the hair, it's just perfect. Iriarte looks pretty spiffy as well, with a jacket that perfectly complements Ire's dress.
Marianne Kirby, author of Lessons from the Fat-o-sphere and Dust Bath Revival, is no stranger to killer duds, but she served up something extra special for the Nebulas.
This dress (from Proud Mary) is a show-stealer for sure, but can we talk for a sec about the accessorizing? The fanny pack (also from Proud Mary) leaves her hands free to pose for all the photos and hold a drink. I'm not a fan of purses, but I can get behind some formal fanny pack action. Then there's that dramatic necklace, the heart-shaped glasses, the dark lip, and pronoun button to pull it all together.
Then I discovered the #NebulasRedCarpet hashtag and the brilliant thread from Alyshondra Meacham, who's living the dream of reporting the most devastating outfits from the evening, including this smashing ensemble from tor.com editor Carl Engle-Laird. He is the editor of Witchmark by C.L. Polk, which was up for Best Novel.
Every piece of Carl @EngleLaird's outfit is stunning, from the delicately patterned shirt, to his shoes with the subtle stars, to his gorgeous makeup by @peripateticmeg. His nails are an homage to #Nebulas2019-nominated WITCHMARK by @clpolk, which he edited!#NebulasRedCarpet pic.twitter.com/V7cUJbC3Fb

— Alyshondra Meacham (@AlyshondraM) May 21, 2019
After recovering from being absolutely murdered by Engle-Laird, check out the rest of Meacham's thread for even more gorgeous fashion.
I have no way if knowing if Peng Shepherd is a Slytherin, but I've already elected her empress of all Slytherins in my head after seeing this incredible green dress. All hail.
#nebulas2019 awards banquet time pic.twitter.com/GvOyHzCqxq

— Peng Shepherd (@pengshepherd) May 19, 2019
Shepherd is the author of The Book of M and presented the award for Best Short Story at the ceremony. Make sure you click through to the full pic so you can get a glimpse of THOSE SHOES.
Speaking of shoes, Locus Magazine posted a pic of these incredible kicks, donned by R.J. Theodore, author of Flotsam.
This look from Farah Naz Rishi is deceptively lowkey. I love everything about it, not the least of which is that long SEQUINED floral blazer with rolled-up sleeves paired with the most perfect pair of pants and nude pumps.
Rishi is the author of I Hope You Get This Message, coming in October from HarperTeen.
In this house, we stan a legend and these two are giving me life with these dresses!
LOOK AT THESE ABSOLUTE LEGENDS. 💖 @kuangrf @MaryRobinette #Nebulas2019 pic.twitter.com/RggWFrcAf2

— Farah Naz Rishi 👽 (@farahnazrishi) May 19, 2019
Rebecca F. Kuang, Nebula Finalist and author of The Poppy War, looks like a celestial being in that lavender dress with matching eye makeup. She finishes the look to absolute perfection with that silver temporary arm tattoo.
I don't know if there is a winner when it comes to event fashion, but Mary Robinette Kowal should be taking home another trophy in addition to her Nebula Best Novel win for The Calculating Stars. Or better yet, give her a crown, because she's every inch the stunning, benevolent space-monarch in this dazzling coronation gown.
Curtis C. Chen slays in this vest, just as hard as his companions can with any lightsaber.
I found the droid I was looking for! #nebulas2019 pic.twitter.com/UA5WFAzmPn

— Curtis C. Chen (he/his/him) #BlackLivesMatter 🦘📚 (@CurtisCChen) May 19, 2019
Chen is the author of Waypoint Kangaroo and the current Secretary of SFWA, the hosting organization. He also has some awesome T-shirts.
To see a full list of the Nebula finalists and winners, head on over to SFWA's website. I hope to make it in the next couple of years so I can experience the ceremony in person, but until then, we can all enjoy the fabulous looks served to us by the science-fiction and fantasy writing community together, vicariously via social media.