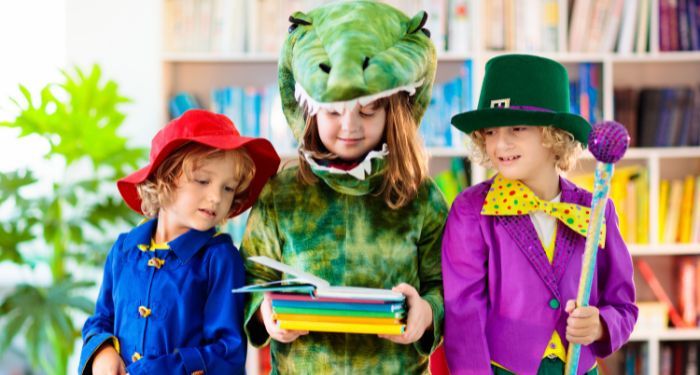 Crafting
16 DIY Book Character Costumes to Bring Your Reading to Life
This content contains affiliate links. When you buy through these links, we may earn an affiliate commission.
Heads up, bookworms. It's Costume Season! And we have some snazzy ideas for your DIY book character costumes. Add a double-shot to your Spiced Pumpkin Latte, strap on the glue gun holster, and prepare yourself for some serious DIY! Nah, I'm just kidding about the serious DIY. Most of us do not have the time, money, or skill for that. What fuels us is our love for books and the opportunity to share that with anyone.
There is something really special about dressing up as your favourite book character. Usually, we tuck ourselves away in a reading nook somewhere, savouring all of that literary goodness. But every now and then, there is a book that resonates with us. A character who we really really want to share with the world. Kids have it easy: World Book Day, National Book Festival, Book Week, and, of course, Halloween. They are all perfectly matched with an adorable book character costume. Well, guess what? Adults can have fun with book costumes, too. Even better, there are so many options hidden within your wardrobe. I know, I know. Everyone says that, and then we all look in our wardrobes and laugh. But I guarantee you: Closet Cosplay is a real thing, and it can make your costume life so much easier. And cheaper. And a lot more fun. Bonus point: It's also great for the environment and helps fight against the evil forces of "Fast Fashion" and "Clothing Waste."
Wait a Minute. What's Closet Cosplay?
Closet Cosplay is creating your costume using normal clothing from your wardrobe with minimal DIY add-ons. It does not include purchased costumes from the store or custom-made costumes from a creator. There's also a sub-genre of Closet Cosplay, where you buy some items from second-hand stores. It's all up to your personal preference and working skills, but the spirit is still the same: Save money, save time, save the environment.
Full confession: I would love to say that I am a fan of Closet Cosplay because I'm all about sustainable fashion. And that's partly true. But if there are any readers here who are parents facing the dreaded "My Book Parade is Tomorrow," then you know exactly why Closet Cosplay is also a Survival Tactic.
When using Closet Cosplay for your DIY book character costumes, accuracy is a flexible concept. Fortunately for book lovers, our depictions of our favourite book characters live inside our imagination. Sure, there are a few telltale features to include, but generally speaking, you have the opportunity to play with the visual a bit more.
Start Them Young with Baby Cosplay
Let's start with the very young'uns; hopefully, they'll be napping before they have the chance to tear the costume off. Most of the time, you can easily manage with the 'Cute Factor.' However, there are plenty of ways to up your cosplay game with a few props.
Team up with your mini-monster and recreate the childhood classic Where the Wild Things Are by Maurice Sendak. Take this gorgeous cosplay with a white jumpsuit and a gold crown for your bub. Then, wear something absolutely hideous for yourself.
Wonder Woman and Her Invisible Plane
Another simple concept: just add puffs of cotton filling around your clothes for a sky effect.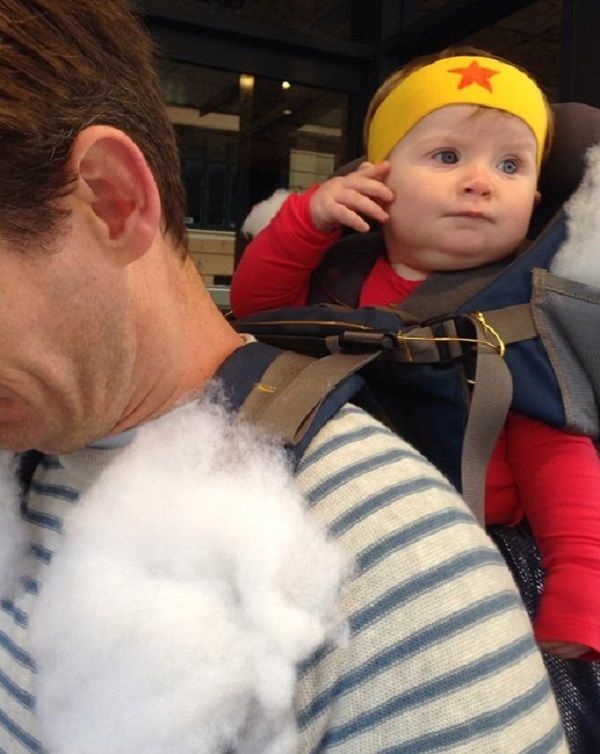 The Lion from Dear Zoo by Rod Campbell
Prams and Strollers may require some cardboard creativity. Magic Carpet rides, fairy tale carriages, or even a loose cage around the outside can be enough for fans of this lift-the-flap classic. Onesies are a quick way to make the costume because let's face it: This one is all about the props.
Little Kids with Big Costume Accessories
The best DIY book character costumes all start with a key item and build from there. Keep it simple and strategic. Chances are low for the cosplay to survive more than a couple of outings, but most kids only want one or two recognisable items. It doesn't have to be perfect. It just has to be relatable.
The Man with the Yellow Hat from Curious George by Margret & H.A. Rey
The easiest item I ever bought for a kid's cosplay was this yellow hat. The plush monkey was a bonus, but the yellow hat was everything. Either (or both) are perfect for this costume. Yellow clothes will definitely complete the outfit, but the hat and the monkey are the key elements to use.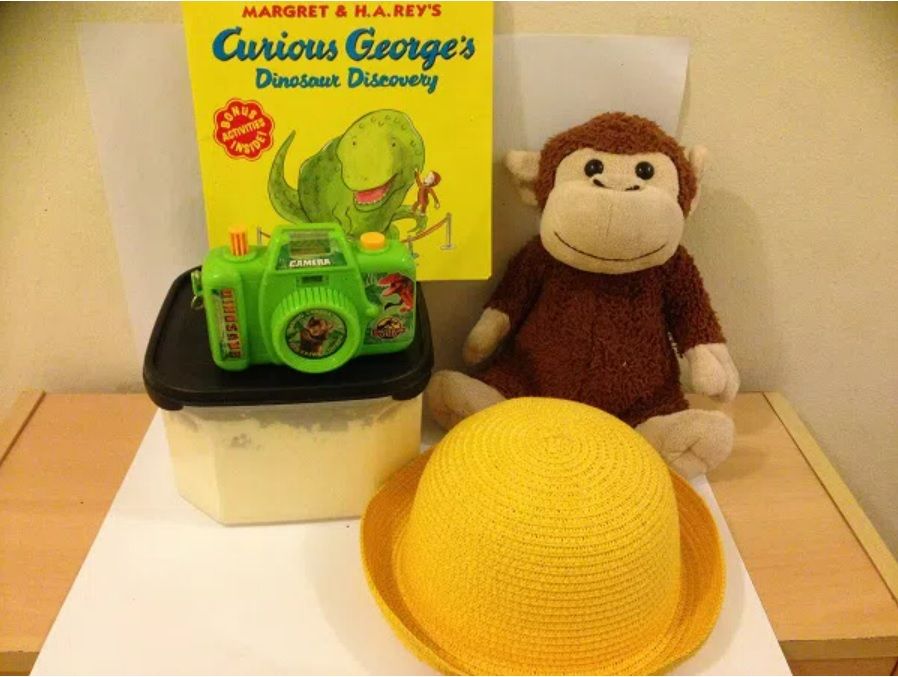 Proof of how much you can achieve with a glue gun. Instagram user @katespeldewinde refers to Book Week cosplay as the "Annual Sewing and Gluing Stress Event." And yet, she absolutely nailed it (or glued it?) with this cute 101 Dalmations outfit.
Bluey and Bingo from Bluey by Penguin Young Readers
Sometimes, it can be less about the item and more about the colour. Blue and orange tracksuits are super-popular right now, thanks to a certain hit TV show. However, Bluey and Bingo also have some of the coolest books and naturally will inspire amazing DIY Book Character Costumes for kids and adults alike.
Middle-School Chapter Books and YA Novels
Chapter books without pictures are a lot easier to work with for costumes. There are always hints or small features, but there is a far more flexible interpretation of the overall image — so long as you remember a few key elements.
There is only one item you really need for this: an orange shirt with CAMP HALFBLOOD across the front. If you want to personalise it, each of the characters has their own extra items too. Think cardboard lightning bolts, owl earrings, or the annual camp beads.
Once again, there are no rules for the complete outfit. Wear a bee necklace and carry a few extra books. You will instantly fit the image.
This one is absolutely amazing for a quick DIY Book Character Costume. The web is everything.
Don't forget sports books! They are a great opportunity to combine your love for sports and your love for books. Fresh off the Women's FIFA World Cup, junior sports stars are one of the easiest DIY book character costumes. All you really need is a football.
Graphic Novel Inspiration
There was once a time when comics and graphic novels weren't considered 'real books,' but thankfully, things have changed. Manga, comics, and graphic novels are all surging in both popularity and award recognition. Most teachers and librarians are happy to see kids reading books. And if that's what inspires your next DIY book character costume, then we say GO FOR IT!!
Cardboard cutouts are also a quick and easy way to DIY book character costumes: The Day the Crayons Quit by Drew Daywalk and illustrated by Oliver Jeffers, any of the Mr. Men and Little Miss series, and The Very Hungry Caterpillar by Eric Carle are always popular choices. One year, my family wore cut-out paper masks and painted Voltron symbols on white t-shirts. It was one of the best and easiest family cosplays we have ever done, kicking off months of re-reading Voltron comics.
Monkey D. Luffy from One Piece by Eiichiro Oda
Just like any of the picture book costumes, manga-inspired cosplay is built on a few easily recognisable pieces.
Dogman by Dav Pilkey
Dogman is a huge hit in our household, along with the rest of the Dav Pilkey collection. This outfit shows how the best DIY Book Character Costumes are the ones where you have fun with them.
Never Too Old for Costumes
Here's a final shout-out to all of the grown-ups who love any reason for DIY Book Character costumes. You know who you are, and we love you!
I will always make room for a little magic from my childhood.
Book inspirations can come from real-life 'characters' too. Many of our real-life heroes have their own stories to tell, and we can celebrate them with sweet cosplay like this.
And one last costume: Superheroes. They always feature, but it's hard to DIY a supersuit. Alter egos are far easier to manage. From mild-mannered reporters to dinner suits with a sneaky Iron Man blaster (you can always borrow a mask from the kid next door). Even superheroes have everyday items in their closet.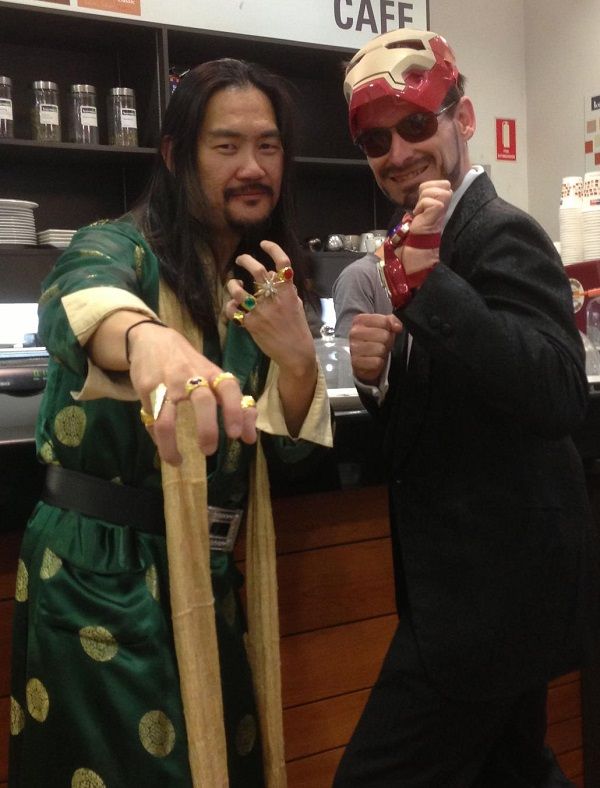 DIY book character costumes are always open for interpretation. Cosplay in all its forms should be inclusive and welcoming; book characters more so because they spend most of the time living inside our heads. Find even more ideas here! Whoever you dream to be, remember to have fun and keep it simple.