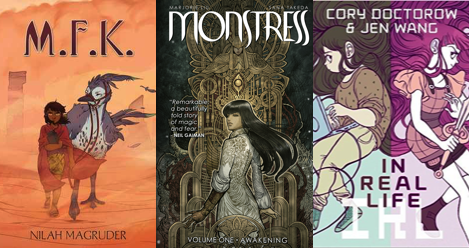 Comics Newsletter
Read Harder 2018: A Comic Written or Illustrated by a Person of Color
This content contains affiliate links. When you buy through these links, we may earn an affiliate commission.
The Read Harder Challenge is sponsored by Libby. The one-tap reading app from OverDrive.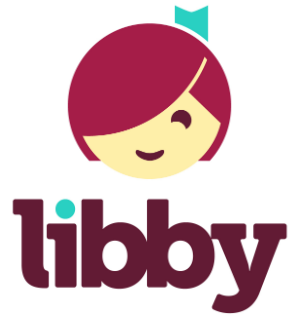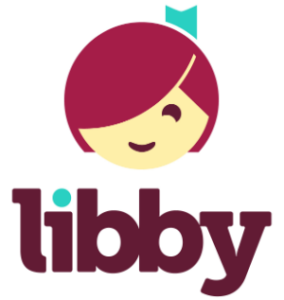 Meet Libby. The one-tap reading app from your library, powered by OverDrive. Downloading Libby to your smartphone allows you to borrow thousands of eBooks and audiobooks for free anytime and anywhere. You'll find library books in all genres, ranging from bestsellers, classics, nonfiction, comics and much more. Libby works on Apple and Android devices and is compatible with Kindle. All you need is a library card but you can sample any book in the library collection without one. In select locations, Libby will even get your library card for you instantly. Learn more at https://meet.libbyapp.com/. Happy Reading.
---
How's your Read Harder challenge going, dear Book Riot reader? I hope you've been digging in and challenging yourself to discover new work and new writers outside your bubble.
For this roundup on the Read Harder 2018 Challenge list, I want you to read a comic that's written or illustrated by a person of color.
Let's dig in, and meet a few awesome people that should absolutely be on your shelves, whether we're talking about their comics, novels, or picture books. Because these comic creators? They're all over the place. And I love it.
M.F.K. by Nilah Magruder
While she made her Marvel debut writing an adventure with Tippy-Toe and Rocket Raccoon as they defend Central Park in A Year of Marvels, you likely recognize Nilah Magruder from her excellent webcomic-turned-book M.F.K., which was published back in September with Insight Comics.
"A fantastic adventure following the story of Abbie, a deaf girl with a mysterious power, who is traveling across a vast desert to scatter her mother's ashes. In a world of sleeping gods, a broken government, and a fragile peace held in the hands of the corrupt, one youth must find the strength to stand up against evil and save humanity. This story is not about that youth.
"It's about Abbie, who just wants to get to the mountain range called the Potter's Spine, scatter her mother's ashes, and then live out her life in sweet, blissful solitude. Unfortunately, everyone she meets wants to whine at her about their woes, tag along on her quest, arrest her for no reason, or blow her to bits. Journeys are hard on the social recluses of the world."
You can treat yourself to a preview of the book by reading a few panels of the webcomic, and then treat yourself to the entire book.
And hey, if you've got a little one at home (or just happen to adore beautifully illustrated picture books), maybe look up her endlessly charming How to Find a Fox.
Marvel comics. Webcomics turned into full graphic novels. Picture books?! Nilah does it all.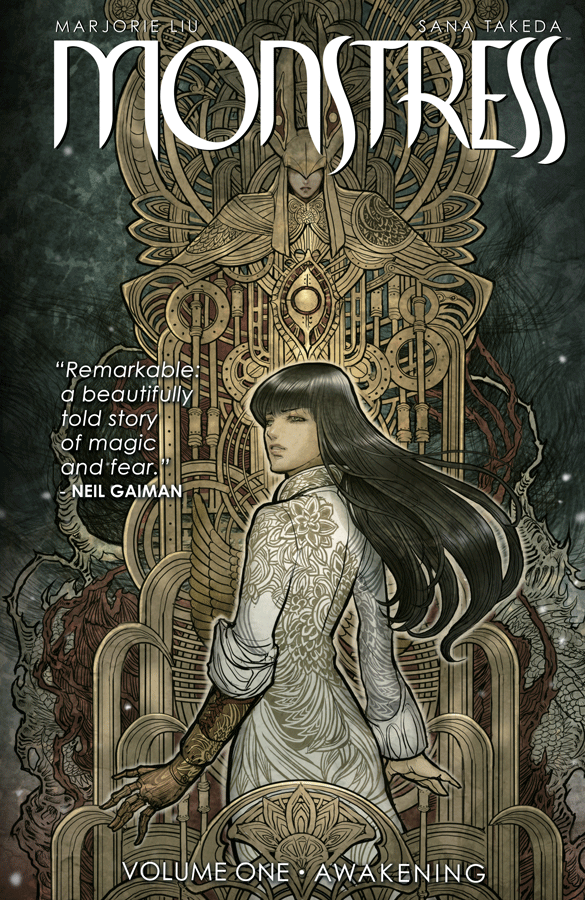 Honestly, it's kind of hard to say where to start with the work of Marjorie Liu. She's done so much, from her novels to writing Black Widow, The Astonishing X-Men, X-23, Han Solo comics, and more.
Let's get you into her Monstress series, which took home the Hugo last year and has earned Eisner nominations multiple times.
"Set in an alternate matriarchal 1900's Asia, in a richly imagined world of art deco-inflected steam punk, MONSTRESS tells the story of a teenage girl who is struggling to survive the trauma of war, and who shares a mysterious psychic link with a monster of tremendous power, a connection that will transform them both and make them the target of both human and otherworldly powers."
It's an epic fantasy about female friendship, racism, and so much more, with gorgeous illustrations from Sana Takeda, who has illustrated work for X-23, Ms. Marvel, and more.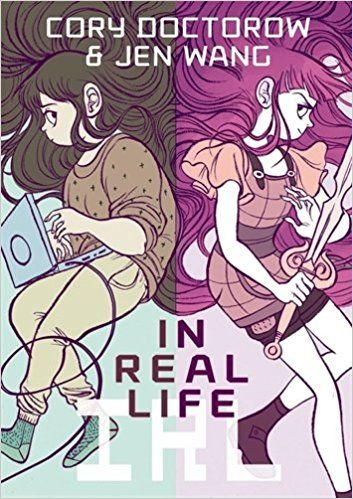 A prolific comics illustrator and writer, you can pick up two of Jen Wang's fantastic graphic novels with the publisher First Second, including Koko Be Good and a personal favorite of mine (and a great place to start), In Real Life, which was co-created with Cory Doctorow:
"Anda loves Coarsegold Online, the massively-multiplayer role-playing game that she spends most of her free time on. It's a place where she can be a leader, a fighter, a hero. It's a place where she can meet people from all over the world, and make friends. Gaming is, for Anda, entirely a good thing.
"But things become a lot more complicated when Anda befriends a gold farmer—a poor Chinese kid whose avatar in the game illegally collects valuable objects and then sells them to players from developed countries with money to burn. This behavior is strictly against the rules in Coarsegold, but Anda soon comes to realize that questions of right and wrong are a lot less straightforward when a real person's real livelihood is at stake."
It's a really beautiful story about questioning your own assumptions about people in an online space, because you never really know what the person behind that virtual avatar is going through.
Jen Wang has worked on an array of work that isn't limited to graphic novels though. You can pick up issues of Adventure Time and Lumberjanes and find her name on the cover.
And keep an eye out for The Prince and the Dressmaker, which will come out this February with First Second.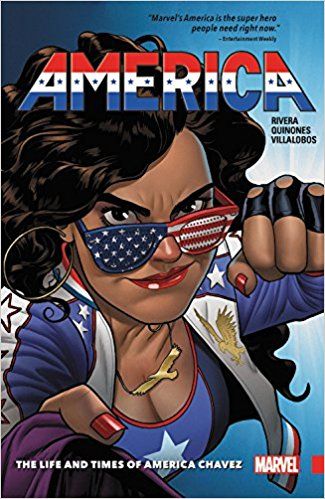 Taken over by Rivera last year, you need to check out Marvel's America, which features title character America Chavez kicking ass after her time in the younger teen groups as the leader of the Ultimates…and deciding to go to college.
It's the first standalone series featuring America, who is Marvel's first Latina lesbian heroine. Volume 1 of the series came out in trade paperback back in October, and you should absolutely pick it up, and give it a special place on your bookshelves.
And bonus! Be sure to check out Juliet Takes a Breath, Gabby Rivera's YA novel that came out last year.
-#-
Now, who would you include on a list like this? There are so many amazing creators out there and so little space. Dish away in the comments. We want to hear your picks.