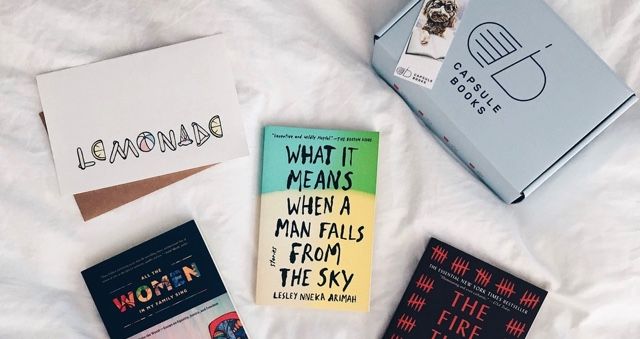 Natasha Lioe had just graduated with a Narrative Studies degree when she realized she wasn't sure what she wanted to do with the rest of her life. She was stuck in a rut and felt intellectually unchallenged. Like many of us would, she turned to books. But, as she looked for a product that would help her find a book based on what she was going through, she came up short. That's when she decided to do it herself: Capsule Books* was born.
Capsule Books started as a subscription service, but customers are now able to purchase one box at a time without future obligations. For readers who prefer the passivity of a subscription service, you can also purchase through Cratejoy and receive each theme spread out across 12 months.
Earlier this year, Capsule Books grew their offerings with the launch of Capsule Stories, a quarterly literary magazine. As with the boxes, each issue follows an emotional theme that each short story or poem fits into. It's what Natasha has in mind for the future of Capsule Books: to become a publishing house that publishes stories that epitomize our generation, written by people who have a talent for describing a specific feeling.
To learn more about Capsule Books and the importance of feeling in literature, we asked Natasha a handful of questions.
With book subscription boxes becoming more popular in recent years, what made you decide to create your own book subscription service?
I didn't see anything that wasn't sorted by "genre." I hate that! I find that so limiting. I love YA, romance, science fiction, mystery, poetry – the list goes on. (But I refuse to read horror books. They sear bad memories into my mind. I'm a baby!)
The way I read books is based on my mood or current life experiences. I want to read books that resonate with me, because that's when I feel they're most powerful and effectual. But there wasn't anything like that; most other book boxes are for entertainment, which is totally fine and I love reading some books for entertainment, but Capsule Books is more like therapy in a box. It's a different motivation to read.
Your monthly themes are not the typical sort-by-genre. What inspires you when coming up with themes for your box?
It's tricky, and sometimes I feel so mentally blocked from thinking of themes. But I'm definitely influenced by the seasons, as well as any articles or blog posts I might read that encapsulate a specific feeling or human condition. I love that Capsule Books is like a picture: a moment frozen in time, by which you can understand your past. Sometimes, I'll read a book that makes me feel a certain type of way, and curate a capsule around that book. Other times I think of a feeling, and try to find books that most accurately make readers feel that way.
How did you come up with the name for Capsule Books?
It was inspired by Marie Kondo and the idea of a capsule wardrobe. I love that it's "only what you need, and nothing more."
What inspired the launch of Capsule Stories?
I have always wanted to get into publishing and making literature more accessible to "non-readers." I think it's important to offer something that's representative of our generation, our struggles, and the universality of the human condition. I always had it in mind, but never had the courage.
What are you looking for when you choose submissions?
Feeling. I'm looking for feeling. If something can resonate with me or make me empathize with the author, then I'm in. I love pretty words, the feeling of youth and beauty, and very atmospheric tone. I have an affinity for sad words. Carolina, my partner with Capsule Stories and an all around intelligent and literary person, and I really look for something that can fit into that season. Often times we will accept certain submissions for a future season.
Being a young founder, what advice do you have for others hoping to start their own bookish business?
It's hard. Don't get into it for money. We've almost closed down so many times because I've been burnt out, or have no funds to launch the next season. But it's so rewarding. And it's the easiest customer service ever; bookish people truly are the best people. Imposter syndrome will haunt you, but it's just fear. No one really knows what they're doing. All we can do is our best.
To learn more about Capsule Books or Capsule Stories, follow them on Instagram or visit their website: capsulestories.com.
---
*Editor's Note: As of April 2020, Capsule Books is now Capsule Stories.