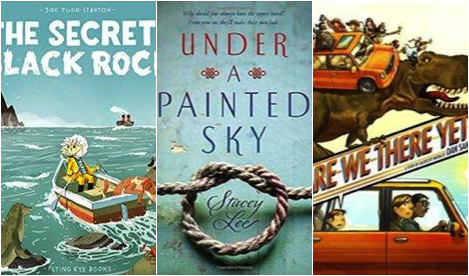 Children's
6 Books to Give the Kid Who's Read Everything
This content contains affiliate links. When you buy through these links, we may earn an affiliate commission.
Even though I am sure you will not be surprised to hear this from the likes of me (librarian, book nerd), I feel that books make the best gifts, particularly when buying for kids. But finding the right book for the right kid can be daunting! As a former bookseller and librarian, I am very familiar with the look on people's faces when they wander into a room full of books with no idea where to start. We are here to help! Book Riot has lots of great gift guides for the kids in your life, including this one for Geek Girls and this "One size fits most" themed list. But what about those young readers in your life who have read everything? I meet these kids a lot at the library where I work; as I hand them book after book, they respond with a blasé "I've read that. I've read that" ad infinitum. I've even met kids whose parents keep spreadsheets to track the books they've read. It's kind of awe-inspiring, actually, but it only makes me more determined to find them something new and exciting to read. For those kids, you have to dig a little deeper, and find the books that live beyond the face out shelves at Bookstores. Here are six of my favorite under the radar reads:
Picture Books
A young girl longs to accompany her mother, a fisherwoman, as she sails the dangerous waters off their coastal home. Everyone in the town fears Black Rock, the big mysterious rock jutting out of the water that is said to cause shipwrecks for anyone who comes near it. One night, the girl climbs on board her mother's boat and hides, only to be accidentally knocked into the water just as the boat passes Black Rock! What will happen to her? How will she be rescued? And what is the secret of Black Rock? You'll have to read it to find out. The illustrations in this book are gorgeous and whatever lucky child gets to open it will be immediately drawn in. Age 4 and up.
Many people are aware of Dan Santat, as he has become one of the biggest and most prolific names in Kidlit. His book Beekle won the Caldecott a few years back and he is very active (and funny!) on social media. Despite this, I feel like his excellent time travel picture book "Are we There Yet?" too often gets overlooked! A kid goes on a road trip to visit Grandma and is sooooo bored that is mind starts to wander. He imagines they have gone back in time, encountering pirates and dinosaurs, before zooming ahead to the future where he imagines a fantastical futuristic city with flying cars and robots. Finally, they arrive at their destination. The beautiful and interesting illustrations are made even cooler by a fun physical component built into the story, wherein the reader must rotate the book. Age 4 and up.
This is the kind of book that becomes an instant classic in households the minute it is introduced. Goblin lives happily in a rat-infested dungeon with his best friend Skeleton. When his home is suddenly invaded by "heroic adventurers," goblin's home is ruined and Skeleton is stolen. Against his better judgement but determined to save his friend, Goblin must leave the dungeon and face the real world for the first time. A super sweet, funny story about true friendship and belonging. Age 4 and up.
Chapter Books
This graphic novel/chapter book hybrid is perfect for reluctant readers and video game fans alike. It tells the story of a group of kids who seem to be the only survivors in their town after a zombie invasion. Subsisting on mountain dew and cookies, the kids have booby trapped and tricked out their tree house as a zombie-repelling safe haven. A great mix of humor and scariness with wonderful illustrations that will keep them turning pages. First in a series! Age 8 and up.
This book just gives me all of the feels. I have read it twice now, which is actually very rare for me, and both times, I just loved it so much. Gracie Lockwood has lived in Clifton, Maine her whole life. She lives in a world that looks a lot like ours, EXCEPT there are dragons, who migrate once a year to the South and have been known to accidentally burn down the TJ Maxx on Route 1. There are also Sasquatches who helped win the Civil War, witches who live way out in the wilderness, and angels who you can hire if necessary. And there are the black clouds. Black clouds come to get you when you are slated to die and one has started to head for Gracie's house. The family, fearing it is for the youngest, sickliest member of the family, decides to try and outrun the black cloud by taking off across the country in an RV in search of the mythical Extraordinary World (aka our world). But can they outrun death? Do yourself a favor and buy two copies of this book! One for the kid you are shopping for and one for yourself! Age 10 and up.
The ultimate adventure story, this historical fiction novel follows Samantha, a Chinese girl living in Missouri in 1849. She dreams of going back to New York to pursue music, but when tragedy strikes, she finds herself alone and in the care of a sinister landlord. After he tries to take advantage of her, she accidentally kills him while defending herself and must go on the run immediately. The only witness is Annamae, a young runaway slave who was working for the landlord and who decides to run away with Samantha. The two disguise themselves as boys and strike out for the West, pretending to be cowhands on the Oregon trail. A completely addictive and moving page turner. Age 12 and up.
Happy Gifting!