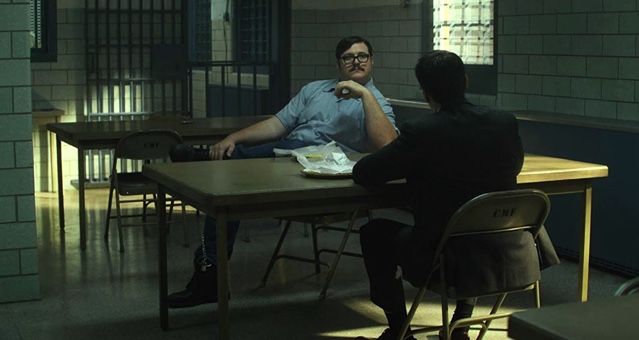 Lists
7 of the Best Books for MINDHUNTER Fans
This content contains affiliate links. When you buy through these links, we may earn an affiliate commission.
Spoilers ahead!
Even in the wake of all the true crime enthusiasm, there's something about David Fincher's adaptation of the book Mindhunter by John Douglas that's especially haunting. To me, it's one thing to hear about serial killings—they are absolutely offending, horrendous, unthinkable acts—but it's a different beast to think about the people who solve those crimes. It's an even different animal to consider the people who study the criminals once they're caught.
The main reason Mindhunter the show is so compelling to me is that the Special Agents are developing the soft science of criminal profiling in its earliest stages, with a lot of trial and error, and using interviews to attempt to manipulate the criminals into divulging their thoughts. I'm all for it. It's fascinating.
Yet, there's something acutely voyeuristic to watching good people suffer for the greater good. I, for one, identify pretty hard with Holden when, at the end of Season 1 (spoilers start here), he has a panic attack after Ed Kemper tries to hug him. It should come as no surprise that interacting with killers has an emotional affect on those studying them, but we forget.
As a person with a brief history of working in mental health, the emotional health of the investigating agents is the most interesting aspect of this show to me. When they drink heavily at the nearest dive bar, I get it. When Holden's pillow talk is about work, and specifically violent offenders obsessed with their mothers, I get it. When he has his panic attack in the prison, I smirked at the screen and said aloud while raising my glass, I feel you, buddy.
I obviously couldn't hack that life, but I got mad respect for those who do, and for that reason, I've compiled a short list of books like Mindhunter.
It should be noted that because this list focuses on the nonfiction writings that detail the mental health of those WORKING with the mental health of criminals, the list is short. I frankly don't know of that many texts. (The ones that I do know of, though, are truly amazing.) It should also be noted that all of these texts' authors are white, and most of them are men.
The reason for this could be something that Dr. Carr addresses in Season 2, Episode 1, "There are so few statistics on Black serial killers that we'll be essentially creating the database." Basically, our culture has only recently started to pay attention to non-white people in a significant way (largely through podcasts like Atlanta Monster, The Murder Squad, and My Favorite Murder), and this particular sub-genre of writing is behind in terms of representation.
Granted, now we have more statistics than at the time period of Mindhunter's setting. That is, like, the whole point of the show, to study serial killers, and to expand their profiles so that everyone can identify the traits and attempt to intervene. Sirhan Sirhan and the Atlanta Monster immediately jump to mind as examples of nonwhite murderers who are now common knowledge.
We also see, though, that there were not many FBI agents of color. Even the criminals know it—hell, Hanse even asks Agent Jim Barney about it outright. I say all of this not to excuse the lack of diversity on this list, but in hopes of explaining it. This could also TOTALLY be a hole in my knowledge that I would love to fill immediately, so if you know of books that need to be on my radar, contact me immediately, please.
But without further ado, seven books like Mindhunter!
If you have an unchecked attraction to Special Agent Bill Tench, this book is for you. Tench's character was based on the real-life FBI agent Robert Ressler, the author of Whoever Fights Monsters. It's one of the most similar books to Mindhunter because, well, it's another perspective on a very similar narrative. What I appreciated most about this book is the candor: Ressler does not claim to be unaffected by his many interviews with notorious killer, but rather explores his own personhood while navigating the traumatic experiences of his work, too. (I also recommend the audiobook narrated by Tom Perkins…he's amazing, and he really brings the narrative to life.)
Though this work is an essay, not a full book, true crime author Charles Bowden has many full-length works worth our attention. This essay, though, details his start and finish as a journalist of the grisliest of crimes, the beat that no one else would take because, well, they were just too grisly. Yet because Bowden had to cut his teeth on something to get work, he takes them. These crimes, he says, were so terrible that readers canceled their subscriptions in direct response to his writings, that no advertisers would run next to his articles, and that his personal life was affected in dire ways. This essay is harrowing, un-put-down-able, and a necessity for anyone looking for books like Mindhunter.
Billy Jensen is an investigative crime writer who focuses specifically cold cases. He says in this book that he hunts killers because he "hates the guy got away with it," but after the death of his close friend and writing partner, Michelle McNamara, he hates that so many people devote so much of their lives to finding killers. He got so discouraged at reporting questions with no answers that he tried his hand at solving murders themselves. This book talks about the cases that he helped solve and his journey to solving them. (He also stepped in after the late Michelle MacNamara's death to help finish her book about the Golden State Killer, I'll Be Gone in the Dark. He and Paul Holes also host a podcast about cold cases to incite interest in fellow amateur sleuths who can help bring criminals to justice.)
Detective Paul Holes and Jim Clemente and their team of professionals are the people who caught the Golden State Killer after so many years of searching. This work is available only in audiobook because the FBI agents narrate it themselves, which in itself is amazing. Though they focus mostly on the crimes and answering the questions posed in I'll Be Gone in the Dark by Michelle McNamara, Evil Has a Name is an absolute must-listen. The parts about their personal lives, and how they were affected, are the most compelling to me personally, because special people like these are the only way that us normal folks can access stories like this. Details like which Chinese restaurant you were at when you got the news really stand out to me.
Though this one goes kind of without saying, this book is the result of one woman's obsession with finding the Golden State Killer. She's credited with rebranding him from the EAR/ONS acronym into something memorable and catchy, as well as reentering the case into the public eye. As you'll read in Billy Jensen's book Chase Darkness with Me, above, citizen participation in crime solving is often instrumental in success. He also says that it's not even necessarily the book does the work, but rather it's her obsession with it that piqued the interest of others; it's also her death, and how she died not knowing that he'd been caught.
Ann Rule's classic true crime text details the story of Ted Bundy—and the most horrifying aspect of this story is not that she met him. No, before Rule was one of the best-known crime authors, she worked in a suicide hotline alongside Bundy himself. It was coincidence that she was assigned to his case. As the details of the multiple murders rolled in, she noted the many similarities between the suspect and her old friend. Though she tells the story of Bundy, of course, she also tells of the mental toil of not only reporting on one of the worst serial killers in history, but of knowing he sat beside you at work for years. I do think this book belongs on the list of books like Mindhunter, but it's also a great companion to the film starring Zac Efron, Extremely Wicked, Shockingly Evil and Vile.
Truman Capote's "nonfiction novel," as he called it, supposedly started the true crime genre. He documents the annihilation of the Clutter family from a journalistic perspective, piecing the scenes together from his myriad interviews with everyone in town, from the police to the mail lady to the criminals themselves. What's even more interesting is that he convinces the readers of the murderers'—or at least one murderer's—innocence. And he does so because one of them is so compelling, so sweet and doe-eyed, that he could not possibly have murdered anyone. The way that the book portrays the crimes and their aftermath is certainly a staple of true crime, but even more interestingly, we get a look at the ways even the smartest people can be emotionally manipulated. In fact, we get to experience it first hand.
---
These books are the ones I know best that detail what people who fight monsters deal with during that fight, and it's a topic about which I constantly want to know more. Just like the homage of Robert Ressler to Friedrich Nietzsche says, "Whoever fights monsters should see to it that in the process he does not become a monster. And if you gaze long enough into an abyss, the abyss will gaze back into you."