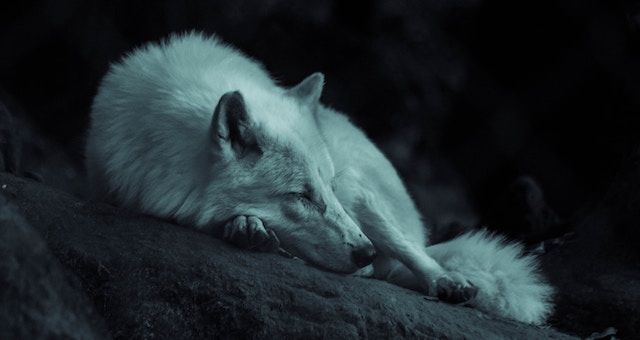 Lists
18 Books About Wolves: Their Majesty and Lore
This content contains affiliate links. When you buy through these links, we may earn an affiliate commission.
Folklore is filled with myths and books about wolves. Most of them were meant to be cautionary tales, where the big bad wolf will get those who are lazy and unaware. Young men must be diligent and young ladies must stay in the safety of their homes. These were probably for good reason. These tales of grandma-, pig-, and girl-eating wolves were told to keep children safe in a time when things were bleak. Humanity has used stories of fear in awe when it comes to the natural world for centuries. Wolves have taken the form of gods and monsters all over the world.
These days we don't compete with wolves for food or shelter; in fact, we have nearly driven them to extinction with our fear and hatred. Now we have to remodel our understanding of these majestic and ancient creatures so that we can once again learn to coexist in these spaces. Here is a list of 18 books of myths, legends, and facts about wolves in our world.
Children's Books About Wolves
A fun and engaging story about the Wolf's perspective during his incident with the Three Little Pigs. Reminding children that there's always two sides to every story.
In this story the wolf visits the children alone in the house rather than the child going on a dangerous trek in the woods. The children must use their brains and find ways to get away from the Wolf. (Note for really young readers: This is a darker book—and the outcome for the wolf isn't good. If your child gets frightened easily, you may want to skip it)
Follow a restless young wolf one evening as he explores the world around him. With beautiful imagery, and lovely prose, this book brings the gentler side of wolves to children.
The Wolves are Back by Jean Craighead George and illustrated by Wendell Minor
This book explains how wolves have been treated by colonialists in western America—how they were driven to near extinction and how people are slowly reintroducing them to nature. This book encourages children to see wolves for their majestic wonder rather than their horror.
Wolves by Seymour Simon
A simple scientific book about wolves and their characteristics. It talks about their social hierarchies and hunting patterns. This book is great for kids who want the science behind the animal.
Middle Grade Books About Wolves
This novel wrecks me every time. It's the story of a young wolf-dog hybrid, trying to live his life in the harsh conditions of the Yukon. Not fitting in with anyone, and dealing with harmful men who use his strength for profit, White Fang must find out if there's any kindness in the world.
Orphans Nika and Randall find themselves in Northern Minnesota with their long lost uncle studying wolves. Nika, believing that this is too good to be true, is having difficulty becoming close with anyone, until she finds an orphaned wolf pup. This story is about love, connection, and is filled with wolf behavior and facts.
This Native American story is written as a narrative poem, and tells us the power of our decisions and the consequences they have. It's coexisting with nature, and making sure we honor every space we enter.
When the wolf cub, Swift, gets separated from his family, he must use the tools that he learned from his family to survive. He'll face many obstacles including starvation, other predators, and hunters—to make it through and find his family. This book is based on a true story.
Fedora and her mother are the opposite of animal trainers—they're animal wilders. When people get tired of their exotic animals, they send them to Fedora's mother to rewild them and help them survive in nature again. Soon, however, Feo must flee from the murderous Russian army and learns what it means to stand up for what you believe in.
YA Books About Wolves
The Red Wolf is a lesser known and written about wolf species in America. Their territory marks much of the Deep South and East with the last wild ones living in North Carolina. This book talks about how not only hunting, but habitat loss, is what is endangering this majestic wolf cousin.
Valerie's sister is dead—and her death starts Valerie on a spiral to find out what, or who, killed her. Valerie is hearing voices, telling her to sacrifice herself, but for what? When the hunter comes to town, they find out that the wolf is not a wild animal, but one of them. This is an interesting take on the Red Riding Hood tale.
In the middle of Oklahoma life is pretty normal for 16-year-old Abel Casey. That is until Pru Phelan comes to town and changes his life forever. Pru is the daughter of an Alpha werewolf. Pru has a message for Abel. He is the Great Wolf. A story of friendship, myth, and adventure.
Omat is born with the soul of a hunter, like her father. When her family begins starving she embarks on a dangerous journey to invoke the gods to help them. On her journey she meets a Viking warrior and his new gods. This clash of cultures could very well destroy their world. This is a story based on Nordic lore.
Adult Books About Wolves
Tracker is known for his "nose," in that he is able to find anything. So when he is assigned to find a mysterious missing boy, he discovers that he needs help. This mix of hodgepodge people go forward to find the boy, including a shape shifting man animal known as Leopard. This novel draws from African history and mythology.
This is the story of 0-Six, the celebrated Yellowstone wolf. Blakeslee follows her as she cares for her pack as alpha female, raises her babies, and avoids dangers like hunters competing for food, politicians trying to take away land, and a changing climate. With commentary on how we got to this point, Blakeslee shows how culture is changing in the American West.
An Epic Chinese tale about the dying culture of the Mongols and the corresponding extinction of the animal they deemed sacred, the Mongolian Wolf. Set in the 1960s, Han Chinese come to Mongolia on a mission to bring modernity. What happens is a mass extinction that brings the grasslands to dust.
Using multicultural mythology, folk tales, and lore, Dr. Estes seeks to show all women that there is a Wild Woman with each of them. This is more of a spiritual self help book, but thought appropriate for this list, because how cultures use the wolf archetype to find their power.
---
Finally, we didn't touch on it here, but if you want some werewolf reading, we got you.