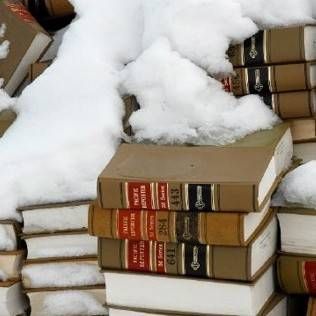 Lists
A Bookish Guide to Loving Winter
This content contains affiliate links. When you buy through these links, we may earn an affiliate commission.
Or maybe not hating it as much as I do now.
As someone who, until recently, has lived in places where winter (at the most) meant shrugging on a light cardigan, even Vancouver with its "mild" Canadian winter is a hellish experience. So, indulge me as I try to come up with a plan to trick myself into not hating/kind of accepting/someday liking these absurdly short and cold days.
Stage 1: Baby It's Cold Outside
So stay the hell inside, right? I like to go a step further and dream of summer. Clutch a hot beverage, drape myself in blankets, and read stuff to remind me that a future consisting of long, dazzling sunny days does exist and will eventually come to be. I recommend the following for this Try Not To Hate Winter stage:
Stage 2: This Is Not so Bad
Hopefully, the next stage of my plan involves moving from resentment to begrudging acceptance. The following list of books are aimed at actually getting me out of the house and facing the elements, either in search of a) comfort food, or b) friends who give me hope, or c) all of the above:
Stage 3A: Okay This Is Probably Still Pretty Bad
Fine. Maybe I can never really get to the stage where I read books like Winter and Wintergirls and think, "Ah, this is the perfect weather for these books" but, dammit, I can try. This stage is all about tough love. I read books that are important and touching and real and … will most definitely make me cry. Obviously the only antidote for that is to leave my warm (but sad) apartment for a cold (but less sad) café in order to meet (and hug) friends:
Stage 3B: Just in Case
If you're anything like me, I recommend interspersing a list like the one above with some happier stuff (just so you don't shrivel up from the utter lack of hope); specifically, I suggest these three webcomics:
So, that's all I've got. If there is a next step, I haven't found it yet. Does anyone else find themselves counting down to the months to summer? Does anyone else arrange the books they want to re/read by season?