Cookbook Showdown: The Best Pound Cake Recipes, Tested
This content contains affiliate links. When you buy through these links, we may earn an affiliate commission.
Pound cake is one of the most classic, well-known desserts of all time. It's easy, too. The most basic recipe is a pound each of butter, sugar, flour, and eggs. It lends itself to endless variations and techniques. So what can different chefs takes on this beloved dish teach us about pound cake? A lot, it turns out. In this Cookbook Showdown, I tested five different pound cake recipes from beloved bakers and culinary figures. Which cake is a cut above the rest? Read on to find out!
What is Pound Cake?
Pound cake is typically a dense, rich cake made from simple ingredients. At its most basic, it consists of equal weights of butter, sugar, flour, and eggs, typically baked in a Bundt cake pan or loaf pan. Today, it frequently also includes some kind of leavening agent (baking soda or powder) and various flavorings like vanilla, fruits, or nuts. Some recipes substitute oil for some or all of the butter or add sour cream for moistness and tang. The possibilities are truly endless.
Dating back to at least the 1700s in Europe, pound cake has been around a very long time. It's included in the very first American cookbook, American Cookery, published in 1795. That recipe suggested adding "spices to your taste," another sign that pound cake has always been a place for flavor experimentation.
The five recipes I tested range from Cheryl Day's very classic pound cake recipe to Claire Saffitz's sweet and savory polenta pistachio pound cake. Each brought something interesting to the table, and none were total fails. But only one can take the cake, so to speak. Let's get to the good stuff.
Cookbook Showdown: Pound Cake Recipes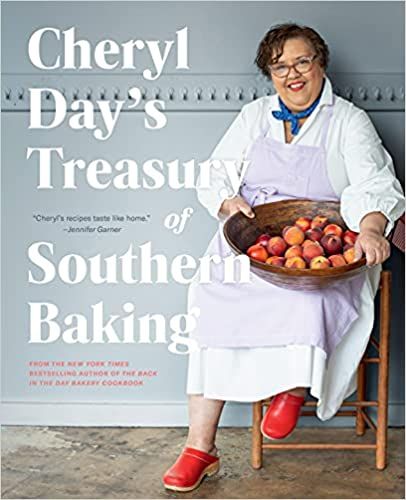 Cheryl Day is a bestselling cookbook author, co-owner of Back in the Day Bakery in Savannah, Georgia, and a co-founder of Southern Restaurants for Racial Justice. Her Treasury of Southern Baking has, through many Cookbook Showdowns and personal baking adventures, become the most trusted baking cookbook on my shelf. As a collector of vintage cookbooks, Day writes recipes based on centuries of Southern baking traditions and techniques. When I decided to perform this experiment, I knew she would have a reliable, classic pound cake recipe that would likely set the bar high for the rest of my taste testing.
Cheryl Day's Cold-Oven Pound Cake
Day's pound cake recipe comes with a bonus history lesson. Around the turn of the 20th century, when gas stoves were first brought to the American market to replace wood-fired ovens, pound cake was one of gas ovens' best marketing tools. Bakers were told there was no need to stoke fires or even wait for their new ovens to preheat; the cake benefits from slowly rising in temperature with the oven, giving it more time to rise and develop a deep golden crust.
As far as ingredients, Day's recipe is very basic. In addition to the usual eggs, butter, sugar, and flour, she calls for baking powder, sea salt, milk, and vanilla extract. The batter goes into a Bundt pan and bakes as the oven preheats. The instructions are easy to follow, and the cake came together just as promised.
I was lucky to start this Cookbook Showdown while making dinner for my wife, mother-in-law, and aunt-in-law, Deborah. Deborah is someone I frequently turn to for baking and culinary advice, and she offered up three metrics for judging a pound cake. The perfect pound cake should have a crisp golden crust, a consistent bake all the way through, and a melt-in-your-mouth buttery texture. Cheryl Day's cake fit all three of these requirements and got a rave review from everyone who tried it. It's exactly the sweet, buttery, rich cake I was hoping for.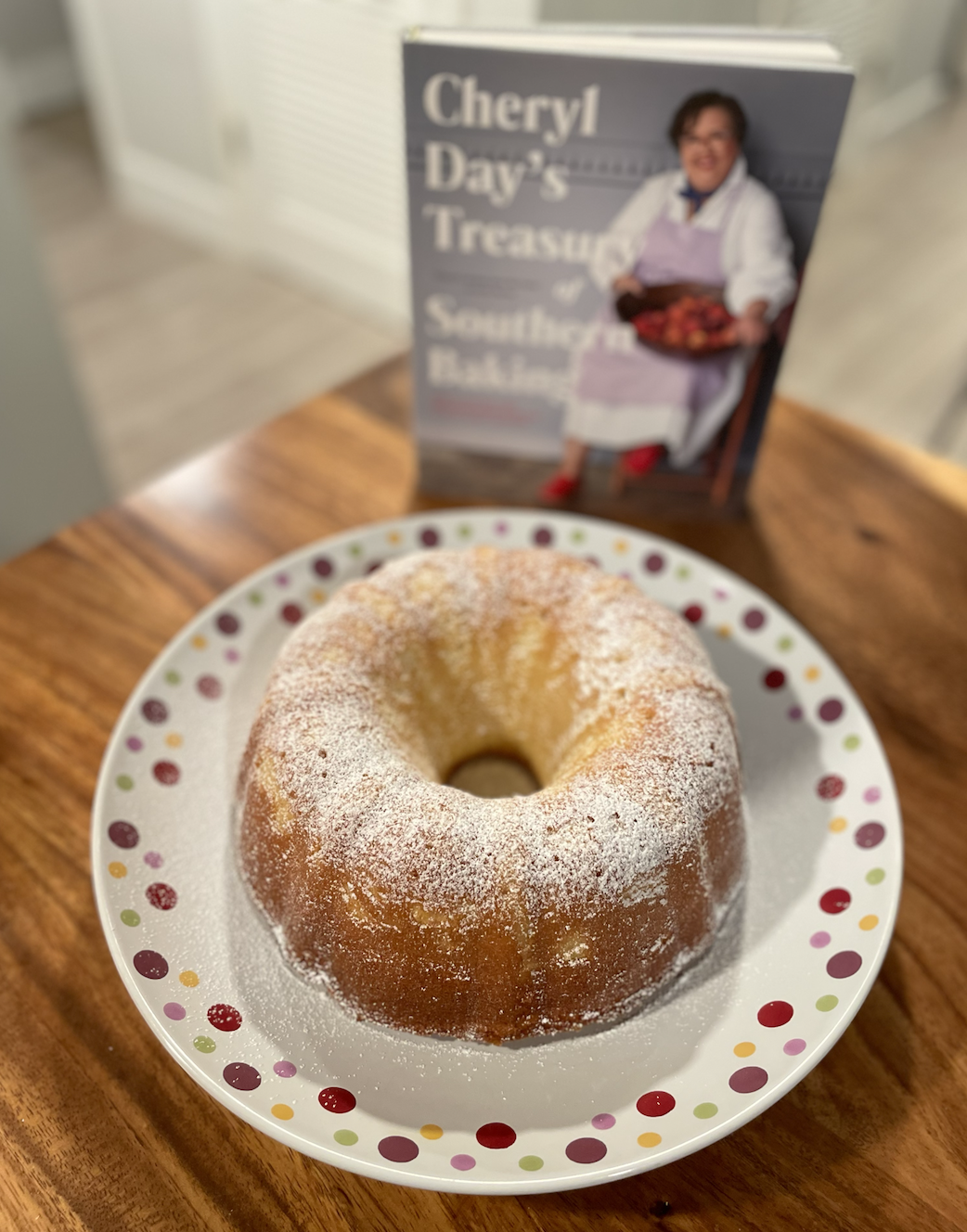 Cheryl Day's Pound Cake Scores
Taste: 5/5 — It's perfectly rich, buttery, flavorful, and it makes a great base for toppings like fresh berries and whipped cream.
Texture: 5/5 — Perfect golden crust, light buttery crumb. It's exactly what you want from pound cake.
Creativity: 2/5 — This recipe doesn't try to do anything life-changing, but it certainly delivers.
Difficulty: Easy — Basic techniques are used, and you don't even have to preheat the oven.
Overall: 4.75/5 — A delicious cake that does everything you expect from pound cake well.
Carla Hall is a celebrity chef from Top Chef and The Chew known for her contemporary take on American soul food. In Soul Food, Hall shows that at its roots, soul food utilizes and celebrates fresh vegetables and produce, not just heavy meats and fats as some might think. Hall's dishes have made a great showing in the fried chicken, mac and cheese, and barbecue sauce Cookbook Showdowns. I treasure this cookbook and often look to it for meal inspiration, but this was my first time trying one of Hall's dessert recipes.
Carla Hall's Chocolate Pound Cake
Hall's pound cake recipe is based on one passed down to her by her Granny, and similarly to Cheryl Day's cake, it's started in a cold oven and bakes through the preheating process. The ingredients are also pretty classic, with the addition of cocoa powder, buttermilk, light brown sugar, and mini chocolate chips.
The recipe is simple and easy to follow. My main concern was that, with a combined four and a half cups of flour and cocoa powder and only one cup of buttermilk, the dry-to-liquid ratio was not what I would expect. The batter was super thick. But let me tell you, the smell of my kitchen while this was baking was incredible. The resulting cake is dense and definitely on the dry side, but it makes a great treat with a cup of coffee or tea.
Carla Hall's Pound Cake Scores
Taste: 3.5/5 — I'm admittedly not a huge chocolate cake person, but the cocoa powder in the batter and mini chocolate chips give it a nice flavor.
Texture: 2/5 — It's super dense and pretty dry. It's best served with milk, whipped cream, or some kind of topping to add moisture.
Creativity: 2.5/5 — Although not groundbreaking, I like the chocolate version and appreciate the addition of the chocolate chips.
Difficulty: Easy — The instructions are easy to follow, and you can bake it without waiting to preheat the oven.
Overall: 2.5/5 — I'm not saying I'll never try another Carla Hall dessert recipe, but this one simply didn't measure up to the competition.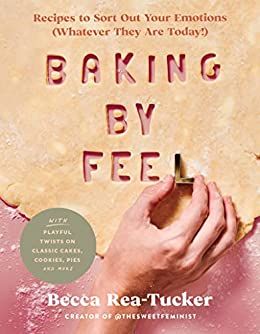 Becca Rea-Tucker went viral on Instagram (@TheSweetFeminist) for her cakes and pies with feminist, pro-choice, and self-care phrases. She's also spread the love of baking through recipes on her popular blog and, recently, published a cookbook. Baking By Feel is the perfect cookbook for stress bakers and people who use culinary experiments to sort out their feelings (AKA me). Each recipe is paired with an emotion and an activity or contemplation on that emotion. For example, Rea-Tucker's pound cake recipe is a dish to make while worried, and her sidebar suggests writing down a list of your worries to get them out of your head and hopefully make them appear more manageable.
Becca Rea-Tucker's Swirled Pound Cake
In her recipe description, Rea-Tucker shares that she's a passionate fan of pound cake and frequently makes it at home. This recipe is a vanilla pound cake with a chocolate swirl and a crumb topping. She assures readers that even if you worry the swirl isn't perfect, it will still turn out delicious.
The ingredients and methods for the vanilla pound cake are pretty standard, with a little sour cream added for moisture and tang. A cup of the batter gets mixed with cocoa powder to create the swirl, and the whole thing is finished with a flour, brown sugar, salt, and butter mixture to create a crumb topping. The vanilla cake batter turned out quite thin, and it baked into a lovely texture. But when mixed with cocoa powder, the swirl part became a little denser and difficult to spread. The crumb mixture was also denser and heavier than the primary batter, so it sank into the batter rather than staying on top. My results weren't picture-perfect, but they did taste wonderful. (You can see the swirl in the slice-by-slice image at the bottom of this article.)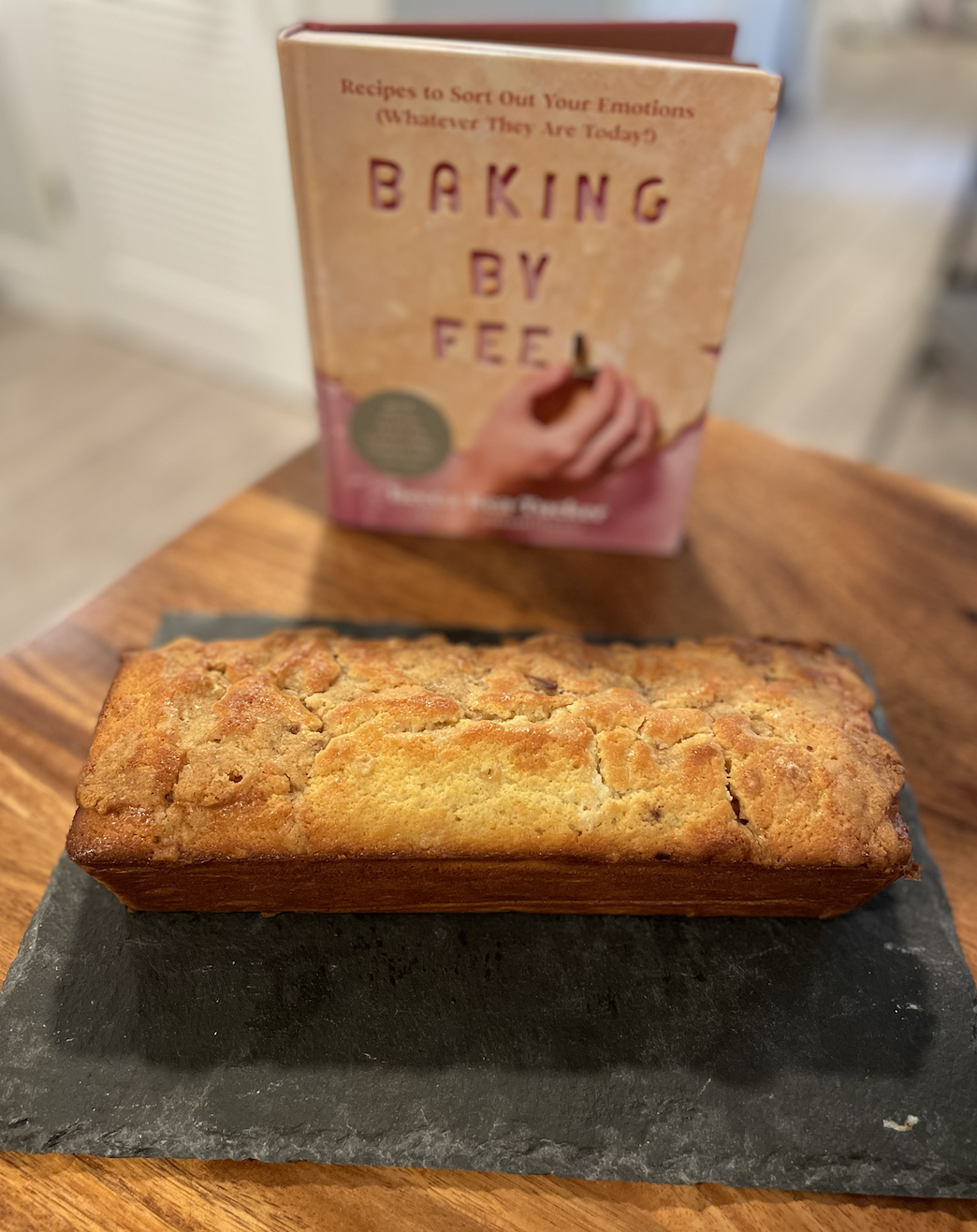 Becca Rea-Tucker's Pound Cake Scores
Taste: 4.5/5 — The vanilla and chocolate flavors worked well together, and although the crumb topping didn't stay where it was supposed to, it did add a nice brown sugar taste.
Texture: 4/5 — The vanilla pound cake had a perfectly moist texture with a golden brown crust. Because the batter was thin, though, the chocolate swirl and crumb topping sunk into the vanilla batter.
Creativity: 3.5/5 — It meets classic pound cake expectations while also providing two interesting twists.
Difficulty: Moderate — The swirl and crumb topping involves extra steps, and they would have been easier to achieve if the vanilla batter wasn't as thin.
Overall: 4/5 — With a slightly thicker vanilla batter to support the swirl and topping, this recipe would have knocked it out of the park.
Gemma Stafford is an Irish pastry chef known for her online baking show Bigger Bolder Baking. In this cookbook, she shares her belief that baking shouldn't just be reserved for special occasions; there's always a good reason to whip up a little something special. With accessible recipes for every time of day and bakers of every skill level, it's a really useful collection of recipes to call on any time you've got the itch to try something new.
Gemma Stafford's Citrus Olive Oil Pound Cake
Stafford's pound cake looks about as classic as they come, but its ingredients might surprise you. To start, it's citrusy, with fresh orange juice and lemon zest bringing a nice tartness. More surprisingly, it's butter-free. Instead, the cake calls for a cup and a half of extra-virgin olive oil. I've baked with oil plenty (see how olive oil chocolate chip cookies fared in that Cookbook Showdown), but butter is such a hallmark of pound cake that I wasn't certain how this would turn out.
The answer? Amazing. The batter was pretty thin, but it baked up incredibly well with a perfectly crisp, golden crust and a light, moist crumb. I was blown away by the texture of this cake on day one, but I was even more stunned by how well it held up over the course of a week. It was still light, moist, and delicious days after baking, making it a great choice for a potluck, mailing to loved ones, or any other occasion where a dessert can't be served fresh out of the oven. There is a noticeable olive oil flavor to it, which could be a turnoff for some people, but I thought it balanced the light citrus notes well.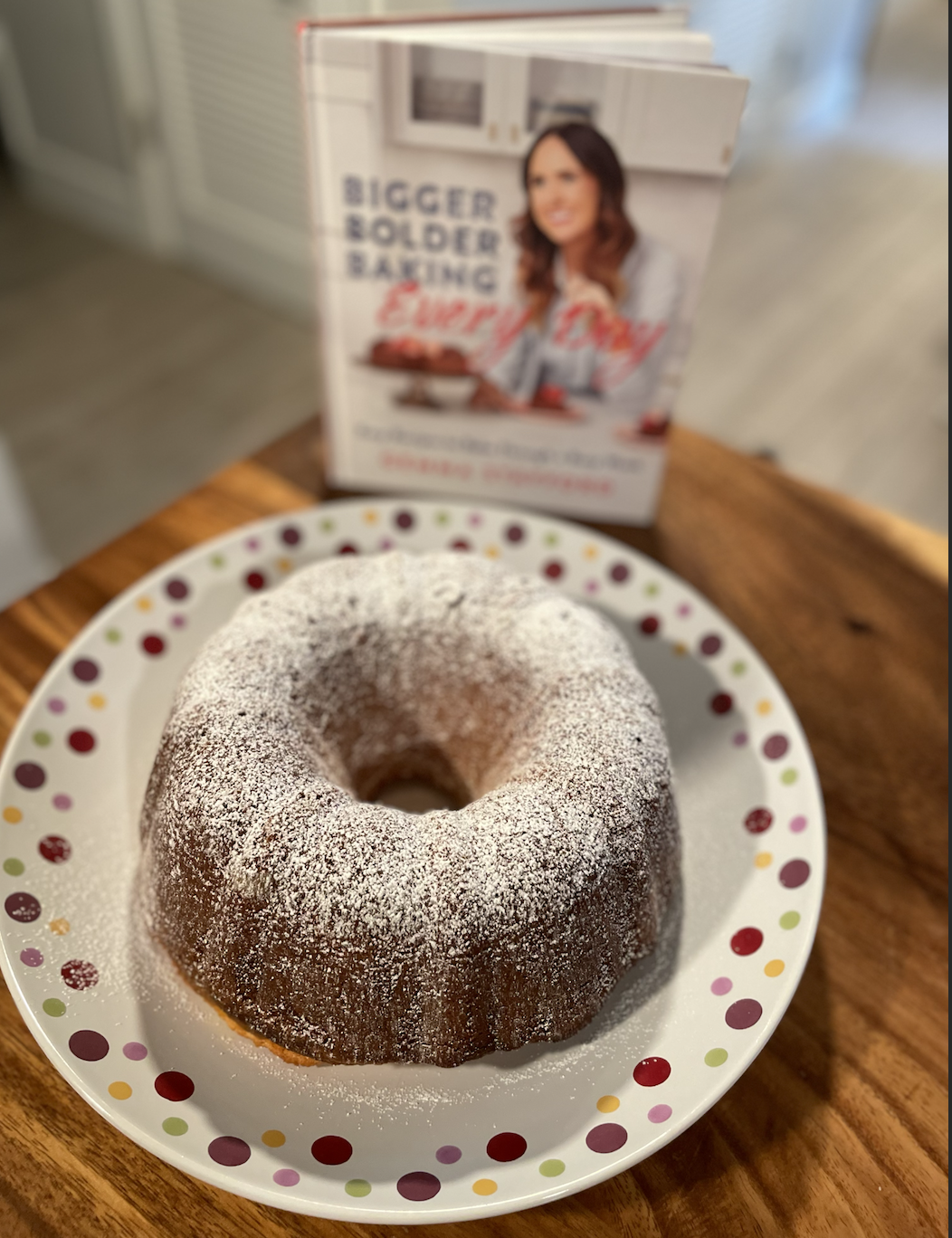 Gemma Stafford's Pound Cake Scores
Taste: 4/5 — It's complex and delicious. The olive oil comes on a little strong, and the citrus could be bumped up, but it's close to perfect.
Texture: 5/5 — It's got an absolutely perfect crumb, light and moist with a perfectly crisp crust, and stayed that way for days after baking.
Creativity: 3/5 — The olive oil is a surprisingly effective replacement for butter, and the citrus balances it nicely.
Difficulty: Easy — The hardest part of a basic pound cake is whipping enough air into the butter, and the olive oil doesn't even require that. It's a very approachable recipe.
Overall: 4.5/5 — Complex flavor, excellent texture, and stands up really well over time.
Claire Safftiz is a beloved food writer and YouTube video star who helps home bakers dream bigger. She's known for writing popular recipes at New York Times Cooking and Bon Appétit that make some of the most complicated pastry recipes accessible for folks who don't have the time or budget to go to culinary school. In her newest cookbook, What's for Dessert, Saffitz shares recipes for impressive dishes with complex flavors, broken down into steps new but ambitious home bakers can follow. I've had great experiences cooking from both this and Saffitz's first cookbook, Dessert Person, and often turn to them for trustworthy recipes that wow my friends and family.
Claire Saffitz's Polenta Pistachio Pound Cake
I was lucky to get to attend a release event for this cookbook and hear Claire Saffitz speak about her approach to writing it. She wrote the recipes without relying on expensive tools like stand mixers and using ingredients she could find at her local supermarket. However, I admit I had to shop online to find both the coarse-ground polenta and the raw pistachios called for in this pound cake recipe. Parcooked polenta is meant to lend a soft, creamy texture to the cake, with crushed pistachios bringing added flavor and texture.
Perhaps the quality of the ingredients I was able to find online was lacking, but this recipe didn't quite deliver on its promises for me. The polenta cooked up in a third of the time described in the recipe and became too thick to properly mix into the batter, creating a lumpy texture in the finished cake. The raw pistachios were difficult to pound into pieces, and in my opinion, they would have been better in flavor and texture if they were roasted instead of raw. (Roasted pistachios also would have been way easier to find.) So the texture of the cake overall was lacking. The flavor, however, was a nice blend of savory and sweet, and the lemon zest in the pistachio and sugar mix sprinkled around the edges and top of the cake brightened everything up.
Claire Saffitz's Pound Cake Scores
Taste: 4/5 — I like the salty/sweet balance brought by the polenta and pistachios, and the lemon zest was a nice touch.
Texture: 2/5 — The polenta didn't blend well into the batter, and the pistachios would have had a better crunch if they were roasted. The whole thing was very crumbly and difficult to serve.
Creativity: 4.5/5 — I loved the concept of this cake, even if I didn't love the results.
Difficulty: Moderate — Parcooking the polenta, hand-crushing the pistachios, and making a pistachio/sugar/lemon zest sprinkle required extra time and skill.
Overall: 3/5 — The flavor was nice, but the texture left a lot to be desired. I think a bit of cornmeal could have brought a better flavor and texture than the polenta.
Cookbook Showdown: Pound Cake Final Results
My main takeaway from this Cookbook Showdown is that five pound cakes are a lot of pound cakes. I spread them out over five weeks. I mixed up the toppings with various fresh fruits and whipped creams. It's still…a lot of pound cake.
In good news, every one of them was enjoyable. Even the driest or crumbliest cake had its merits. It was a fun adventure that showed me just how much range pound cake brings to the table. I considered testing a recipe from Aleksandra Crapanzano's Gâteau: The Surprising Simplicity of French Cakes, which has, I kid you not, FIFTY-THREE flavor variations on the pound cake. I was honestly so overwhelmed by choices that I couldn't pick one. But if you're a true pound cake lover, Gâteau is probably a cookbook you should own.
At the end of the day, only one pound cake can take home the Cookbook Showdown crown. Let's go to the slice-by-slice:
And the Winner Is…Cheryl Day's Cold-Oven Pound Cake
There's a reason Cheryl Day's Treasury of Southern Baking has become one of my most trusted sources for desserts. Cheryl Day understands classic dishes, and she knows how to explain reliable techniques in a clear, concise way. Her cold-oven pound cake has absolutely perfect texture and flavor, sure to deliver for any picnic, potluck, or dinner party.
---