Cookbook Showdown: The Best Chocolate Chip Cookie Recipes, Tested
This content contains affiliate links. When you buy through these links, we may earn an affiliate commission.
Welcome back to Cookbook Showdown, where one brave home chef tests four recipes for the same dish from popular cookbooks to see which one comes out best. You'd be surprised what you can learn about a cookbook by comparing a recipe to similar ones from other chefs. Today, we're testing recipes for a classic sweet treat: chocolate chip cookies. Will a recipe by Nadiya Hussain, Cheryl Day, Becca Rea-Tucker, or Vallery Lomas take the cake — or in this case, cookie? Read on to find out.
The History of Chocolate Chip Cookies
Chocolate chip cookies burst onto the American culinary scene in the late 1930s, and we've been obsessed with them ever since. Chef Ruth Graves Wakefield, owner of the Toll House Inn restaurant in Whitman, Massachusetts, is credited with the invention of the chocolate chip cookie. She began serving the cookie alongside ice cream in her restaurant, and it became a nationwide sensation after she included her recipe in the cookbook Toll House Tried and True Recipes in 1938. Although various rumors circulate about Wakefield happening upon the idea due to mistakes or running out of cocoa powder, food historians tend to agree that the creation was intentional.
A year after her cookbook was published, Wakefield became a consultant for Nestlé and sold them the rights to her chocolate chip cookie recipe and "Toll House" restaurant name. That recipe, with some slight modernizations, is still the gold standard today.
The Basics of Chocolate Chip Cookies
The beauty of chocolate chip cookies comes in their simplicity. They're traditionally a drop cookie — meaning they're formed by scooping or balling dough rather than rolling it out and cutting into shapes. Ingredients typically include flour, egg, brown and white sugar, vanilla, a leavening agent like baking soda or baking powder, a fat like butter or shortening, and, of course, chocolate chips or chunks.
Twists on chocolate chip cookies abound. Some of the most popular include adding nuts or chopped candy bars, or adding cocoa to the dough for double chocolate chip cookies. In this experiment, I chose to keep it traditional. The four recipes I tested have a lot more in common than what separates them. All are butter based, baked at 350 degrees Fahrenheit, and sprinkled with flaky sea salt. I worried at first that they might turn out too uniformly to judge. But I was surprised to find that in the case of the humble chocolate chip cookie, slight differences in proportions of ingredients or process made a big difference.
I made all four batches of cookies on the same day, using Ghirardelli chocolate and other similar ingredients. (These silicone baking mats were a godsend.) I made all cookies using the same Pampered Chef medium scoop for easy comparison, and adjusted bake times accordingly. And for the first time in my Book Riot cookbook experiments, I enlisted a group of 15 friends and neighbors for a round of Cookbook Showdown: Democracy Edition. I'll include my thoughts on the process and results for each recipe, but I'll let my taste testers' votes determine the final winner.
Cookbook Showdown: Chocolate Chip Cookie Recipes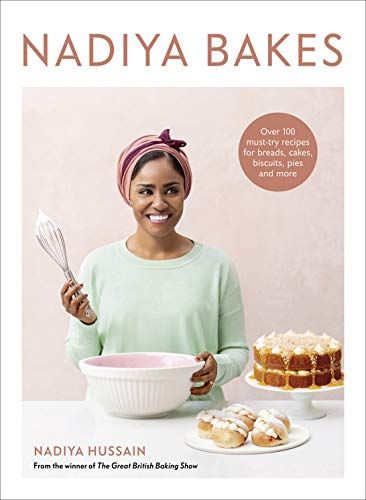 Since winning the sixth series of The Great British Baking Show, Nadiya Hussain's culinary career has exploded. She's now got multiple cookbooks, cooking shows, and hosting and judging spots on various competitions across the U.K. With recipes that are approachable and delicious, Hussain's cookbook Nadiya Bakes boasts over 100 recipes for all kind of baked delights from pulled chicken donuts to tutti-frutti pavlova and beyond.
Hussain's chocolate chip cookie recipe promises chewy, perfectly rounded treats. In the intro, she argues that making these cookies from scratch has a special magic even though they can easily be found on store shelves. Here's how my test went.
Nadiya Hussain's Chewy Chocolate-Chip Cookies
In terms of ingredients, Hussain's recipe calls for all the usual suspects plus a dash of almond extract. The technique is where it most differs from the other recipes I tried. Rather than creaming the butter, the recipe calls for melting the butter before blending with sugar and eggs. This made it the only recipe I tested that didn't call for a stand mixer. After being shaped into balls, this dough should be refrigerated for at least four hours, whereas the other recipes were baked pretty much immediately after mixing.
The long refrigeration time meant the dough dried out a bit, and the cookies didn't spread while baking but instead stayed in fairly rounded balls. The final result was more cakey than chewy, and the use of milk chocolate chips rather than semisweet or bittersweet made for a sweeter flavor. The almond extract stands out, especially as an aftertaste, which proved quite polarizing for my taste testers. Almost every person either voted these cookies as either their first or last choice.
Nadiya Hussain's Chocolate Chip Cookie Scores
Taste: 3/5 — If you like almond, you'll enjoy that in these cookies. But I would have preferred a semisweet or bittersweet chocolate chip to balance the sweetness.
Texture: 2.5/5 — The long chill time dried out these cookies quite a bit, so they ended up more cakey than chewy. But that's some people's thing!
"It" Factor: 3/5 — The almond did make these cookies stand out among the competition, but not always in a good way.
Overall: 3/5 — While they may not have come out on top, they were still tasty!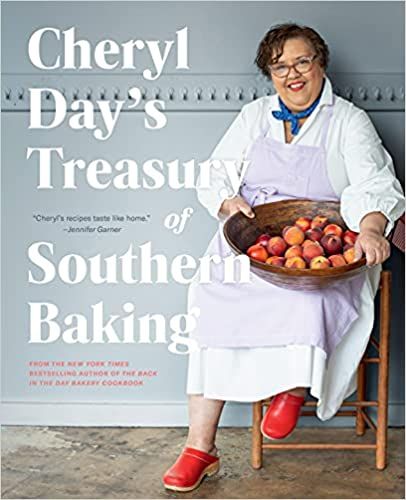 In the year I've had this cookbook, it's become my baking Bible. Cheryl Day is a legendary restaurateur and food historian. And having amassed an impressive vintage cookbook collection, she had plenty of resources to call on while writing this must-have Southern baking guide. Cheryl Day's Treasury of Southern Baking includes classic techniques and ingredients for all the beloved favorites. She's also won multiple past Cookbook Showdowns.
That's why I was excited to try her chocolate chip cookie recipe and present it to a neutral audience for this contest. Am I biased? Am I easily swayed by the clarity and heart in her writing? Her recipe is, as I expected, a very traditional one, promising crisp edges, a soft center, and a good blend of salty and sweet.
Cheryl Day's Chocolate Chip Cookies
The ingredients and methods in this recipe are very straightforward. It calls for semisweet chocolate chips or chunks (I used chips) and a dash of cane syrup. The dough rests in the fridge for thirty minutes before baking, and the cookies are topped with a sprinkle of sea salt before going in the oven.
These cookies look picture perfect, and the taste is just as classic. They'll please lovers of crunchy and soft cookies with a generous amount of chocolate chips. My taste testers ranged from calling them a perfect blend of soft/crunchy and salty/sweet to saying they were a little basic, but they rarely came in last.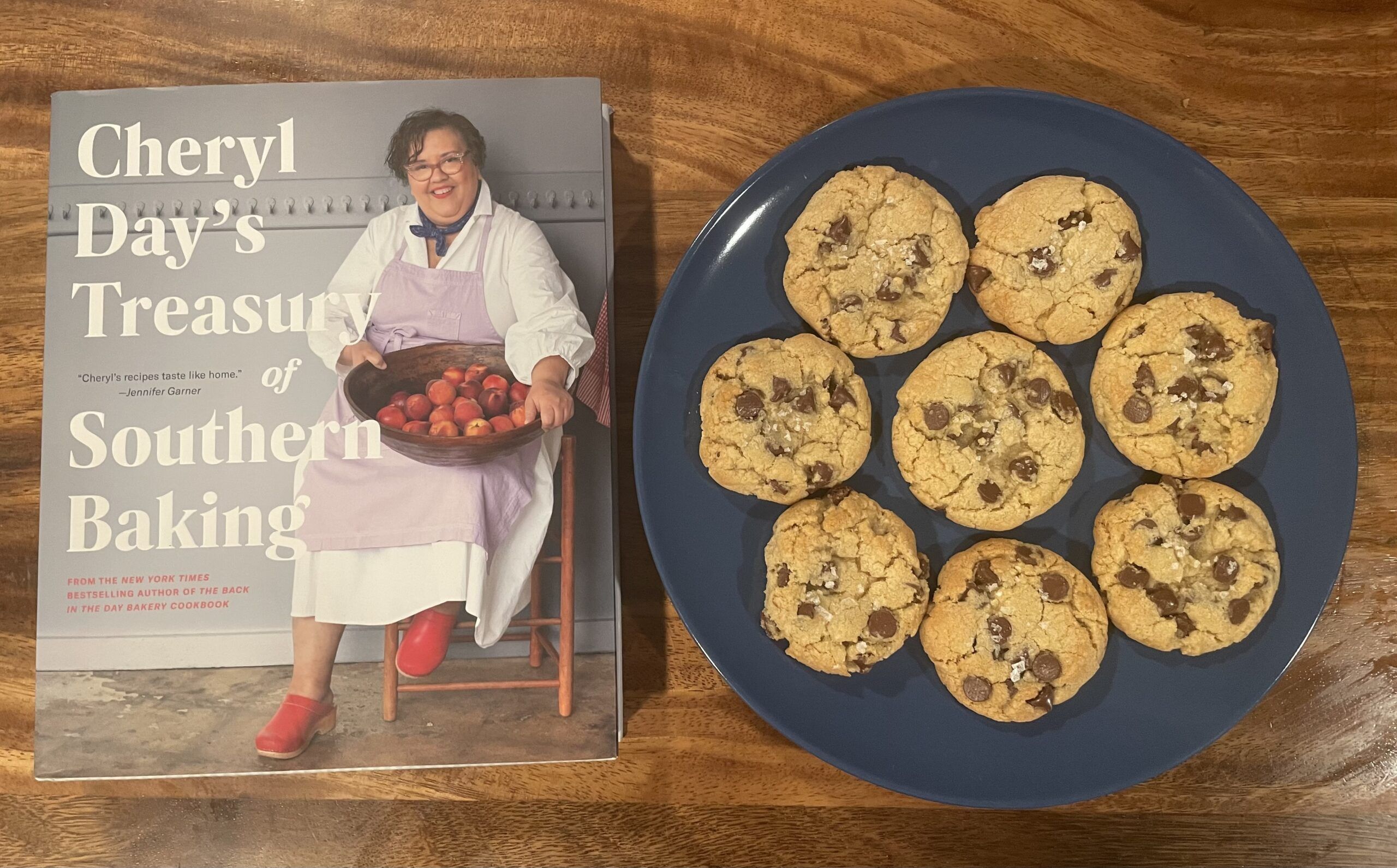 Cheryl Day's Chocolate Chip Cookie Scores
Taste: 4/5 — This is exactly the flavor I expect from a chocolate chip cookie, with a nice saltiness from the flaky sea salt on top.
Texture: 5/5 — The edges are crisp and the center is soft and chewy, just as promised.
"It" Factor: 3/5 — There's not much of a surprise here. I don't think these would win any cookie contests, but sometimes classic is exactly what you want.
Overall: 4/5 — A very balanced and tasty cookie, with a good amount of semisweet chocolate chips.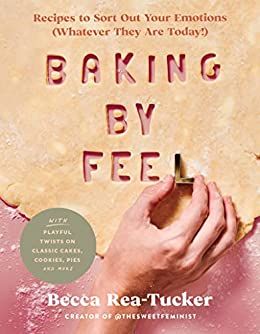 If you're on Instagram, you've likely seen one of the many viral posts of @TheSweetFeminist's pro-choice and self-care messages on cakes and pies. Becca Rea-Tucker, the baker behind the account, wrote her new cookbook Baking by Feel to show how baking can help us explore and face our emotions, whether negative, positive, or something in between. Each recipe is paired with an emotion and a small activity or reflection on that emotion. It's a fantastic cookbook for anyone who considers themself a "stress baker".
Rea-Tucker's chocolate chip cookie recipe is paired with the feeling of nostalgia. A sidebar to the recipe asks bakers to reflect on how nostalgia can feel happy or sad, and suggests removing judgment from nostalgia. As for the cookie recipe, it promises an especially chewy texture thanks to the use of extra egg yolks. Here's how they turned out.
Becca Rea-Tucker's Egg Yolk Chocolate Chip Cookies
This recipe, meant to evoke nostalgia, is appropriately traditional in ingredients and techniques. It calls for semisweet chips and a post-bake sprinkle of flaky sea salt. The biggest difference from the other recipes I tested is more wet ingredients to dry ingredients, making for a softer cookie with a smoother appearance.
They certainly delivered on chewiness, turning out the fluffiest of the bunch after cooling. Among my taste testers, these tended to be the favorite of soft cookie lovers.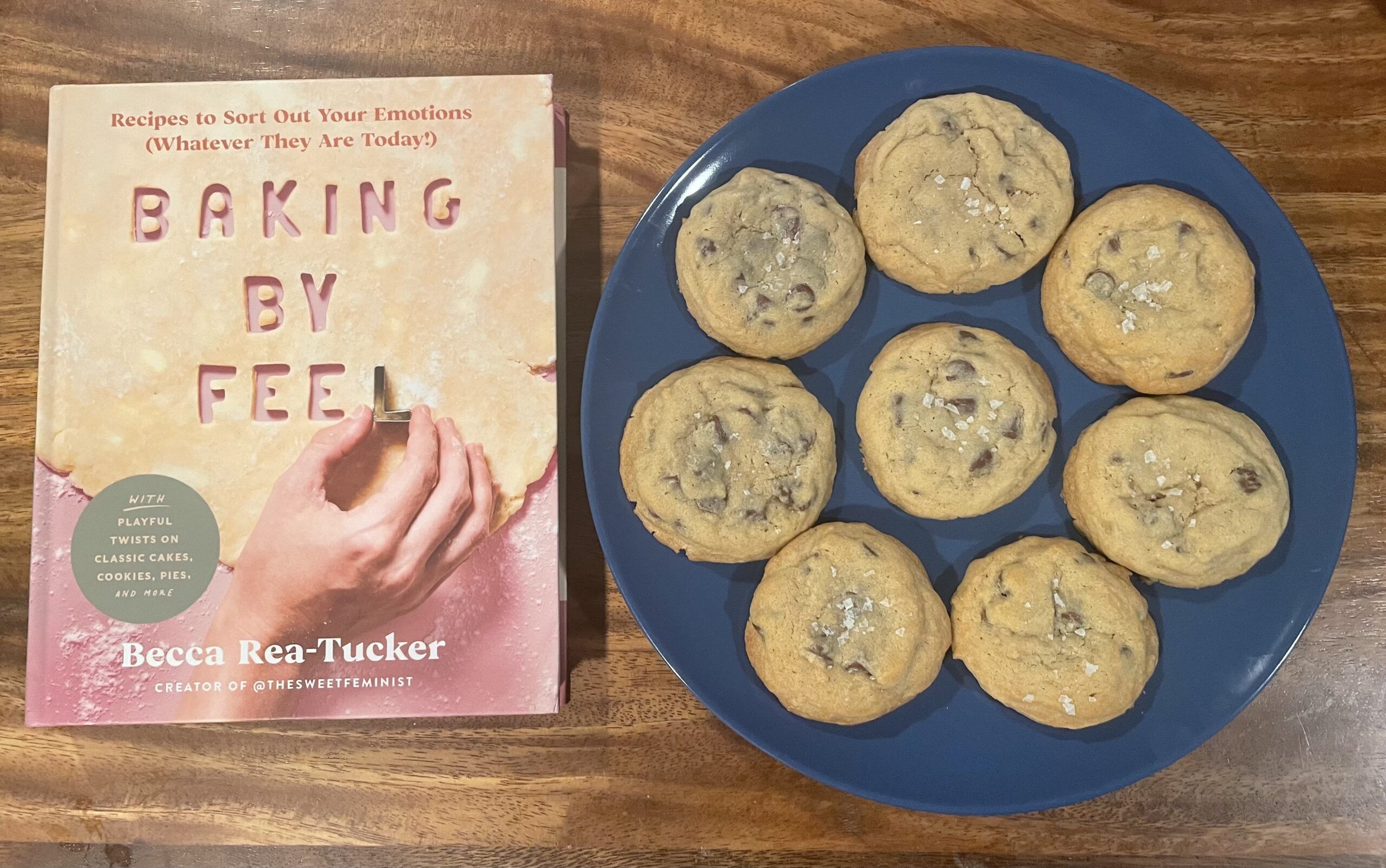 Becca Rea-Tucker's Chocolate Chip Cookie Scores
Taste: 4/5 — These cookies have a classic flavor and a nice salty finish.
Texture: 4/5 — If you love a soft, fluffy cookie, this is the recipe for you! It stayed nice and chewy for days after baking.
"It" Factor: 3/5 — There's not much uniqueness to the flavor in these cookies, but the texture was notably different from the others I tested.
Overall: 4/5 — This is a classic tasting cookie with an impressively soft texture.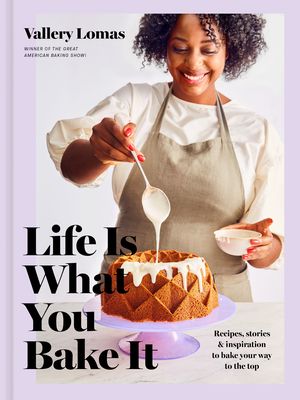 Vallery Lomas is taking over the baking world, from Food Network to New York Times Cooking and beyond. But her biggest credit — winning the The Great American Baking Show — went under the radar. Her season was canceled shortly after the premiere aired because of allegations against one of the judges. Luckily, Lomas hasn't let that stop her from spreading her love of baked goods. Her cookbook Life is What You Bake It is full of unique flavors and helpful techniques she's encountered from living in Louisiana, Los Angeles, D.C., and Paris.
Lomas's chocolate chip cookie recipe has a notable twist: substituting much of the traditional butter for olive oil. Combined with sea salt, it's meant to lend a depth of flavor, as well as helping create the perfect texture of crispy edges and smooth center.
Vallery Lomas's Olive Oil-Chocolate Chunk Cookies
The added olive oil made for a beautifully silky dough. Shaping the cookies was simple and less sticky than the all-butter recipes. Still, I had some doubts. Would the olive oil flavor be overwhelming? Would it really blend seamlessly into the more traditional flavors?
I was surprised to find that the olive oil didn't leave any obvious evidence in the taste or scent of the finished cookies. None of my taste testers clocked the olive oil or even noticed anything notably different in these cookies. (For comparison, nearly everyone guessed that Nadiya Hussain's cookies contained almond extract.) I did get a lot of comments about the perfect texture. The bottoms and edges were indeed crisp, but the center of the cookie stayed soft and chewy. I loved the use of bittersweet chocolate chunks for balancing the sweetness.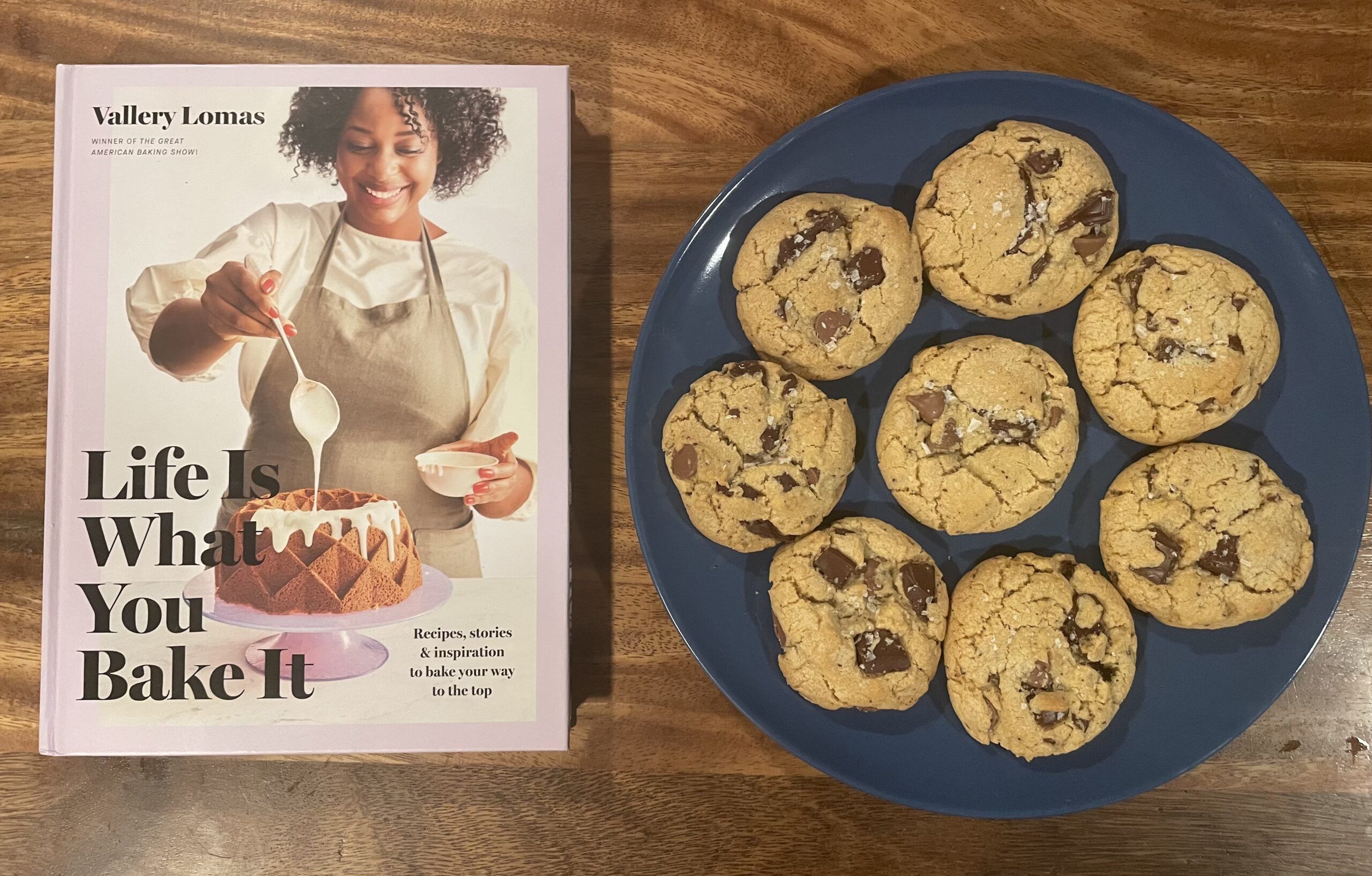 Vallery Lomas's Chocolate Chip Cookie Scores
Taste: 5/5 — I loved the balance of richness, bitterness, salty, and sweet from the olive oil, sea salt, and chocolate.
Texture: 5/5 — The olive oil indeed delivered on crispy edges and chewy center.
"It" Factor: 3.5/5 — I was surprised to find that the olive oil didn't create more of a unique flavor. These tasted well balanced, but still quite traditional.
Overall: 4.5/5 — This is a real crowd pleaser of a recipe, with great flavor and chew.
Final Results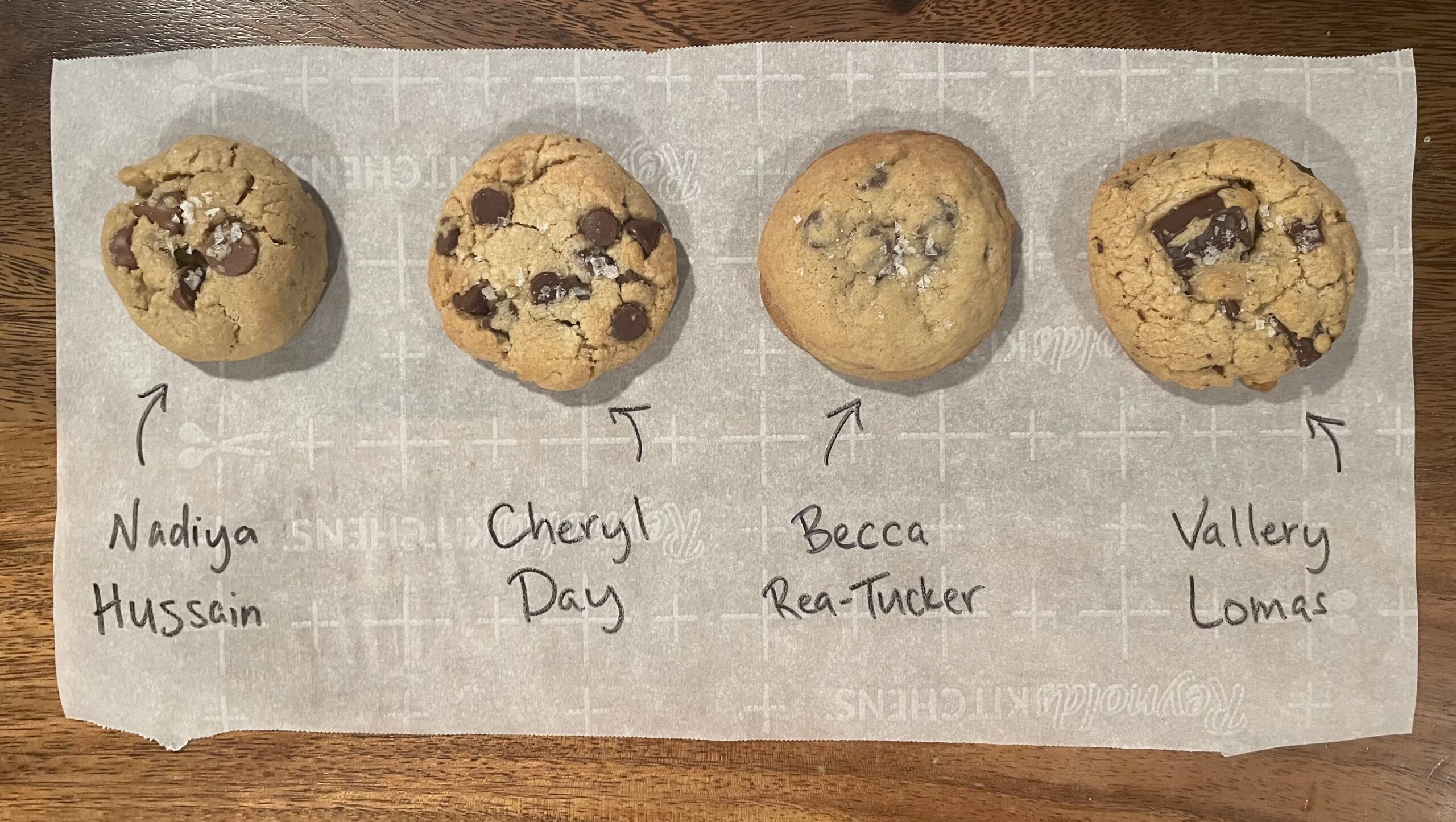 While I initially worried these recipes were too similar to distinguish between them, they all turned out surprisingly different. It turns out slight changes in proportions of ingredients and technique really do have an impact. So which cookie came out on top?
I asked 15 friends and neighbors to test and rank the four different cookies to help me crown a winner. (Shoutout to Professor Edmonds who taught me about forced ranking in my undergrad Applied Mathematics course.) I was surprised to find a good spread of results; each cookie came in first for at least two taste testers, and each cookie came in last for at least one. This democratic experiment showed me that a lot really comes down to personal preference. But one cookie recipe rose above the rest, and it was…
Cookbook Showdown Winner: Vallery Lomas's Olive Oil-Chocolate Chunk Cookies from Life is What You Bake It
The secret ingredient in these cookies delivered on complex flavor and excellent texture. Five taste testers chose Vallery Lomas's olive oil chocolate chip cookies as their first choice, and another six named it their second choice. That put it above the competition and made this recipe the Cookbook Showdown winner.
Here's why forced ranking is important. If I'd only asked for first choices, this cookie would have been the winner! Cheryl Day's classic chocolate chip cookies were named the top cookie by six taste testers. But they only came in second for three testers. Democracy is complicated, and I completely adore these cookies and this cookbook. So in reality, I think they both kind of win.
---