Food/Cooking
Cookbook Showdown: The Best King Cake Recipes, Tested
Are you ready to laissez les bon temps rouler this Mardi Gras? I'm a big fan of the Big Easy, so I make a king cake every year around Mardi Gras season to have a taste of one of my favorite cities. But despite having a sizable cookbook collection, I realized I always revert to online recipes. What's up with that? This year, I decided to test out the king cake recipes in four of my cookbooks to learn about the cake's history and see if I could learn some new skills.
In this Cookbook Showdown, I tested recipes from "the Cake Mix Doctor" Anne Byrn, Great British Baking Show winner Nadiya Hussain, Great American Baking Show winner Vallery Lomas, and James Beard Award–winning food writer Aleksandra Crapanzano. Which recipe will take the cake, so to speak? Read on to find out!
What is King Cake?
I've always associated king cake with New Orleans, so to me, it's a yeasted dough with a filling, usually brown sugar, cinnamon, and/or nuts, shaped into a circle and baked, then topped with a glaze and sprinkled with purple, green, and yellow sugar. There's also usually some kind of token like a tiny plastic baby tucked inside. What I just described is commonly recognized as a contemporary New Orleans king cake, but it turns out the definition of king cake is much broader than I realized.
Like many Catholic traditions, king cake was brought to New Orleans by the French, where variations of it had been around since the Middle Ages. And in fact, it was originally meant to mark Catholic Epiphany, or Three Kings Day, on January 6. It's now traditionally served anywhere between the beginning of the year and the start of Lent.
Unlike its yeasted American sibling, the French galette des rois is usually a round puff pastry filled with almond frangipane. There are actually tons of variations on king cake across the globe, from Portugal to Greece to Latin America and beyond. The things they tend to have in common? They're round (like a king's crown) and include a fève, or trinket like a dried bean or plastic baby.
What's with that baby, anyway? Opinions vary on what it means to find the baby or bean in your slice of cake. Some say it's simply a sign of good luck or that money is coming your way. Others say it means you're in charge of bringing the king cake or hosting the Mardi Gras party the next year. (That doesn't sound so lucky to me.)
In my search for this cookbook showdown, I found three king cake recipes in the circular, yeasted, New Orleans style and one traditional French recipe. Let's dive right in!
The Best King Cake Recipes, Tested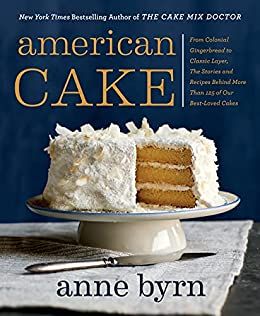 If you're looking for trusty recipes for classic American cakes, this book is a must-buy. Anne Byrn is a bestselling cookbook author who studied baking under legendary chefs including Julia Child. In this cookbook, Byrn celebrates regionally and nationally beloved cakes. She works her way through American history, from Martha Washington's Christmas fruitcake to new favorites like Hawaiian Chantilly cake.
Byrn's king cake recipe comes early in the book, citing its arrival in New Orleans in 1718 thanks to Basque settlers. Of the recipes I tested for this Cookbook Showdown, this one is closest to what I expect when I think of king cake. It's made with a yeasted dough similar to brioche and filled with brown sugar and cinnamon. Although Byrn admits to preferring it with no topping or, if anything, a light dusting of powdered sugar, she also includes a "modern Mardi Gras glaze" option, which I chose to utilize.
Anne Byrn's New Orleans King Cake
This recipe's yeasted, enriched dough came out very soft and sticky. I added a little extra flour, but didn't want to stray too far from the recipe. After proving, the dough is rolled out into a rectangle, brushed with butter, and topped with brown sugar and cinnamon. It's then rolled into a log and the ends are connected to make a circle. After baking, it's topped with a powdered sugar glaze tinted with food coloring. Byrn's recipe shares ideas for additional ingredients that could be added to the filling like dried fruit, nuts, or citrus. That's something I would love to explore next time, but for this experiment, I kept it classic.
This bake went exactly according to plan and came out looking and smelling delicious. The cake collapsed a bit upon cooling, perhaps because of the extra soft dough. While I consider colored sugar a more classic look, the dyed glaze was bright and eye-catching. The taste was just as lovely, reminiscent of a cinnamon roll.
Anne Byrn's King Cake Scores
Looks: 4/5 — The cake kept its round shape and browned nicely, and the dyed glaze has a nice visual impact. Besides collapsing a bit while cooling, it looks celebratory.
Taste: 4/5 — This cake has the classic cinnamon and brown sugar flavor I expect from a king cake, and the touch of nutmeg in the dough stood out.
Texture: 5/5 — The finished cake was delightfully soft and fluffy, somewhere between a cake and bread.
Difficulty: Moderate — For a yeasted dough cake, this is a very approachable recipe, but it's helpful to have some experience making bread.
Overall: 4/5 — This recipe is a great base upon which to add your favorite flavors and twists.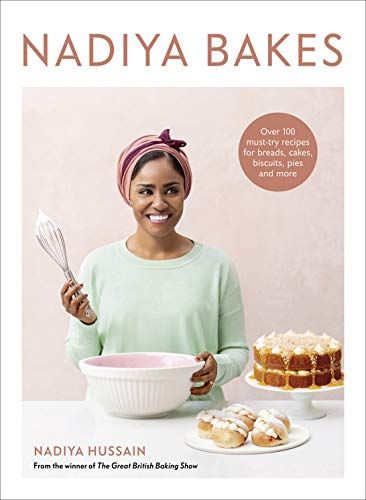 Since winning her season of the Great British Baking Show, Nadiya Hussain has spread her love of cooking and baking across the globe and even been recognized as a British national treasure. This cookbook includes tons of recipes for flavorful and festive baked goods, some of which are also featured on her BBC and Netflix show Nadiya Bakes. Savory and sweet, easy and complex, she's got plenty of dishes to whet your appetite and help you get more creative in the kitchen.
I was admittedly surprised to find a king cake recipe in this Brit's cookbook, but as she promises in the description, she's "tried the real thing in New Orleans." And this recipe is certainly inspired by Louisiana flavors with its praline cream cheese filling. Hussain's cake is baked in a bundt pan to give it a circular shape and topped with dyed shredded coconut rather than sugar. Did it deliver classic flavors with fresh twists?
Nadiya Hussain's Praline King Cake
Hussain's yeasted dough went according to plan. The filling was the trickier part. Her recipe involves making homemade pralines with caramelized sugar, then running the pralines through a food processor and mixing the crumbs into cream cheese. After the dough proves, the cream cheese filling is rolled in and the whole thing goes into a bundt pan to bake. After cooling completely, it's topped with a glaze and yellow and green shredded coconut.
The bundt pan was actually a nice way to give the cake a perfectly rounded shape, although I've never made a king cake in one before. I took a taste of the praline cream cheese filling and it was delicious, but it didn't have as much of a flavor impact in the final cake, which lacked sweetness overall. And while I really enjoyed the shredded coconut topping instead of sprinkled sugar, it was polarizing for some of my pickier taste testers.
Nadiya Hussain's King Cake Scores
Looks: 5/5 — Absolutely gorgeous, if you ask me! I enjoyed the coconut topping, although I would have added purple coconut as well instead of leaving it at two colors.
Taste: 3/5 — I was surprised to find the praline cream cheese filling was fairly flavorless by the time the cake was baked. I cut the amount of almond extract called for in the recipe by half, but it was still the most prominent flavor.
Texture: 3.5/5 — It ended up a little dry and dense by the time it finished cooling, and it didn't age well after the first day.
Difficulty: Advanced — Caramelizing sugar to make the praline filling requires more time and technical skill, but the bundt pan did make the shaping process more foolproof.
Overall: 3.5/5 — I liked the coconut topping and found the bundt pan to be a handy trick, but the flavor didn't deliver. Some spices like cinnamon or nutmeg would have gone a long way.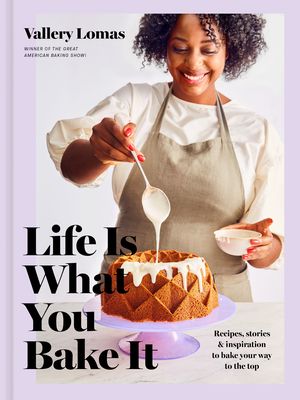 After winning the Great American Baking Show — in a season that was unfortunately canceled — Vallery Lomas quit her job as an attorney to make baking and food her life. And although you can't watch her historic moment as the first Black winner across the Great British Baking Show franchise, you can now find her everywhere from Food Network to Live with Kelly and Ryan to New York Times Cooking and beyond.
Lomas grew up in Baton Rouge, Louisiana, so I wasn't surprised to find her twist on king cake among the recipes in her cookbook. I was, however, surprised to see what twists she chose. Rather than a cinnamon or brown sugar filling, Lomas's king cake has a blackberry lemon filling. The introduction to the recipe says the tart fruit flavors are the perfect contrast to the sweet glaze, and this dish earned her star baker on an unaired episode of Great American Baking Show.
Vallery Lomas's Blackberry Lemon King Cake
This king cake utilizes the brioche bread dough recipe from elsewhere in the cookbook, which includes three lemons' worth of zest. Lemon juice also goes into the blackberry filling, which is cooked on the stove. And although the colorful sugar is a trademark of king cake, this is the only recipe I tested that actually had it. It's also the only recipe I made that shaped the dough from multiple rolled pieces twisted together, which is how I usually make it at home.
The brioche dough turned out well. But here's where this recipe's problem might have been user error: I poured the blackberry filling through a fine mesh sieve. I'm not a fan of blackberry seeds in baked goods, and while the recipe didn't specifically call for that step, I didn't think it would make too much of a difference. But the filling never really set up as expected, which might be because I removed the seeds. When I rolled the filling into the dough, it was far too runny and made my kitchen counter look like a murder scene. The remaining filling absorbed into the dough, leaving little to none of the anticipated swirl when sliced. I also think the cake was prettier before being topped with the glaze, which was delicious but extra thick.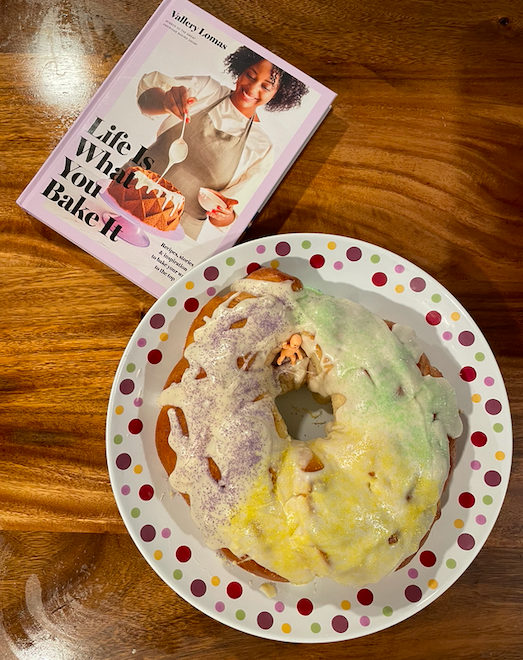 Vallery Lomas's King Cake Scores
Looks: 3.5/5 — I wish I'd gotten a picture of the cake before I topped it with the gloppy glaze! It was beautifully risen and browned. In retrospect, I should have piped the glaze.
Taste: 3.5/5 — Was it delicious? Yes. Did it taste like king cake? To me, no. It tasted like a nice lemon sweet bread. And the blackberry flavor didn't come through at all.
Texture: 4/5 — The dough really was the perfect soft brioche consistency, but I wish it had kept its filling swirl. Maybe it would have if I'd left in the blackberry seeds.
Difficulty: Moderate — I recommend leaving the seeds in the blackberry filling and giving it twice as long to chill. But otherwise, this was a pretty approachable recipe.
Overall: 3.5/5 — I thoroughly enjoyed eating this cake, but to me, it was a lemon bun disguised as king cake.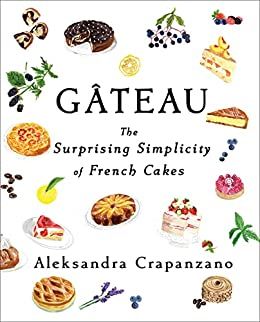 For all its notoriety as a highly complicated and intricate baking culture, French desserts can be surprisingly simple. At least, that's the theory put forward by cookbook author and food writer Aleksandra Crapanzano. Gâteau includes recipes for 150 French bakes, both savory and sweet, made approachable for home bakers. With colorful illustrations and simple but chic flavor combinations, it's a delightful cookbook to explore.
For this cookbook challenge, I thought, why not try the French version of king cake that inspired today's New Orleans favorite? I considered similar recipes from authors like Claire Saffitz, but found the promised simplicity in this one appealing. I could use store bought puff pastry which, after making three king cakes already, sounded fantastic. That put most of the work into making a frangipane filling. Seems easy enough, right?
Aleksandra Crapanzano's Galette des Rois
Truly, this recipe couldn't look simpler. I mix together a few simple ingredients to make an almond flavored filling. I stick that between two circles of store bought puff pastry, brush on an egg wash, and pop the whole thing in the oven. What could go wrong?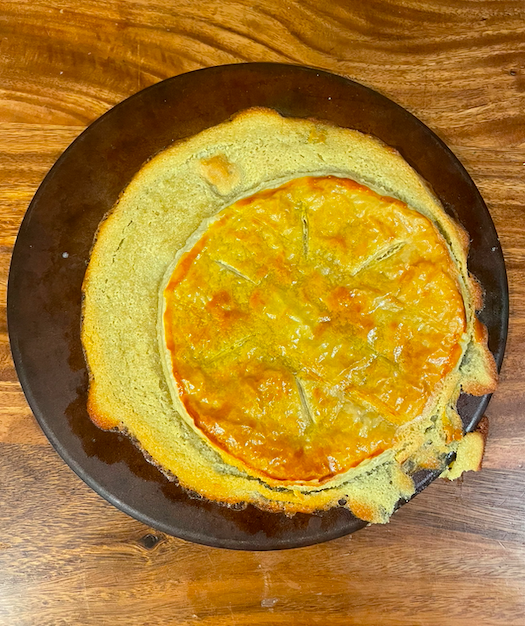 A lot, it turns out. And I can't fairly blame it all on the recipe. I couldn't find the recommended brand of Dufour puff pastry and instead used Pepperidge Farms. Is that why it didn't puff? Or perhaps because I baked it on the only round baking sheet I have, which is stoneware and may have taken too long to heat up against the bottom of the pastry? The filling seemed to have gone according to plan, but when baked, it burst out of the pastry and onto the bottom of my oven. Did I overfill the cake? The recipe didn't say anything about only using a certain amount, and I wet and sealed the edges of the cake as instructed. But maybe I didn't press the edges hard enough?
I've seen some real merde during my various Cookbook Showdown experiments. But this baking disaster (which I'm still trying to clean up as I write this) has surpassed the lemon meringue pie fiasco of 2022 to become my biggest Cookbook Showdown fail. Not only was it messy and ugly; it also tasted terrible. The bottom of the pastry remained soggy, and barely enough filling stayed in the cake to give it any flavor. I tried a bite solely to report back to you, dear readers, then threw the whole thing in the trash.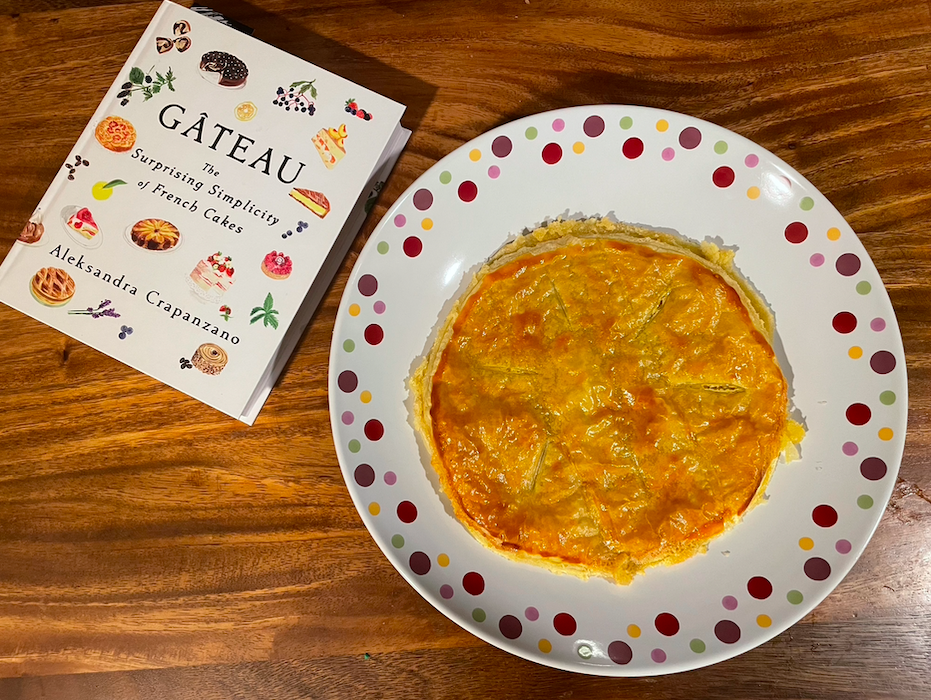 Aleksandra Crapanzano's King Cake Scores
Looks: 1/5 — And that's generous. Where's the puff? Where's the filling? What happened here?
Taste: 1/5 — I'm not a huge frangipane fan, which turned out to be fine because most of it ended up in the bottom of my oven anyway.
Texture: 0/5 — Offensively bad, but I don't really blame Crapanzano for that so much as my own mistakes.
Difficulty: Easy — Or is it? The instructions are simple, sure. If you try this recipe at home, I wish you far more success than I had.
Overall: ?/5 — It doesn't seem fair to score this recipe based on my own failed experiment. If I were to try this again, I would make my puff pastry from scratch (eliminating the "easy" element here), use a metal baking sheet, thoroughly seal the edges, and, although I'm not a religious type, pray. (Although perhaps this cake was God's punishment for me not being religious.)
Final Reflections
I learned a lot during this process about king cake's history and the scope of what it can look and taste like. I would love to try some of the other regional variations on the dish — hopefully with more success than the galette des rois. But to me, king cake is best with a flavor profile of cinnamon and other warming spices. After all, if you're serving it in January and February, a little warmth is just what your tastebuds need.
With that in mind, it's no surprise that the winner is…
Cookbook Showdown Winner: Anne Byrn's New Orleans King Cake from American Cake
That's right! The queen of American Cake won the crown on this king cake challenge. The cake had a delightfully soft texture right at the intersection of cake and bread, and the brown sugar and cinnamon filling was traditional and delicious. Her notes in the recipe give home bakers lots of room to explore different twists. This cake is an all-around winner.
Honorable Mention: Vallery Lomas's Blackberry Lemon King Cake from Life is What You Bake It
This dish may have tasted more like a summer dessert than a dish traditionally served in January — and the off-season blackberries may have been at fault for the lackluster berry flavor. But the texture of the dough was top-notch, and the bright lemon twist was refreshingly delightful.
---